Onlajn kampanja "Po Marijani"
Uz prvu jutarnju kafu, obično ispregledam news feed Fejsbuka. Lajkovi razno raznih stranica koje nas uče da živimo život sa stilom, uz popularnu duckface fotografiju iz kupatila, uglavnom su najčešći sadržaj istog. Ne, ne smeta mi. Naprotiv, svaki put se iznenadim koliko je dokonih žena koje su, u trci za muško-ženskom ravnopravnošću, zaboravile gdje ukus prerasta u neukus.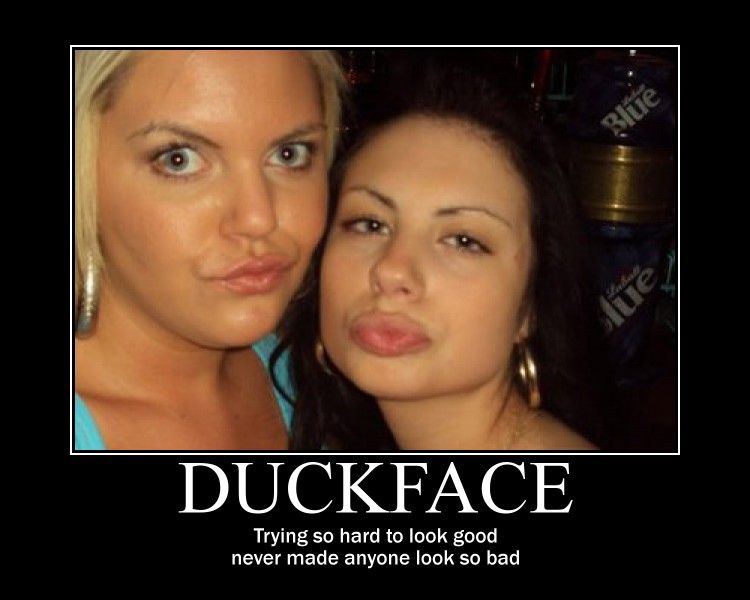 Definitivno je kasno za kandidovanje za Prvu Šećerlemu, jer je Lepa Nata to već obavila, ali predlažem da se dotične dame, sa prirodnimi ugrađenim DakFejsom, ozbiljno pozabave analizom i idejom fenomena Marijane Mateus.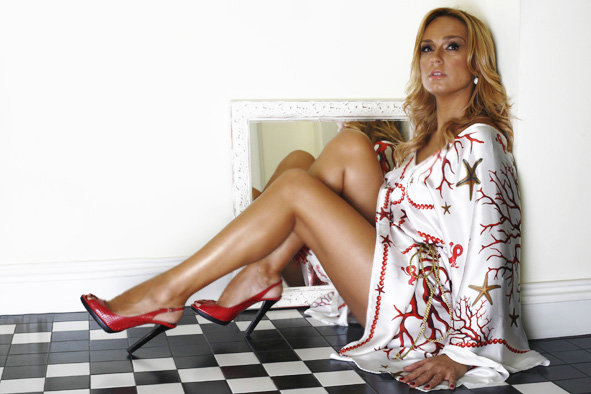 S tim u vezi, pokrenite onlajn i/ili oflajnkampanju u cilju što bržeg pronalaženja Moćnog Muškarca, da bi on još brže postao Bivši, i uz novu diplomu i zvanje, npr. dipl. Vizuelni Umjetnik (za feministkinje: dipl. Vizuelna Umjetnica), nađite Onog Drugog.
Neka prezime bude što zvučnije i neobičnije za ove naše balkanske prostore. Nakon što ste Moćnom iskoristile sve moguće kreditne limite, potrudite se da nakon srećnog razvoda ostanete u tako dobrim odnosima i sa Ovim Drugim, da bi, s vremena na vrijeme, mogli da mu kažete: "Maco, je l' hoćeš da mi kupiš Kavalija?"

Ali vaša bol, "koju nosite kao štikle (bez obzira na to koliko boli, svi vide samo to koliko su lijepe" (bljak, fuj!)), je ustvari početak vašeg života kao snažne i nezavisne žene.Tako svestrane i iskustveno mudre, uz dokaz da ste dipl. Esteta, jednostavno postanite modni kreator. Zadržite Macino prezime, tako sve zvuči svjetski, a naše. Šta će vam Birkinka koju čekate u redu sa Viktorijom Bekam, kad možete nositi bolju, sa svojim potpisom? Kolekcija "Slomljena srca" učiniće vašu onlajn kampanju još potpunijom, a Moćni i Maca će biti ponosni što su bili dio vašeg sadržajnog života… a onda možda nađete i Kucu?
E, tu promocija vašeg uspješnog (ženskog) života dobija potpuno novi oblik. Fanovi šeruju vaše fotografije i izjave na svakoj društvenoj mreži, pa možda kao vrhunac prisustva u medijima, dobijete i gostovanje u nekom talk-showu TV Atlas, u udarnom terminu. Žao mi je što je "Glamour Noir" doživio krah prije vašeg vrhunca popularnosti, ali je sasvim sigurno da će vas, u periodu između stvaranja dvije kolekcije, najprije ugostiti u "Večeri kod Džaje". Kao pravi džentlmen, tu večeru obično on sprema, tako da se ne morate brinuti oko manikira. A ni oko fonda riječi, dovoljno je da je za nijansu sadržajniji od Čitanke.

Kreirajte i mušku kolekciju i obucite ove (okej, slažem se) zgodne momke, koji poziraju ovih dana ispred poznatih i skupih fotoaparata, parirajući vama, zgodnim ženama, na mom news feedu. Mislim da je svima dosadilo da gledaju tetovaže tipa Wentworth Miller iz Prison Breaka.
U međuvremenu, smislite novi koncept obrazovanja, uključite se u pronalaženje lijeka za AIDS, poželite mir u svijetu, nosite fejk krzno dok predajete na temu problema globalnog zagrijevanja.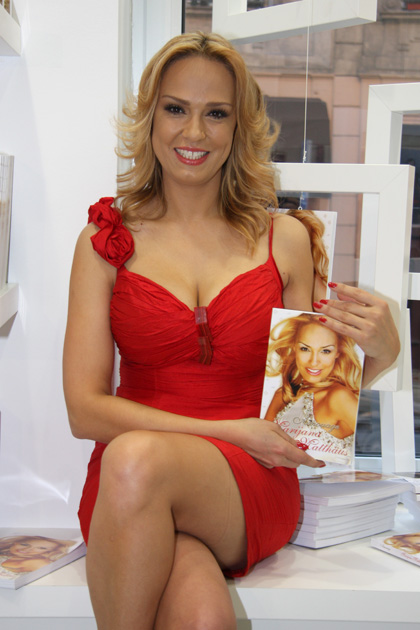 E onda, na odmoru na Maldivima, napišite knjigu. To je bar najprostije danas, zvati se Spisateljica. Nikako "pisac", zaboga, ovo je feminističko doba.
Ne znam za vas, ali mene oduševljava
prostorija zvana "multi-faith prayer room" na aerodromima. Nikako da vidim ima li koga u njoj. Odnedavno, zamišljam gđicu Mateus i njoj slične, kako se, u toj sobi, multi-jezično, između dva leta, dok juri na svoj fashion happening, moli za Vesnu Radusinović, Isidoru Bjelicu, Viktoriju Bekam i Anu Vintur u prvom redu na svojoj reviji. Ostavljam vas da uživate u odlomku iz njene najnovije knjige. Ne znam šta bi na ovo rekla Mišiko Kakutani iz The New York Timesa, nikako da se izrazim "jezikom supermarketa", ali, od mene, sa apetitom: "$edi, 1"!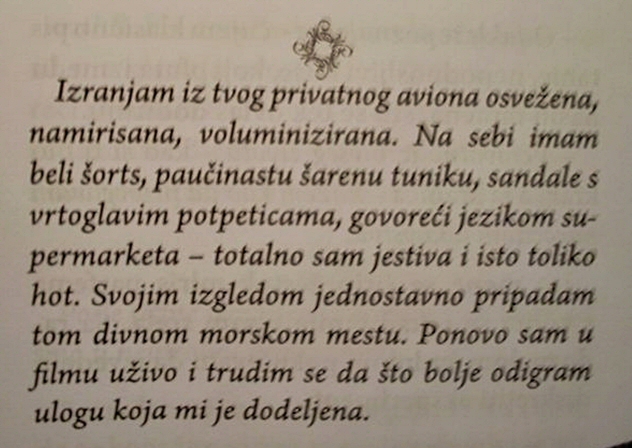 Autor: S