#SMDayMe: Društveno preduzetništvo – i vuk sit i ovce na broju!
Društveno preduzetništvo prepoznaje društvene probleme i koristi preduzetničke principe kako bi organizovalo, stvorilo i upravljalo poslovima sa ciljem da sprovede neku društvenu promjenu. Da bi bili neko ko pokreće promjene potrebna je hrabrost, oštroumnost i veliko srce – a to uopšte nije lako. Kako ga je naš prijatelj iz Beograda definisao – društveno preduzetništvo je u stvari rešavanje problema u društvu na samoodrživi način.

Nikola Jovanović, a.k.a. Pecko Pivo, bio je zadužen da održi pažnju entuzijastima koji su ovog vrelog podgoričkog dana odlučili da proslave Social Media Day i da isprate zatvaranje uspješne druge sezone Digitalizuj.Me predavanja. 🙂
Društveni preduzetnici se naročito bave jednim – oni inspirišu. Sudeći po reakcijama publike Nikola je, sasvim očekivano, održao sjajno predavanje u opuštenoj atmosferi u kojoj je prenio ideju o društvenom preduzetništvu, i važnosti samog koncepta za društvo.

Zanimljivu priču o obrazovanju i tome koliko, gdje se i kako ono stiče ispričao je kroz svoj lični primjer. Životne okolnosti natjerale su ga da se mlad suoči sa različitim izazovima i da shvati da je važno da sami stvaramo šanse, da se posao može naći ako se zaista tome posvetimo, a prije svega ako se posvetimo svom usavršavanju. Pri tome, formalno obrazovanje, fakultetske diplome, nisu nešto što nam garantuje, ni što nam je
neophodno da bismo u tome uspjeli. 😉
Jako interesantan bio je primjer toga kako je Nikola, kao kandidat bez završenog fakulteta, primljen na mjesto za koje je u konkursu tražena master, ili jos bolje PhD diploma, i to ni manje ni više nego u Microsoftu.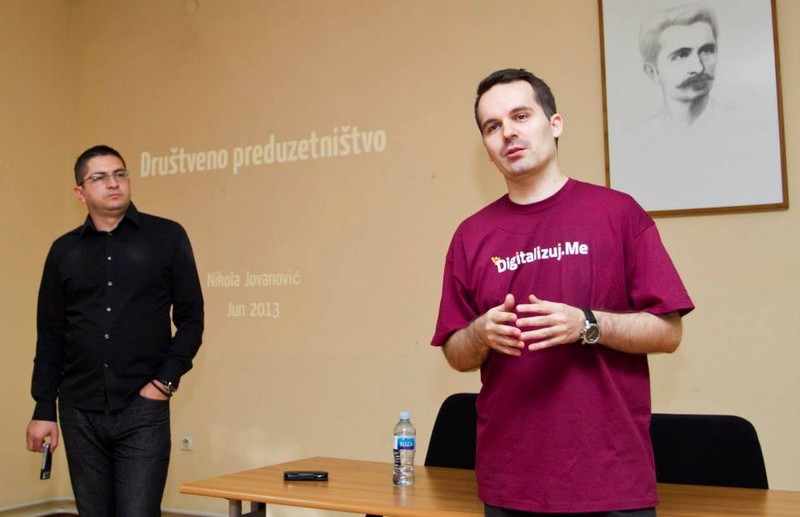 Kroz pitanje "What's the business of business?" pokušao je da ukaže na suprotnost maksimizacije profita i koristi za duštvo. Kaže da biznis treba da se inovira tj da se vrati na staru vrijednost. Biznis sektor ide u pravcu principa društvenog preduzetništva. Ostali su upečatljivi neki od primjera koji su sada aktuelni u Srbiji, a koje nam je Nikola interesantno predstavio.
Magazin Liceulice jeste jedan od primjera društvenog preduzetništva u Srbiji. Liceulice košta 150 dinara, a polovina ostvarenih prihoda od prodaje ostaje prodavcima, dok su preostala sredstva namijenjena različitim inkluzivnim programima. Njihova poruka glasi: "Kupujući Liceulice pomažete mnogima, čitajući Liceulice pomažete sebi!" Još jedan dobar primjer su DajDaj pelene, koje se prave od bambusovog platna, a ono što ih posebno karakteriše je to da su Prijatelji Životne Sredine. Eko znak je njihov zaštitni znak, samim tim čuvaju zdravlje djece i same okoline.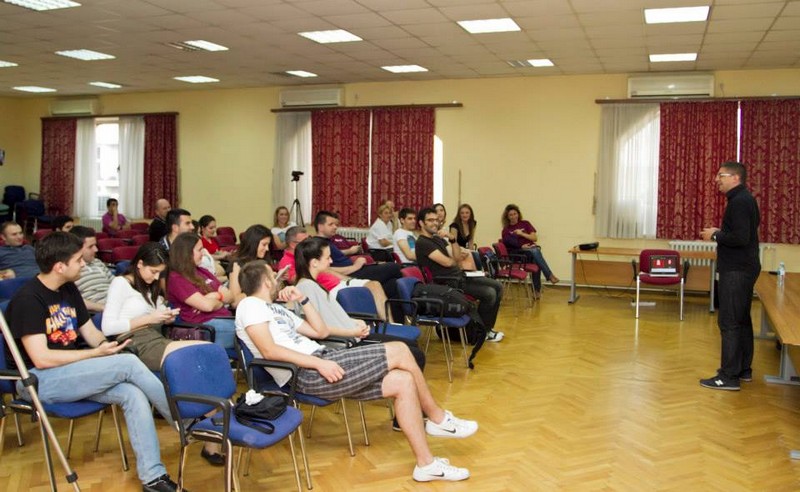 Pored ova dva primjera iz regiona Nikola je dao još par inostranih primjera kao sto su Grameen (rešavanje problema siromaštva u Bangladešu davanjem kredita od 1 dolar), Adidas/Reebok (kreiranje obuće koja ne košta puno i koja ne bi dodatno zagadila Bangladeš, a koja bi spasila djecu od raznih bakterijskih bolesti koje ulaze u organizam kroz kožu na stopalima), Made in Carcere (gdje će žene iz zatvora naučiti kako da dizajniraju i prave odjeću i samim tim steći znanje potrebno za pokretanje sopstvenog biznisa ili zapošljavanje u nekoj od kompanija kada izađu iz zatvora).
Naš gost je govorio i o Hubovima – mjestima sličnim biznis inkubatorima gdje se ljudima pruža podrška kod pokretanja sopstvenog biznisa. Naime Nikola ima veliku želju za osnivanjem jednog ovakvog Huba u Beogradu, ali i u svim ostalim glavnim gradovima bivše Juge. On želi da stvori prostor gdje će se ljudi susretati, razmjenjivati znanja i iskustava, i gdje će možda dobiti inspiraciju za stvaranje novih stvari; prostor prepun različitih ljudi koji rade nevjerovatne stvari. Na žalost, za sada zakoni i druge okolnosti koče stvaranje Hub-a, ali se nadamo da će se uskoro prevazići sve prepreke. 🙂
Na kraju da zaključimo: uloga svih nas nije samo da zarađujemo pare, već da nešto promijenimo u svijetu, da činimo neke lijepe stvari. Kao što Nikola kaže: "Kada ću promijeniti svijet ako ne sada?" 🙂
Pročitajte najzanimljivije tvitove sa događaja OVDJE.
Pogledajte snimak kompletnog događaja:
Photo credits: Igor Milić Photography