Kada je Trump ušao u trku za predsjednika Sjedinjenih Američkih Država, malo je ko vjerovao da će izaći kao pobjednik. Osim njega samoga, možda. Da li zbog svojih liderskih sposobnosti, pažljivo osmišljene komunikacione strategije ili kombinacije i jednog i drugog, ovaj američki biznismen postao je najmoćniji čovjek na planeti.
Ludi šarlatan ili lucidni lider? Mišljenja su podijeljena u svijetu. Nekoliko puta u biznis karijeri je bankrotirao i ponovo se vraćao. Kao vođa najmoćnije države na svijetu često donosi nepopularne odluke.
Trump je poznat i kao neko ko često pravi političke ispade i nesmotrene izjave, što nije bio slučaj sa njegovim prethodnikom. Od rasističkih izjava vezanih za Meksikance i muslimane do čuvenih tvitova o sjevernokorejskom lideru Kim Jon-unu.
North Korean Leader Kim Jong Un just stated that the "Nuclear Button is on his desk at all times." Will someone from his depleted and food starved regime please inform him that I too have a Nuclear Button, but it is a much bigger & more powerful one than his, and my Button works!

— Donald J. Trump (@realDonaldTrump) January 3, 2018
Why would Kim Jong-un insult me by calling me "old," when I would NEVER call him "short and fat?" Oh well, I try so hard to be his friend – and maybe someday that will happen!

— Donald J. Trump (@realDonaldTrump) November 12, 2017
Budući da nosi epitet najmoćnijeg čovjeka na planeti, njegove izjave se jako brzo šire u medijima i imaju veliki uticaj. Kada Trump tvituje o ekonomiji akcije na berzama brzo skaču i padaju. To je osjetio i moćni Amazon, kada su akcije ove kompanije na berzi u New Yorku pale za 3.9% nakon jedne Trumpove izjave.
Koliko je uticajan dokazalo se prije nekoliko dana, kada je u intervjuu za Fox News, izjavio da su crnogorci agresivan narod i da Crna Gora može izazvati Treći svjetski rat. Da li je ovo  jedna od njegovih najnepromišljenjih izjava ili smišljena poruka sa ciljem, ne možemo znati. Svakako, izjava je imala velikog uticaja, barem u smislu publiciteta Crne Gore budući da su skoro svi svjetski mediji prenijeli ovu izjavu.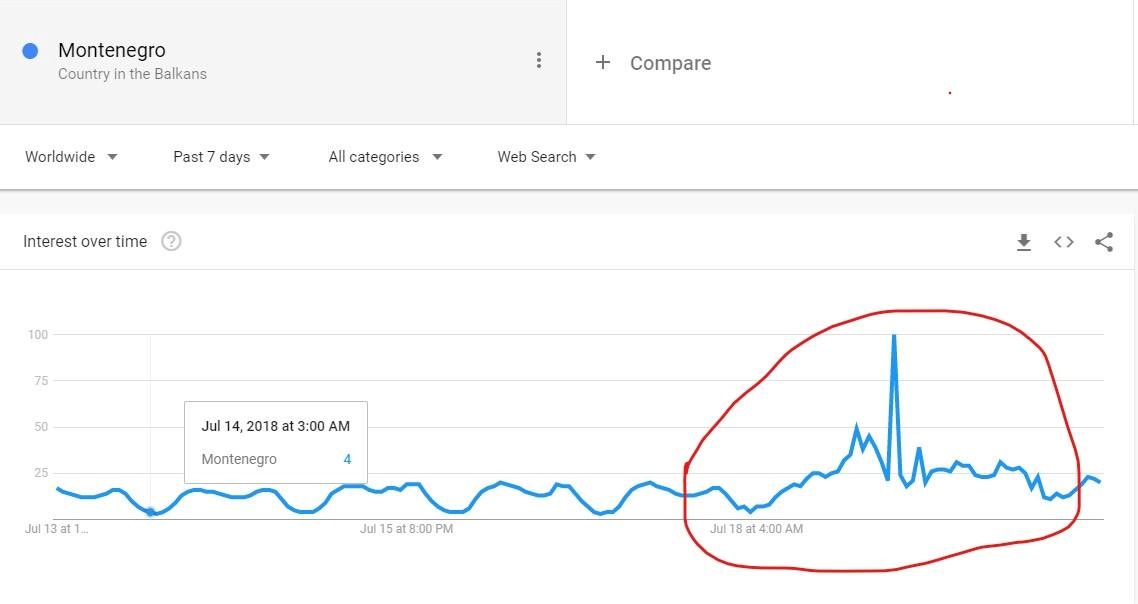 Nakon Trumpove izjave, Crna Gora nikada nije bila traženija u Google pretragama. Googlov indeks interesovanja za termine "Montenegro" i "Where is Montenegro country" sa uobičajenih 3-5 je skočio na maksimalnih 100. U prevodu, Crna Gora se našla među najtraženijim terminima na Googlu. Korisnici Googla širom svijeta su pretraživali o Crnoj Gori i pitali se gdje se nalazi. Siguran sam da se izjava može okarakterisati negativno ako posmatramo samo intervju, s tim što je donijela ogroman publicitet i pozitivne reakcije za Crnu Goru, budući da se vrlo lako može zaključiti da osim turističkih kapaciteta nemamo "kapacitete" da izazovem Treći svjetski rat.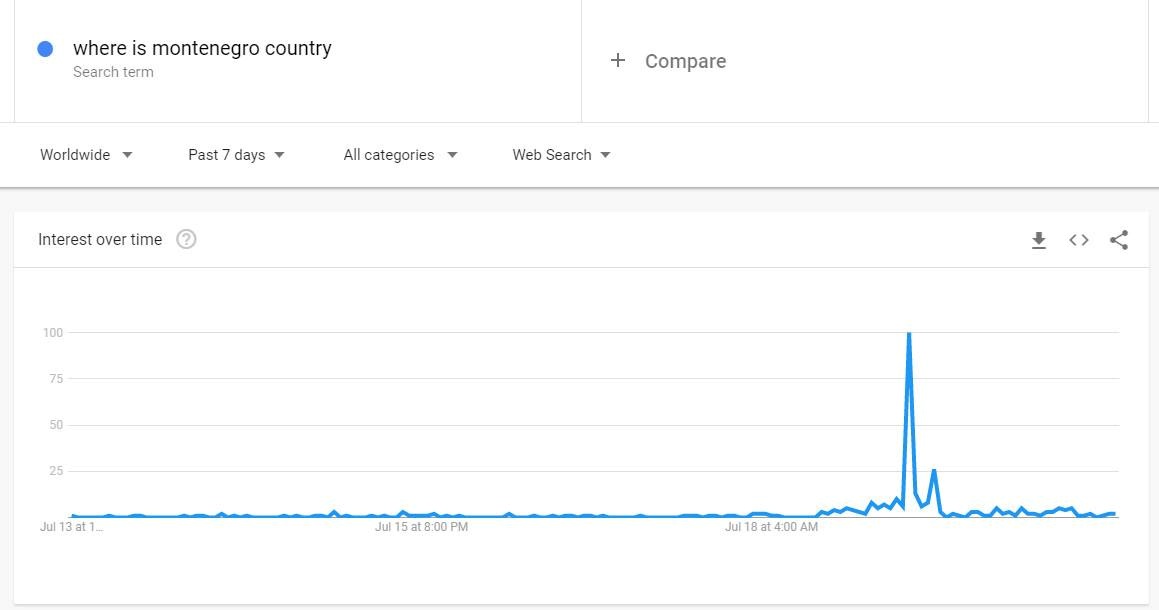 Da li se ovaj negativni Trumpov gaf mogao iskoristi na pozitivan način za promovisanje Crne Gore? Ostavite vaše mišljenje u komentaru.
Pojašnjenje: Google indeks interesovanja predstavlja broj pretraga određenog termina sa ukupnim brojem pretraga za određeni vremenski period u definisanom geografskom području.
Autor: Ivan Radonjić