Prijave za učestvovanje u prvom ciklusu kvalifikacija regionalne esport lige, Vip Adria Liga, otvorene su do 19. avgusta 2017. godine, a svi regionalni timovi koji žele da se takmiče u Counter Strike: Global Offensive ili League of Legends mogu popuniti prijavu na zvaničnom sajtu Lige. Binary Dragons, Resistance, Squared, RuR, x25 i ASUS ROG ELITE su imena najboljih timova iz regiona za koje se već zna da će učestvovati u Vip Adria Ligi. Imena poslednja dva pozvana tima će biti objavljena 05. avgusta.
Vip Adria Liga počinje nakon četiri kruga online kvalifikacija koje se odvijaju od 19. avgusta do 09. septembra, a veliko LAN finale takmičenja u svjetsko popularnim naslovima Counter Strike: Global Offensive i League of Legends održaće se na Reboot InfoGameru krajem novembra.
Svaki ciklus kvalifikacija omogućiće jednom timu ulazak u Ligu, što znači da svi poraženi timovi iz prvog ciklusa kvalifikacija mogu učestvovati u sljedećim ciklusima, zaključno sa 09. septembrom, kada će biti objavljena imena poslednjih timova koji će osigurati nastup u prvom velikom regionalnom eSports projektu.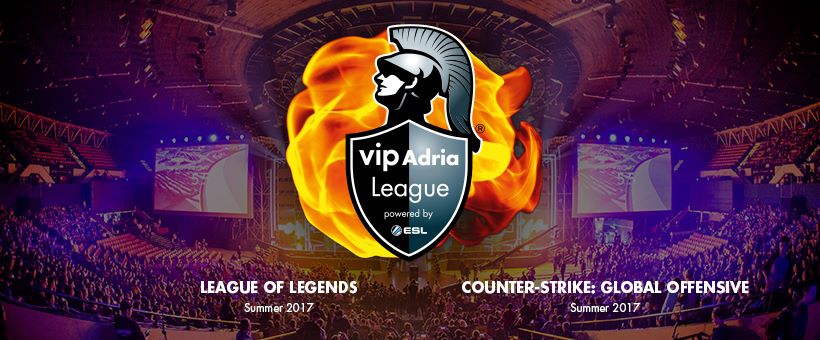 "Zadovoljni smo kako se cijela priča razvija. Vip Adria Ligi priključili su se timovi koji su se nametnuli svojom profesionalnošću i rezultatima. Sada dolazi onaj zabavni dio kad kroz kvalifikacije pružamo priliku baš svim timovima da izbore svoje mjesto u Ligi i osiguraju sebi nastup protiv najboljih timova u regionu. Kroz samu Ligu i tih dva mjeseca, dok ne saznamo imena najboljih CS:GO i LoL  timova, svi ljubitelji esporta i gaminga imaće priliku uživati u vrhunskom regionalnom esportu i sadržaju na našem jeziku. Kroz cijelo vrijeme trajanja Lige aktivno ćemo raditi na promovisanju i napretku esporta i razvoju talenata s ovog prostora kojeg neosporno ima", poručio je Vipnetov direktor marketinga, Lordan Kondić.
Za učestvovanje u Vip Adria Ligi mogu se prijaviti timovi iz Crne Gore, Hrvatske, Slovenije, Srbije, Bosne i Hercegovine, Makedonije i Albanije, a jedini uslov je da su članovi stariji od 16 godina. Napominjemo da svaki tim može imati jednog igrača koji nije iz zemalja regiona.
Podsjetimo, Vipnet i ESL, najveća svjetska kompanija za esport, potpisali su u maju 2017. godine višegodišnji ugovor o strateškom partnerstvu i najavili pokretanje regionalne esport lige – Vip Adria League powered by ESL. Osim toga, Vipnet je u svoju ponudu uključio ESPORTV, prvi televizijski kanal na svijetu koji je u potpunosti posvećen esportu, a svi zaljubljenici u gaming putem ovog kanala na raspolaganju imaju više od 1.000 gaming sati akcije s najvažnijih globalnih profesionalnih esport turnira i najatraktivnijih liga tokom godine.