U trećem nastavku serijala o NBA statistici, nakon posta o blokadama, donosim vam priču o liderima u kategoriji ukradenih lopti. Ovom kategorijom dominiraju igrači koji su karijere proveli na poziciji plejmejkera. Razloge treba tražiti upravo u tome što su oni gotovo uvijek "na liniji dodavanja" i često imaju priliku da dođu do te, toliko željene, ukradene lopte. Još jedan razlog za to je taj što upravo plejmejkeri najbolje "čitaju" i razumiju igru, pa mogu da djeluju anticipativno.
Pored toga što je najbolji asistent, John Stockton ima i titulu najboljeg kradljivca lopti u istoriji NBA lige. Karijeru je završio sa 3.256 ukradenih lopti i daleko je ispred svih ostalih, tako da je nerealno očekivati da ga neko ugrozi u bliskoj budućnosti. Na drugom mjestu i u ovoj kategoriji (kao i u asistencijama) je Jason Kidd sa 2.560 uspješno oduzetih lopti. Međutim, Kidd je ispred Stocktona u jednoj vrlo važnoj kategoriji – on, za razliku od Stocktona, posjeduje "Sveti Gral" NBA lige – šampionski prsten, koji je osvojio pred kraj karijere, sa Dallasom, 2011. godine. Na trećem mjestu je najveći svih vremena, "njegovo leteće veličanstvo", Michael Jordan. To je samo još jedna potvrda da je Jordan bio i vanserijski defanzivac, a ne samo nezaustavljiv u napadu. Karijeru je završio sa 2.514 ukradenih lopti, od kojih je većina završila laganim zakucavanjem…
Gary Payton, još jedan "elitni" plejmejker, nalazi se na četvrtom mjestu. Može se pohvaliti ogromnim brojem priznanja i nagrada, ali mu je, svakako, najmilija titula iz 2006. godine sa Miami Heatom. Najveći trag je ostavio u Seatlu, gdje je sa Kempom činio jedan od najboljih dueta lige, početkom 90-ih godina XX vijeka. Kako je njihova saradnja izgledala, možete vidjeti na klipu ispod!
Na petom mjestu je Maureece Cheeks, koji je većinu karijere proveo u 76-ersima. Kao jedan u nizu defanzivno orijentisanih plejmejkera, on je u karijeri ostvario 2.310 ukradenih lopti. Scottie Pippen, još jedan važan šraf šampionske mašine u vidu Chicago Bullsa, je na šestom mjestu. Pored toga što je bio odličan kradljivac lopti, Pippen je važio i za "elitnog" defanzivca, pa je uvijek čuvao najboljeg protivničkog igrača. Sledeći na listi je Clyde Drexler, legenda Portlanda, koji je pred kraj karijere prešao u Houston. On je još jedan u nizu igrača koji su došli do titule jer je Jordan pauzirao 2 sezone. 🙂 Hakeem Olajuwon je osmi na listi najboljih kradljivaca lopti, što još jednom pokazuje o kakvom se tu defanzivcu radi. Prebogatu karijeru je završio sa 2.162 ukradene lopte, i prvi je na listi, što se tiče "visokih" igrača. Alvin Robertson zauzima deveto mjesto na vječnoj listi "kradljivaca". Bio bi on i na višoj poziciji, ali je u karijeri odigrao samo 11 sezona. On se iz košarke povukao sa nevjerovatnim prosjekom od 2,71 ukradenih lopti po meču, i, po tom parametru, on je najbolji u istoriji lige! Osim njega, sjajne prosjeke su imali/imaju i Michael Ray Richardson (2,63), Chris Paul (2,41) kao i, naravno, Michael Jordan sa prosjekom od 2,35 ukradenih lopti po meču.
Alvin Robertson je po još jednom parametru najbolji u istoriji, a to je po broju ukradenih lopti u jednoj sezoni. On je, u sezoni 85/86, uspio da dođe do čak 301 ukradene lopte. Na kraju liste se nalazi još jedna legenda koja nikad nije uzela šampionski prsten, Karl Malone. Popularni "Mailman" je karijeru završio sa 2.085 ukradenih lopti, i, uz Hakeema, on je jedini igrač koji je na ovoj listi, a da je igrao na nekoj od centarskih pozicija. Za razliku od Stocktona koji je do kraja ostao vjeran "Jazzerima", Karl je u potrazi za prstenom pojačao LA Lakerse, ali je ta epizoda prilično neslavno završena…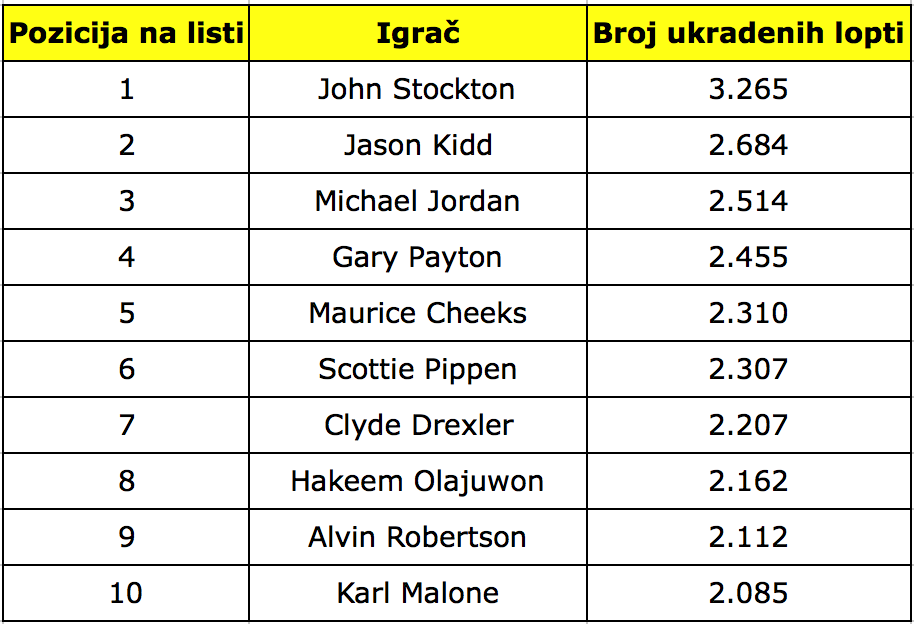 Od aktivnih igrača, i u ovoj kategoriji vodi Kobe, koji je trenutno na 15. poziciji, i vrlo vjerovatno će do kraja karijere napredovati još par mjesta na ovoj listi. Trenutno je na brojci od 1.852, i fali mu samo devet ukradenih lopti da prestigne Isiah Thomasa iz Detroit Pistonsa. Što se tiče trenutno najboljeg igrača lige, Jamesa, on je na visokom 44. mjestu sa 1.455 ukradenih lopti, i do kraja karijere je očekivano da on i u ovoj kategoriji uđe u top 10 svih vremena. Chris Paul je igrač koji može da dođe do samog vrha, to jest, da pretekne Kidda, kao i da se približi Stocktonu. CP3 je u dosadašnjoj karijeri čak pet puta predvodio ligu po broju ukradenih lopti, i još dva puta bio među najbolja tri. Po ovom parametru, Paul je već sada najbolji u istoriji!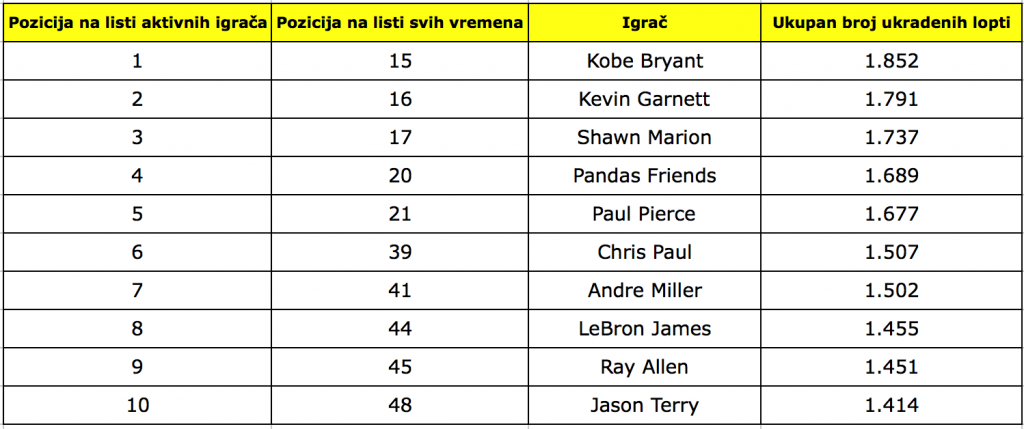 Rekorder po broju ukradenih lopti na jednom meču je Kendall Gill, sa 11 ukradenih lopti. Što se aktivnih igrača tiče, nekolicina njih je na meču uspjela da dođe do devet. Poslednji koji je to uradio je bio igrač Philadelphia 76-ersa, Michael Carter-Williams, i to prošle sezone, u kojoj je, ujedno, bio proglašen i za najboljeg novajliju (rukija) u ligi.
Iako trenutno ne igra u NBA ligi, moram pomenuti Pandas Frienda. Rođen je kao Ron Artest,  a prije nekoliko godina je promijenio ime u Metta World Peace. Poznat je po tome što je jednom završio u 15. redu tribina, i to ne da bi spasio loptu, već da bi se obračunao sa navijačem. Ove godine se odlučuje na novu promjenu imena i, shodno tom imenu ("Pandin prijatelj"), bira i odgovarajuće patike u kojima će nastupati. Trenutno uveseljava publiku širom Kine… 🙂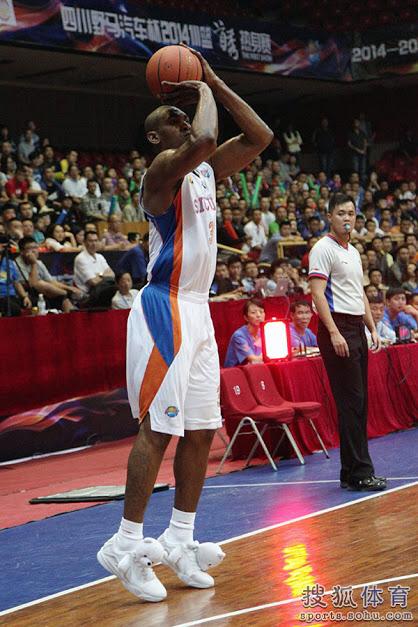 Za kraj ovog blog posta, pogledajte najbolje ukradene lopte od strane Ricky Rubia, koji je prethodne sezone predvodio ligu u ovoj kategoriji!