Prošlo je malo više od tri mjeseca od prvog sastanka grupe volontera u kojoj vjerovatno dio njih i nije znao koliko posla slijedi, ali je bio odlučan u svojoj namjeri da pomogne da se organizuje 3. TEDxPodgorica.

Da smo na pravom putu i da se isplatilo sve što smo radili u prošlim mjesecima – pokazalo se onog trenutka kada je počela podjela karata za nedjelju. U pet minuta su raspodijeljene sve karte, a ljudi koji su željeli da prisustvuju događaju, ali nisu uspjeli osvojiti istu, nisu odustajali do posljednjeg dana.
Mada, kada se osvrnemo na to ko su bili govornici, to je i bilo za očekivati. 🙂
Trener ŽRK "Budućnost" Dragan Adžić, arhitekta Bojan Đurišić, doktor filologije Shai Cohen, psiholog Radoje Cerović, istraživač i predavač Staniša Raspopović, inžinjer i pronalazač Zoran Ilinčić, blogerka, fotograf i prevodilac Marianne van Twillert-Wennekes i predstavnik UNICEF-a za Crnu Goru Benjamin Perks držali su pažnju publike više od tri sata. Čuli smo mnogo o timskom radu, posvećenosti, pronalaženju sebe, šta nas to čini srećnim, kako realizovati (naizgled) nemoguće ideje, o nasilju nad djecom kao problemom kojim treba da se bavi svako od nas, ali i o tome da nikada nije kasno da promijenite svoj život!
Neki djelovi govora su se posebno dopali prisutnima, pa su se tviteraši pobrinuli da i oni koji nisu prisutni čuju iste (preuzeto sa Twittera):
"Ne postoji neka ideja ili vizija koju ne možete ostvariti, ako vjerujete u sebe" – Dragan Adžić (Sreća = Prilika + Priprema);
"Obrazovni sistem treba promijeniti, jer, samo zbog predrasuda, razmišljanje se ne uči na adekvatan način u školama" – Bojan Đurišić (Promisli, reedukuj, reaguj);
"The only journey is the one within" Shai Choen (Pustolovina, svjesnost i nova trispektiva života);
"Postulati za sreću su: posvećenost, misija, meditacija, vježbanje. Najveća usluga koju možete da učinite svijetu jeste da budete srećni" – Radoje Cerović (Nauka o sreći i čemu nas ona (za sada) uči);
"Promjene su moguće u svakoj fazi života. Nikada nije kasno za početi iznova" – Marianne van Twillert-Wennekes (Nikad nije kasno);
"If you see child abuse and remain quiet about it, you become a complicit" – Benjamin Perks (Kako da spriječimo prerastanje dječijih nedaća u doživotnu kaznu).
Naravno da je još mnogo toga o čemu se pričalo, pa svim zainteresovanim predlažem da provjere hashtag #TEDxPodgorica na Twitteru. 🙂
Kao što je rekao gospodin Raspopović u svom govoru o tome da je "zabava neizostavan dio svakog timskog rada", ona nije izostala ni u nedjelju, i to zahvaljujući našim govornicima, posebno gđi Marianne koja je dobila najviše aplauza i izazvala najviše smijeha u sali, ali i dovitljivom voditelju. U sali je bilo (od publike prozvano) "drvo želja" gdje su svi mogli okačiti poruku u kojoj su napisali svoju ideju, želju ili cilj koji žele ostvariti u 2015. godini, a u holu su izložene slike studenata sa Akademije, koja će stojati na zidovima hotela Ramada do 16. februara 2015. godine.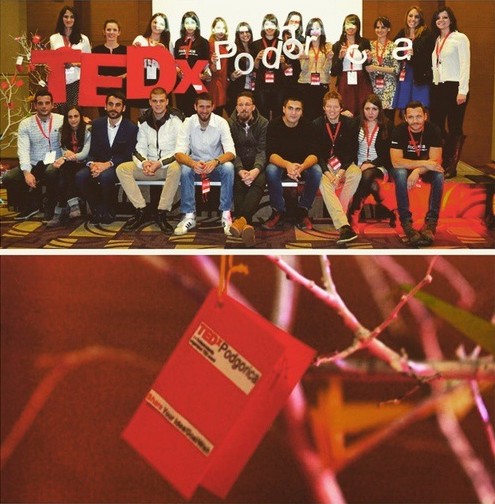 Naravno – nije sve bilo savršeno, ali znam da smo svi dali svoj maksimum. I znam da smo ljestvicu za sledeći TEDxPodgorica podigli visoko, ali sigurna sam da ona nije nedostižna.
I zato – vidimo se na sledećem #TEDxPodgorica događaju! 🙂
Autor: Eldijana Kalamperović