Svjetsko prvenstvo u fudbalu (FIFA World Cup) je međunarodno fudbalsko takmičenje na kojem se takmiče državne reprezentacije koje se, od 1930. godine, organizuje svake četvrte godine, sa izuzetkom 1942. i 1946. kada nije održano zbog Drugog svjetskog rata. Riječ je o najpopularnijem sportskom događaju na svijetu, čija gledanost prevazilazi i Olimpijske igre! Finale između Holandije i Španije na Svjetskom prvenstvu 2010. godine u Južnoafričkoj Republici je, samo kod kuće, pratilo 909,6 miliona ljudi (makar jedan minut TV prenosa), odnosno 619,7 miliona ljudi (najmanje 20 uzastopnih minuta TV prenosa).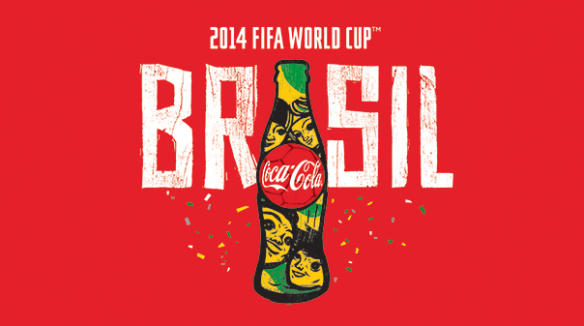 Partnerstvo između Coca-Cole i FIFA je jedno od najdužih korporativnih partnerstava koje ova međunarodna fudbalska asocijacija ima. Coca-Cola se reklamirala na stadionima na svjetskim prvenstvima još od 1950. godine. Formalna saradnja između Coca-Cole i FIFA je počela 1974. godine, a kompanija je postala zvanični sponzor Svjetskog prvenstva 1978. godine. Zahvaljujući specijalnom partnerstvu sa Coca-Colom (FIFA World Cup Trophy Tour by Coca-Cola), trofej Svjetskog prvenstva, uoči takmičenja, ide na globalnu turneju – 88 država za 267 dana. Navijačima i ljubiteljima fudbala širom svijeta se pruža prilika da izbliza vide jedan od najpoznatijih i najprestižnijih sportskih simbola na svijetu.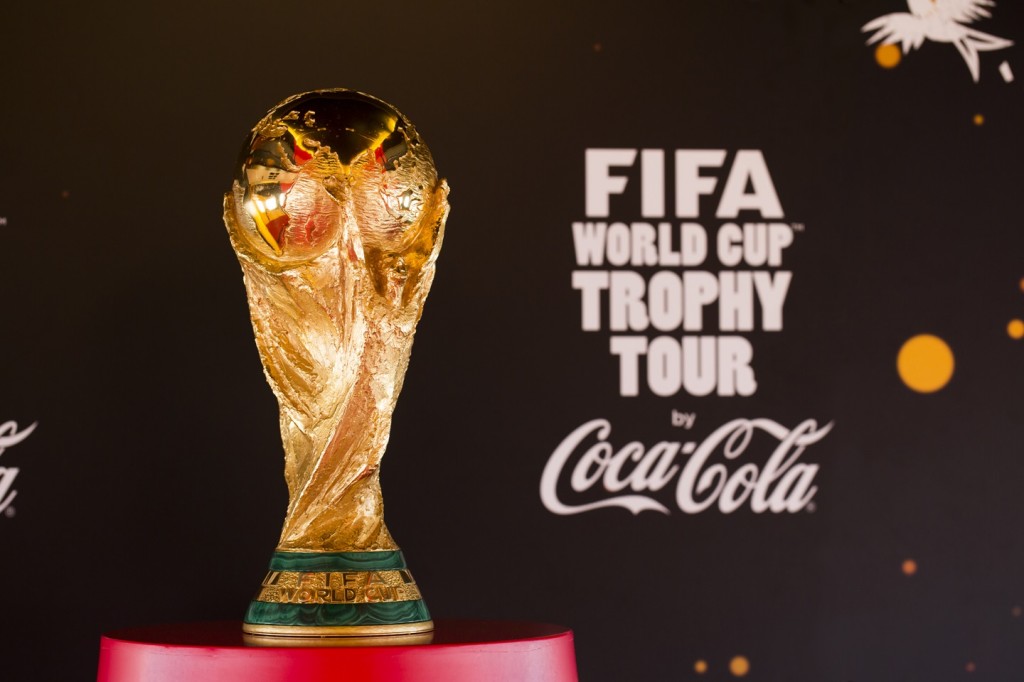 Kako bi podržala Svjetsko prvenstvo 2014. godine u Brazilu, Coca-Cola je pozvala fanove širom svijeta da budu dio najveće zastave ikada stvorene i da pokažu moć koju fudbal ima u spajanju ljudi različite rase, vjere, porijekla i vjerovanja. "Zastava za radost" (Happiness Flag) predstavlja ogromni mozaik, najveći ikada stvoren, koji je sastavljen od fotografija i tweetova koje šalju fanovi. Učestvujte na Svjetskom prvenstvu i pošaljite svoju fotografiju! 🙂
Da je muzika neraskidivo povezana sa Coca-Colom smo već vidjeli u jednom od prethodnih tekstova. A sada ćemo vidjeti koja je veza između fudbala, muzike i Coca-Cole! 🙂 FIFA je, u saradnji sa državom domaćinom Svjetskog prvenstva, još 1962. godine počela sa praksom uvođenja zvanične pjesme prvenstva. Pjesme su se, na različitim prvenstvima, koristile u različite svrhe – od najave događaja, preko ceremonije svečanog otvaranja i zatvaranja prvenstva, do popularizacije takmičenja. Slijede zvanične pjesme Svjetskih prvenstava u fudbalu. Volio bih da u komentarima na dnu ovog teksta čujem koja je vaša omiljena pjesma. 🙂
1962 – Čile – "El Rock del Mundial", Los Ramblers


1966 – Engleska – "World Cup Willie (Where in this World are We Going)", Lonnie Donegan
1970 – Meksiko – "Fútbol México 70", Roberto do Nascimento


1974 – Zapadna Njemačka – "Futbol", Maryla Rodowicz


1978 – Argentina – "Anthem", Buenos Aires Municipal Symphony, Ennio Morricone


1982 – Španija – "Mundial '82", Plácido Domingo


1986 – Meksiko – "A Special Kind of Hero", Stephanie Lawrence


1990 – Italija – "Un'estate italiana (To Be Number One), Edoardo Bennato i Gianna Nannini
Možda sam pristrasan jer mi je ovo prvo svjetsko prvenstvo koje sam u cjelosti pratio, ali ova pjesma mi je i dan-danas apsolutni favorit! 🙂 Pjesmu je komponovao Giorgio Moroder, legendarni italijanski producent, izvođač i DJ, a bila je najprodavaniji singl u Italiji od januara do septembra 1990. godine.
1994 – SAD – "Gloryland", Daryl Hall i Sounds of Blackness
Amerikanci su imali, vjerovatno, najdosadniju pjesmu u poslednjih 20 godina. U pitanju je numera zasnovana na tradicionalnoj spiritualnoj pjesmi "Glory, Glory, Hallelujah (Lay My Burden Down)". Na ovom prvenstvu je, takođe, korišćena poznata pjesma "We Are the Champions", kultne britanske grupe Queen.
1998 – Francuska
Od Svjetskog prvenstva u Francuskoj, FIFA razdvaja pojmove "znanična himna" i "zvanična pjesma" prvenstva.
1998 – Francuska – Zvanična himna – "La Cour des Grands (Do You Mind If I Play)", Youssou N'Dour i Axelle Red
1998 – Francuska – Zvanična pjesma – "La Copa de la Vida (The Cup of Life)", Ricky Martin
Ovo je bila jedna od najuspješnijih pjesama Rickyja Martina – šest nedelja je držala prvo mjesto na top listama u Australiji, Francuskoj i Švedskoj, četiri nedelje u Njemačkoj, dvije nedelje u Španiji i jednu nedelju u Švajcarskoj, a uspjela je da se plasira u Top 10 u Norveškoj, Austiji i Holandiji. Pjesma je dostigla platinasti tiraž širom svijeta, a samo u Francuskoj je prodata u 563 hiljade primjeraka. Interesantno je da je u SAD prodala 141 hiljadu digitalnih kopija, iako se digitalna revolucija u muzičkoj industriji još uvijek nije bila dogodila.
2002 – Južna Koreja i Јapan – Zvanična himna – "Anthem", Vangelis
Vangelis, legendarni grčki kompozitor, čovjek koji je dobio Oskara za najbolju muziku za film Chariots of Fire i čovjek koji je komponovao muziku za kultni film Blade Runner, je bio kompozitor zvanične himne za prvenstvo 2002. godine. Numera je postigla komercijalni uspjeh u Japanu, gdje je prodata u preko 100 hiljada primjeraka.
2002 – Južna Koreja i Јapan – Zvanična pjesma – "Boom", Anastacia
Iako je zahvaljujući hitovima "I'm Outta Love" i "Paid My Dues" Anastacia bila veoma popularna, ova pjesma nije uspjela da ostvari komercijalan uspjeh, pa se plasirala na Top 10 listu jedino u Italiji, Belgiji i Švedskoj.
2006 – Njemačka – Zvanična himna – "Zeit Dass Sich Was Dreht (Celebrate The Day)", Herbert Grönemeyer, Amadou i Mariam


2006 – Njemačka – Zvanična pjesma – "The Time of Our Lives", Il Divo i Toni Braxton
Numeru su izveli međunarodni operski-pop kvartet, Il Divo, i američka R&B pjevačica, Toni Braxton. Pjesma je naišla na slabu reakciju publike, pa se plasirala na Top 10 listu samo u Švajcarskoj, na Top 20 u Njemačkoj i Norveškoj, na Top 30 u Italiji i Austriji, a na ukupnoj evropskoj listi (European Hot 100 Singles) je zauzela bijedno 52. mjesto.
2010 – Južnoafrička Republika – Zvanična himna – "Sign of a Victory", R. Kelly i Soweto Spiritual Singers
Numera koju su izveli američki pjevač, R. Kelly, i južnoafrički gospel hor, Soweto Spiritual Singers, je prošla prilično nezapaženo – domogla se 12. mjesta na japanskoj top listi i 81. pozicije na američkoj Billboard US Hot R&B/Hip-Hop Songs listi.
2010 – Južnoafrička Republika – Zvanična pjesma – "Waka Waka", Shakira i Freshlyground
Za razliku od himne, zvanična pjesma je bila pun pogodak! Popularnost kolumbijske pjevačice, Shakire, "zarazna" pjesma i interesantan spot su omogućili da "Waka Waka" bude prodata u više od četiri miliona primjeraka širom svijeta, što je čini najprodavanijom pjesmom sa svjetskih prvenstava u digitalnoj eri. Zvanični spot je do marta 2014. godine imao preko 630 miliona pregleda na YouTubeu, što ga čini osmim najgledanijim video snimkom u istoriji ovog servisa!
2010 – Južnoafrička Republika – Coca-Colina himna – "Wavin' Flag (Coca-Cola Celebration Mix)", K'naan
"Wavin' Flag" je pjesma somalijsko-kanadskog izvođača pod imenom K'naan, koja je uspjelo da stigne do drugog mjesta na listi najpopularnijih pjesama u Kanadi. Nakon zemljotresa 2010. godine na Haitiju, grupa kanadskih muzičara okupljenih u grupu Young Artists for Haiti je snimila obradu ove
numere u humanitarne svrhe, a pjesma je postala najprodavanija u Kanadi. Pjesma postaje globalni hit nakon što ju je Coca-Cola odabrala kao svoju himnu za promociju Svjetskog prvenstva u Južnoafričkoj Republici. Urađen je remiks pjesme, dodate su nove riječi, a pjesma je osvojila prvo mjesto na top listama u Kanadi, Njemačkoj, Švajcarskoj i Austriji, broj dva na listama u Italiji, Velikoj Britaniji i Irskoj, a plasirala se na Top 10 liste u još 20 država širom svijeta! Procjenjuje se da je Coca-Colina verzija pjesme prodata u više od 900 hiljada primjeraka, a da su sve verzije prodate u preko 2,5 miliona primjeraka.
2014 – Brazil – Zvanična himna – "Dar um Jeito (We Will Find a Way)", Carlos Santana, Wyclef, Avicii i Alexandre Pires

Himnu za predstojeće Svjetsko prvenstvo u Brazilu su uradili legendarni američki gitarista meksičkog porijekla, Carlos Santana, američki hip hop muzičar i producent, član bivše grupe Fugees, Wyclef Jean, sve popularniji švedski DJ, Avicii i brazilski pop pjevač Alexandre Pires. Pjesma je predstavljena 28. aprila, a spot za pjesmu još uvijek nije objavljen.
2014 – Brazil – Zvanična pjesma – "We Are One (Ole Ola)", Pitbull, Jennifer Lopez i Claudia Leitte
Zvaničnu pjesmu za smotru fudbala u Brazilu izvode američki reper kubanskog porijekla, Pitbull, popularna američka pjevačica Jennifer Lopez i Claudia Leitte, koja uživa ogromnu slavu u svom rodnom Brazilu. Pjesma je predstavljena 8. aprila, a spot za pjesmu još uvijek nije objavljen.
2014 – Brazil – Coca-Colina himna – "Todo Mundo", Gaby Amarantos (za tržište Brazila) / "La Copa De Todos", Wisin, Paty Cantú i David Correy (za tržište Centralne i Južne Amerike) / "The World Is Ours", David Correy (za ostatak svijeta)
Coca-Colin favorit za ovo Svjetsko prvenstvo je pjesma koju izvodi David Correy, amerikanac brazilskog porijekla, koji je najpoznatiji kao finalista na X-Factor takmičenju 2012. godine. Pjesmu za brazilsko tržište izvodi popularna tehno-pop pjevačica, Gaby Amarantos, koju je MTV 2012. godine izabrao za umjetnika godine u Brazilu. Za tržište Centralne i Južne Amerike pripremljena je pjesma koju će izvoditi Wisin (jedna polovina popularnog dueta Wisin & Yandel iz Portorika) i Paty Cantú, meksička pjevačica.
Napišite u komentarima koja je vaša omiljena pjesma sa Svjetskog prvenstva. 🙂

Napomena: Ovaj tekst je dio akcije Coca-Cola System – Bloggers Network.