Kako napraviti sopstvenu formulu uspjeha – Panel diskusija "Motivacijom do uspjeha"

Crnogorsko udruženje studenata političkih nauka (MAPSS) je povodom Međunarodnog dana sreće, u petak, 29. marta, organizovalo panel diskusiju pod nazivom "Motivacijom do uspjeha", čiji su učesnici bili:
Kada sam zauzela mjesto u sali broj pet Fakulteta političkih nauka, panelisti su neposredno nakon toga ušli vedrih lica satkanim osmjesima. Znala sam da se nesto sprema. Iz prikrajka se začula rođendanska pjesma za našeg alpinistu Milana koja se proširila salom prikupljajući glasove. Milan je bio izuzetno iznenađen, a u tom trenutku i mnogo zahvalan. Tada Srđan dodade: "Male stvari čine zivot.", pa tako poče ova panel diskusija sa malim stvarima koje na kraju čine velike poduhvate. Sljedeće tri priče će nas u to uvjeriti.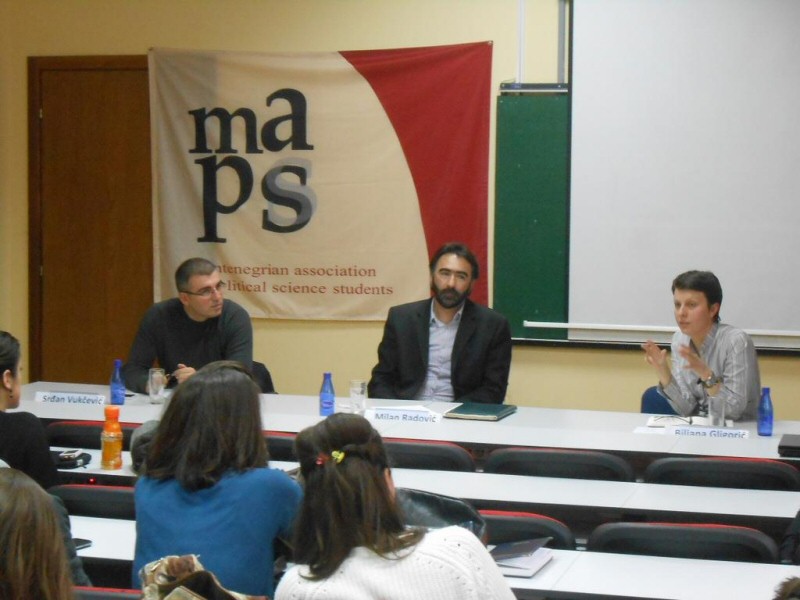 Prvi dio ove formule pripao je Srđanu Vukčeviću. Dok pokušavamo da dokučimo svoju definiciju sreće, Srđan nam je predstavio njene tri vrste – zadovoljstvo, strast i svrha. Kao što je i nagovijestio: "Pleasure – Passion – Purpose. Uspješni ljudi mogu da naprave razliku između ova tri pojma." Istakao je da bi svi trebalo da nađemp svoju svrhu u životu, jer ona je taj oblik sreće koja prednjači ispred ostale dvije.
Ukazao nam je na razliku između motivacije i inspiracije ističući: "Motivacija se crpi iz inspiracije". Dok je iskazivao srž ove razlike nailazimo na opnu između motivacije, inspiracije i svrhe, kako je i predočio: "Riječ 'inspiracija' mnogo više cijenim od riječi 'motivacija'. Razlika je u svrhi." Dok je nastojao da nam objasni sve strane motivacije , naglasio je: "Ne kačite se za svoju motivaciju, jer kad ne bude u blizini, nestaće."
Za drugi dio formule uspjeha zaslužan je crnogorski alpinista Milan Radovic. Imali smo tu čast da čujemo niz dogodovština, među kojima i priču o treninzima u višespratnicama Podgorice. Noseći na ramenima teret određene težine, jednom su nam rekli reče Milan kroz smijeh: "Imate lift, zašto nosite toliko?" Kao što nam je i napomenuo: "Zahvaljujući besomučnom ponavljanju, smo uspjeli."
Slušajući o stazama koje su bile uglačane koracima našeg alpiniste, istakao je: "Ne penji se na planine da bi tebe svijet vidio, nego da bi ti vidio svijet." Svi imamo neke svoje prepreke, a Milan njegove rješava rečenicom – "Ja to mogu." Kao što i kaže: "To je čudesna rečenica."
Dok sam sakupljala ove misli, shvatih da bi svi trebali naći svoju planinu i dokučiti kakav je pogled sa nje. Nakon Milanovih sugestija pozitivne strane motivacije, govorio je i o negativnoj strani. Između ostalog u mojoj bilješci je ostala rečenica: "Mnogi nijesu uspjeli, jer im je motivacija bila negativna (inat)."
Treći dio ove formule je zasluga Biljane Gligorić. Iako kratka, ali iskonska njena rečenica: "Obožavam stripove, jer predstavljaju vječiti sukob između dobra i zla. Od prvog dana sam izabrala 'svijetlu stranu'." U sali je ova Biljanina misao odzvanjala kao da nam nagovještava da je vrijeme da napravimo razliku šta je za nas dobro, a šta nije.
Uvjeravajući nas da ćemo svi pronaći svoj put, kazala je: "Kad tad dođe sve na svoje." Takođe je istakla da bez vjere nema puta ka uspjehu. Na tom putu postoje mnoge zamke , a Biljana nam je predstavila onu najveću: "Važno je ne upasti u zamku prihvativši standarde tuđeg uspjeha." Ona je već u petnaestoj godini počela da prelazi zamke na putevima života, kada je otpočela sa poslovnom karijerom.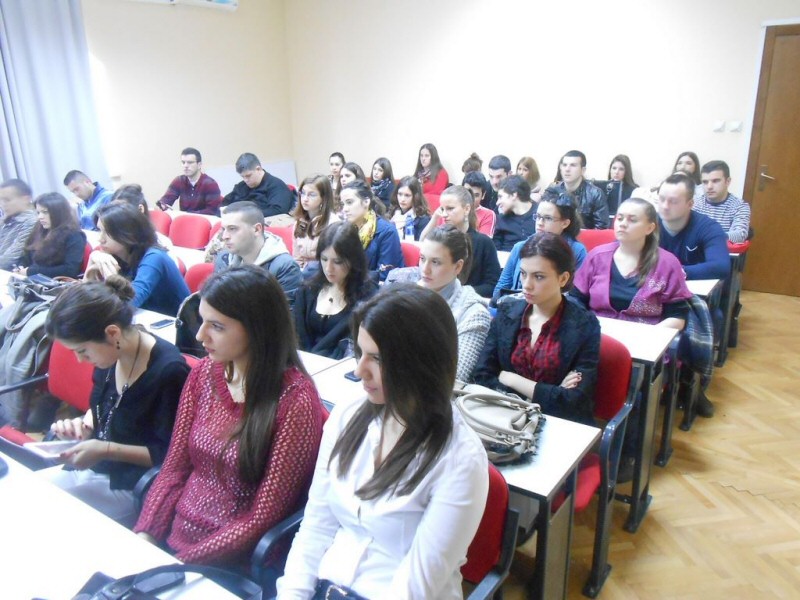 Dakle, nikad nije rano, a ni kasno da počnemo sa postavljanjem asfalta za svoj put života. Kao što nam je Biljana predočila: "Mnogi ljudi ostaju zaglavljeni u tuđim modelima uspjeha."
Tri krucijalne poruke koje smo mogli čuti od panelista toga dana bile su:
"Ne mora svaka trka biti Vaša. Birajte trke u kojima ste dobri." – Srđan Vukčević
"Slijedite svoje snove i nikada ne odustajte od njih." – Milan Radović
"Život nije sprint, već maraton." – Biljana Gligorić
Sa ove panel
diskusije izašla sam noseći zaključak pod ruku, koji glasi ovako – Trčite svoju trku najbrže što možete, sakupljajući svoje snove kao bonuse za uloženi trud. Život je igra, u kojoj najspretniji pobjeđuju, pa iskoristite svoju trku i budite Vi oni na čijem ramenu će biti pobjednička traka!
Jovana Šakotić, studentkinja II godine Ekonomskog fakulteta Podgorica
www.jovanasakotic.wordpress.com
Photo Credits: MAPSS