Virtuelna produkcija, dizajn interakcije, blokčejn tehnologije i vještačka inteligencija u digitalnim umjetnostima neke su od vodećih tema o kojima će se pričati poslednjeg vikenda u septembru.
Ovogodišnje izdanje konferencije CGA Belgrade, omiljenog okupljanja u sferi kreativnih industrija koje tradicionalno ujedinjuje profesionalce iz svijeta filma, video igara i digitalnih umjetnosti, pokazaće publici da budućnost zabave počiva na zajedničkom radu i kontinuiranom usavršavanju.
Međunarodna konferencija kompjuterske grafike i digitalnih umjetnosti, CGA Belgrade, se posle skoro tri godine online aktivnosti vraća u svoj grad pod sloganom Remodeling the Future. Program prvog dana konferencije (23. septembra) biće besplatno dostupan za praćenje na sajtu CGA od 15 časova, dok publiku drugog dana (24. septembra) očekuje cjelodnevni program u tri sale uživo u mts Dvorani.
Veliki dio programa fokusiraće se na moćni alat za kreiranje interaktivnog sadržaja i virtuelnu produkciju, Unreal Engine, u kome je nastala virtuelna scenografija prvog, online dana konferencije. Na ovom poduhvatu radilo je dvanaestoro mladih umjetnika, inače polaznika ljetnje laboratorije za kreiranje virtuelnih okruženja pod okriljem Crater Training Centra, a pod mentorstvom iskusnih profesionalaca iz šireg spektra kreativnih industrija. Virtuelnu CGA pozornicu prvog dana konferencije zauzeće predavači iz dalekih zemalja Australije, Velike Britanije i SAD od kojih neki dolaze iz najvećih studija za razvoj video igara kakvi su Epic Games, kreatori hit naslova Fortnite, i Playstudios, Tetrisov novi dom.
Drugi dan konferencije u mts Dvorani otvoriće predavanje Nicky Gogan, proslavljene irske producentkinje dokumentarnih i igranih filmova koja je svoju karijeru zaokrenula ka upotrebi inovativnih rješenja u razvoju animiranih filmova. Publika u Beogradu će imati priliku da ponovo čuje miljenika zajednice Victora Pereza i njegovo inspirativno predavanje o umjetnosti, nauci i tehnologiji konceptualizacije svijetla, koje je nedavno održao za Pixar studio. Pored njih, glavnom binom konferencije prošetaće francuska umjetnica video igara Camille Soual, dramaturg Ivan Stančić, stručnjak za AI generisana djela Miroslav Kostić, kao i predstavnici uspješnih domaćih studija za vizuelne efekte Crater Studio i Digital Asset Tailors.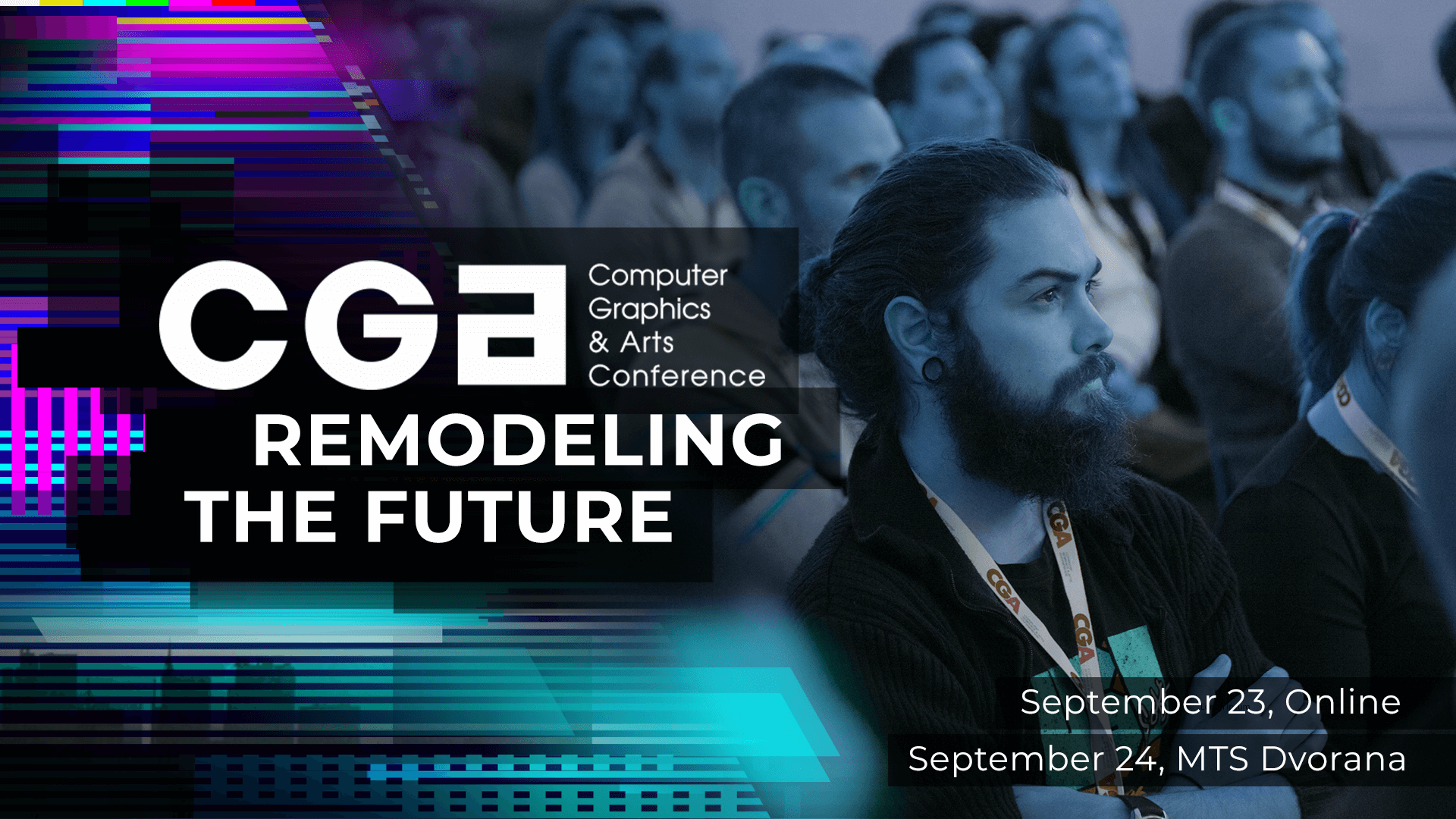 Gosti konferencije će u ova dva dana pričati o najaktuelnijim projektima u industriji zabave, o tehnološkim inovacijama, virtuelnoj produkciji i vizuelnim efektima na filmu, razvoju video igara, dizajnu iskustva gledalaca, te sve češćem uplitanju vještačke inteligencije u umjetničku praksu. Dijeliće se znanje, profesonalni savjeti i iskustva, razgovaraće se o pomjeranju granica u razvoju talenata, ali i redefinisanju odnosa između biznisa i kreativnosti –  i to sve potpuno besplatno, uz neophodnu registraciju posjetilaca na sajtu cgabelgrade.com.
Cjelokupni program CGA Belgrade podijeljen je u tri cjeline, te publiku i u druge dvije konferencijske sale očekuje bogat sadržaj koji uključuje tehničke sesije pod palicom eksperata iz softverskih kompanija Autodesk i Side FX, edukativni program za mlade stvaraoce, te serija korisnih sesija osmišljenih sa ciljem da vlasnicima malih studija obezbijedi znanje i alate za unapređivanje poslovnih modela.
Pored glavnog dijela programa, u planu je i nekoliko ekskluzivnih radionica i masterklasova u Crater Training Centru. Čitav program možete pronaći na sajtu konferencije koji se svakodnevno puni novim informacijama.
Imajući u vidu širinu i kompleksnost zajednice koju CGA Belgrade okuplja, konferencija će biti pravo mjesto i za predstavljanje inicijative superklastera Creative Tech Srbija i kreiranja sinergetskih efekata i između različitih kreativnih sektora. Povodom toga, kao član pilot projekta vođen Srpskom asocijacijom video igara (SGA), konferencija će ugostiti panel na kojem će predstaviti slične inicijative koje spajaju filmsku i gejming industriju, a koje su uspješno sprovedene u Irskoj, Litvaniji i Moldaviji.
Program konferencije se već dugi niz godina realizuje u partnerstvu i uz sponzorsku podršku kompanija 3Lateral/Epic Games, Autodesk, PMO, Mad Head Games, Playstudios Europe, Crater Studio, Side FX, Foundry, Chaos Group i DAT, dok će njeni novi partneri, Elder, Atomic Visual i Ovation BBDO publici omogućiti besprekorno digitalno iskustvo. Konferencija CGA Belgrade 2022 podržana je od strane Ministarstva kulture i informisanja Republike Srbije, Ambasade Republike Irske i učestvuje u superklaster inicijativi Creative Tech Serbia, podržanoj od strane projekta Srbija inovira koji sprovodi ICT Hub iz Beograda, uz podršku USAID-a.
Konferenciju CGA Belgrade osnovali su 2017. godine Crater Training Center, Srpska filmska asocijacija i portal VFX Serbia.