A long time ago in a galaxy far, far, away…
Vrijeme je građanskog rata, dva giganta naučne fantastike se bore za dominaciju nad zvijezdama. Iako postoje oni koji se fanatično bore za svoju franšizu, postoje i mnogi koji nisu odlučili koja od njih je bolja. Upravo su oni ti koji treba da donesu balans galaksiji.
Star Wars i Star Trek su, bez sumnje, dva najveća djela naučne fantastike. O njima su pravljeni filmovi, snimane serije, pisane knjige i stripovi. Odlučiti o tome koja od ove dvije franšize je bolja je veoma teško, tako da ću napraviti arenu u kojoj će se Star Wars i Star Trek takmičiti u šest kategorija i onaj koji na kraju bude imao više pobjeda – vladaće galaksijom. 🙂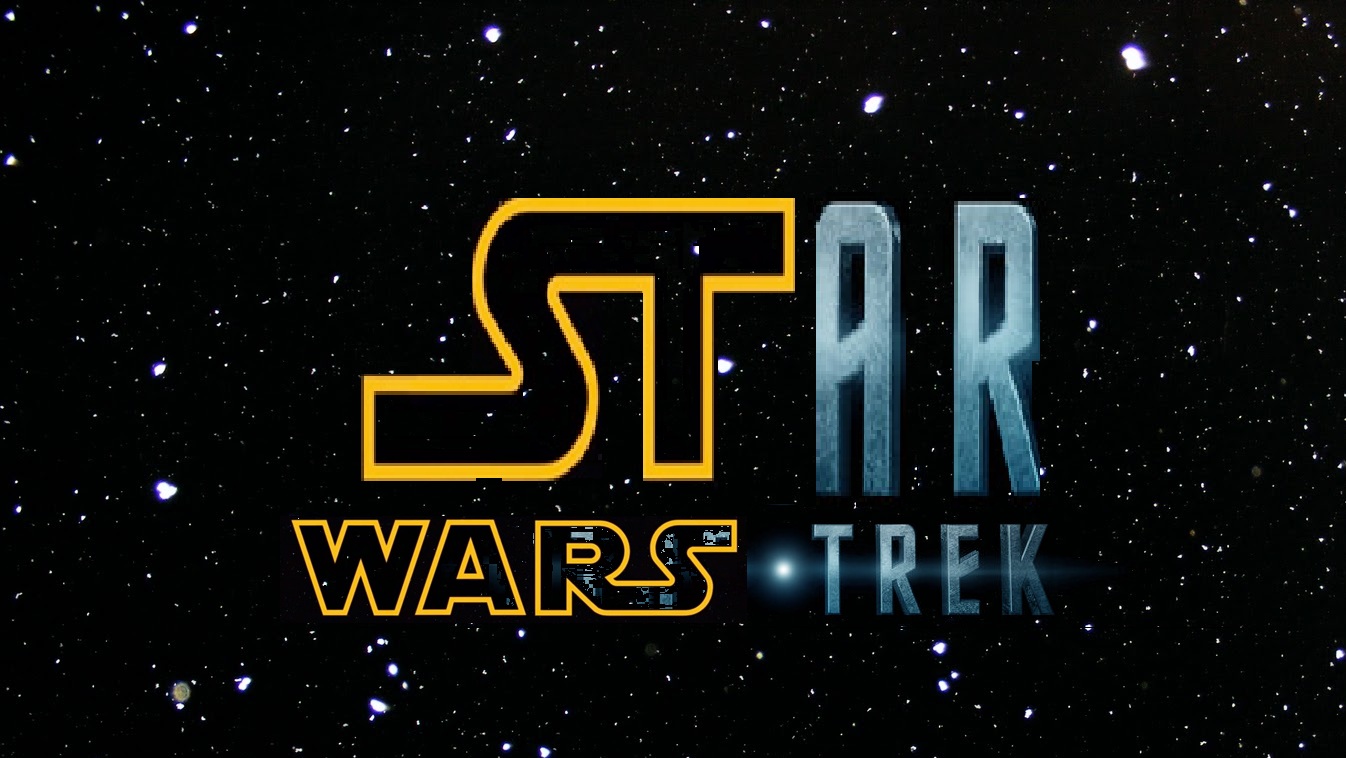 Filmovi
Trenutno postoji 11 Star Trek filmova i 6 Star Wars filmova, ali, uprkos brojčanoj nadmoći, Star Wars filmovi su ostvarili veći profit i pokupili više nagrada. Profit Star Trek filmova iznosi 1,93 milijarde dolara dok je Star Wars ostvario cak 4,48 milijardi (bez re-ekranizacija). Kada su nagrade u pitanju, Star Wars ima 25 nominacija za Oskara i 10 osvojenih statua, dok je Star Trek osvojio jednog Oskara, a bio je nominovan 14 puta. Očigledni pobjednik ove kategorije je Star Wars.
Serije
Dok Star Wars ima nadmoć na velikom platnu, kada su mali ekrani u pitanju, stvari su potpuno drugačije. Dok postoje samo dvije (i to animirane) serije koje se bave Star Wars tematikom, Star Trek može da se pohvali sa pet kultnih serija o čijem kvalitetu govori podatak da su nagrađivane sa čak 31 Emmy nagrada. Ova kategorija definitivno pripada Star Treku.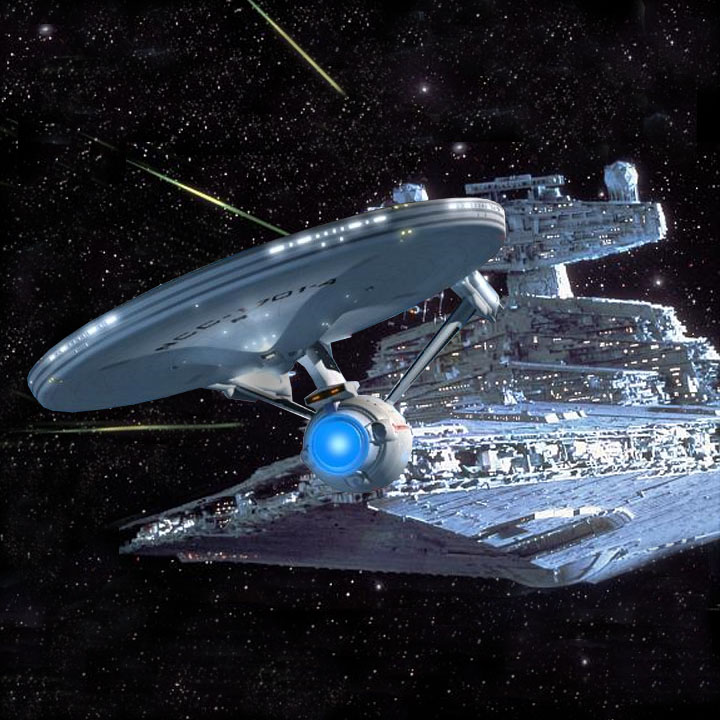 Knjige i stripovi
Knjige i stripovi su možda i najtjesnija kategorija jer obije franšiže mogu da se pohvale sa više od 70 miliona prodatih primjeraka knjiga na ovu temu. Takođe se mogu pohvaliti i sa redovnim izdavanjem stripova. Jedino bi se najveći fanovi mogli snaći u tom moru naučne fantastike.
Rezultat ove kategorije je neriješen.
Muzika
Nažalost po Star Trek, ovo je kategorija u kojoj su potuno zasijenjeni brilijantim kompozicijama John Williamsa. Uvodna špica iz Star Wars-a i "Imperial March" su melodije koje su poznate čak i ljudima koji nisu gledali filmove. To, i činjenica da su neke kompozicije iz ratova zvijezda izvođene na koncertima Bečkog orkestra, čine Star Wars pobjednikom ove kategorije.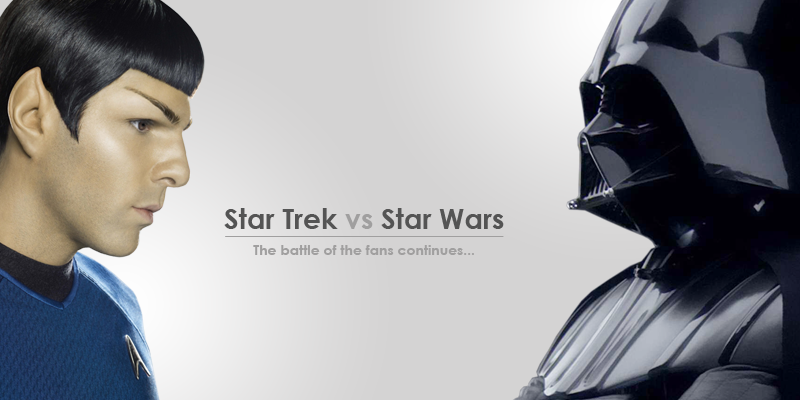 Video igre
Kategorija koja se često zaboravlja, ali Disneyu i, prije njih, Lucas Artsu, nije smetalo da gledaju profit koji im donosi prodaja licenci za "Knights of the Old Republic" "Force Unleashed" i "Battlefront". Kada se sabere profit svih Star Wars baziranih igara, on iznosi 2,9 milijardi dolara. Star Trek, sa druge strane, se jedino može pohvaliti igricom za iPhone i Android uređaje. Star Wars je pobjednik i ove kategorije…
Nasljeđe
Star Wars i Star Trek su stvorili neke od najpoznatijih likova svih vremena, od "zlikovaca" Darth Vadera i Khana, do heroja poput Han Sola i Kapetana Kirka. Citati iz ovih djela su ušli u našu komunikaciju: "Live long and prosper" i "May the force be with you" su najpoznatiji od njih… Ipak, dok su svjetlosni mačevi (lightsabers) i sila (force) samo plodovi mašte ili daleka budućnost, neki od izuma današnjice su inspirisani upravo Star Trekom. Mobilni telefoni (komunikatori u Star Treku) i univerzalni prevodioci su samo neki od izuma koji su se pojavili u Star Treku mnogo prije nego što su postali realnost. Zbog toga što je Star Trek bliži stvarnosti od Star Warsa, on je pobjednik ove kategorije.

Ukupni pobjednik ovog okršaja je Star Wars. Dok je Star Trek osvario uspjeh na malim ekranima, Star Wars je ipak mnogo prepoznatljiviji brend koji je prisutan u svim medijima…
May the force be with you and Live long and prosper!
Gostujući bloger: Mihajlo Boljević