Da li ste spremni da proširite svoje znanje, dođete do novih kontakata ili jednostavno da budete dio jednog od najznačajnijih tech događaja u regionu?
Već petu godinu za redom organizuje se How To Web konferencija. Međutim, za razliku od prethodnih, ovogodišnja konferencija sastavljena je iz 4 različita dijela sa sadržajem napravljenim tako da odgovara potrebama i interesovanjima svih učesnika. Na konferenciji će predavanja držati više od 70 lidera, vrhunskih govornika, koji dolaze iz cijelog svijeta.
Srž konferencije predstavlja događaj namijenjen raspravi o budućim trendovima i preduzetništvu, praćen ostalim događajima koji su u vezi sa razvojem igrica, proizvoda i "anđelima" investitorima. Takođe, ovo je izuzetna prilika za stupanje u kontakt sa najboljima iz svijeta tehnologije – kako tokom konferencije, tako i na spektakularnim How To Web žurkama.

How To Web – budući trendovi i preduzetništvo
Glavni dio How To Web konferencije 2014 donosi nevjerovatne priče o budućim trendovima koji će promijeniti poslovanje i industrije širom svijeta, preduzetništvo u oblasti tehnologija, dolaženje do investicija ili pravljenje i rad na tehnološkim proizvodima sa ogromnim potencijalom. Manuel Heilmann (co-founder & CEO Coinzone), Ze Pinto Ferreira (co-founder & CEO FNV Labs) i Florian Meissner (CEO & co-founder EyeEm, Njemacka) su samo neki od tech lidera koji će govoriti na dijelu konferencije posvećenoj budućim trendovima i preduzetništvu.
How to web – pravljenje igrica
Kako gaming industrija u regionu cvjeta, ovogodišnji How To Web i asocijacija rumunskih developera igrica (RGDA) će otkriti koje se taktike nalaze u pozadini nekih od najvećih hitova iz gaming industrije. Ovdje možete čuti nešto više o potpunom preokretu u startapovima ili o fazama ciklusa proizvodnje igrica od renomiranih specijalista kao što su Dan Olthen (Game of Thrones Producer, Bigpoint Gmbh), Mathieu Muller (Field Engineer, Unity Technologies) i Vlad Micu (Head of Studio, Critical Force Entertainment). Saznajte više o govornicima i agendi OVDJE.
How To Web – događaj posvećen proizvodnji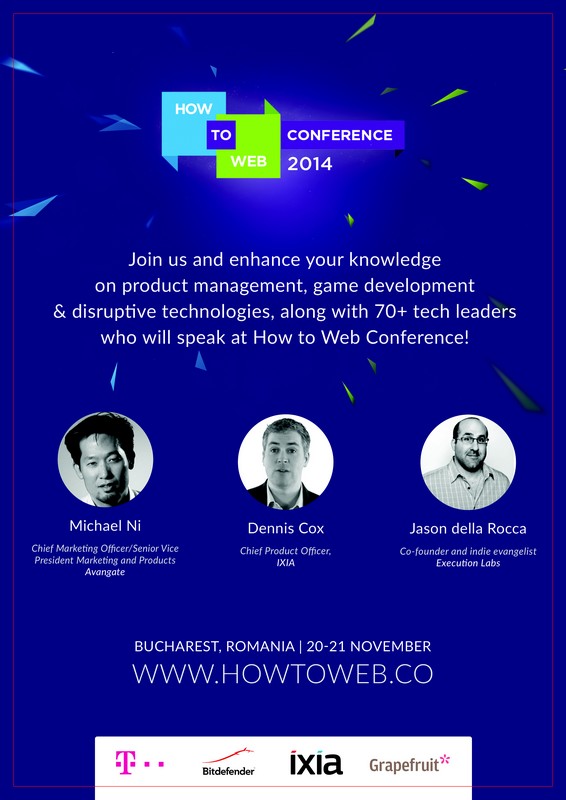 Ako želite da saznate viče o pravljenju boljih proizvoda ne biste trebali da propustite događaj posvećen proizvodima, koji je razvijen u saradnji sa Moziac Works-om. Ovdje možete naučiti od specijalista kao što su Ragnar Sass (co-founder & New markets, Pipedrive) i Mark Tolmacs (Product Manager, Ustream), kako da ukljičite korisnike u proces razvijanja proizvoda, kako da planirate faze razvoja i koordinišete besprekorno izvršenje ili kako da se nosite sa haosom. Više govornika će biti najavljeno uskoro, a u međuvremenu OVDJE možete vidjeti agendu događaja.
How to web – događaj "anđeli" investitori
"Anđjeli" investitori koji žele da sklope vrhunske pogodbe imaju događaj ekskluzivno namijenjen za njih na How To Web konferenciji 2014. Razvijen zajedno sa Angelsbootcamp-om, događaj "anđeli" investitori će dovesti u vezu investitore najvećeg nivoa i akceleratore iz regiona kako bi podijelili sa učesnicima najbolje prakse iz oblasti investiranja u tech startapove. Zajedno sa Felix Petersen (Angel investor & Chief Product Officer, Tape.tv), Mike Doherty (Angelsbootcamp), Adrian Gheara (Angel Investor in 123ContactForm, Axosuits), Rune Theill (co-founder, Rockstart), Lyuben Belov (co-founder, Launchub), Simon Jenner (co-founder & CEO, Oxygen) i mnogim drugim učesnici mogu diskutovati o ključnim ranim fazama investiranja u startapove. Više o ovom događaju možete pročitati OVDJE.
Organizator je ove godine omogućio učesnicima kupovinu odvojenih karti za svaki od 4 događaja kako bi učestvovali na dijelu How To Web konferencije koja najviše odgovara njihovim interesovanjima i potrebama. Danas je  poslednja šansa da se dođe do Very Early Bird karti već od 49 EUR, dok u periodu od 23.10.-13.11. svi zainteresovani mogu kupiti Early Bird karte po cijeni već od 69EUR.
How To Web konferencija biće održana u Bukureštu 20.-21. novembra 2014. godine.
Podsjetnik: U okviru How To Web konferencije organizovaće se takmičenje i program orjentacije, Startup Spotlight 2014, namijenjen tech startapovima iz centralne i i istočne Evrope koji se nalaze u ranim fazama razvoja. Više o takmičenju možete pročitati OVDJE.