Early stage tech startups from Central and Eastern Europe are invited to apply to How to Web Startup Spotlight, competition and orientation program for the best 32 teams in the region. Reaching its 3rd edition, the program offers the participants valuable connections, mentoring, investment opportunities and cash prizes of 20.000 USD. Applications are open until Monday, October 20, on the program website.

Organized in parallel with How to Web Conference, Startup Spotlight 2014 will take place in between November 19 and 22 in Bucharest, Romania, and it will bring together 32 startups from the CEE region that are currently building tech products with disruptive potential. Throughout the program, they will attend pitching and mentoring sessions and will meet with successful entrepreneurs, experienced professionals, and representatives of some of the most important acceleration programs and early stage investment funds from Europe and beyond.
This year, all the startups that are accepted to How to Web Startup Spotlight will have the unique opportunity to pitch their products on the main stage of How to Web, in front of the entire audience of the conference. They will thus gain regional and international exposure, receive expert advice, establish meaningful connections, and, on top of all this, compete for motivating prizes with a total value of 20.000 USD offered by IXIA, main partner of the program.
"More than anything, young entrepreneurs need expert advice and support when they decide to build their own businesses. Startup Spotlight gives us the possibility to guide their steps, listen to their ideas, give feedback and present our point of view. We are glad that we can support the entrepreneurial initiatives in the industry, together with the entire community, and we hope that our opinions can help the entrepreneurs define a clear vision and understand the market potential of the product they're building", said Teodor Ceauşu, Country Manager IXIA România.
32 teams from Romania, Bulgaria, Hungary, Serbia and Poland have attended the previous edition of How to Web Startup Spotlight, and the results they registered afterwards confirm the quality of the program and its impact on the evolution of the participating startups. 35% of the attendees to How to Web Startup Spotlight 2013 (12 teams out of 32) received an investment, established a strategic partnership, or were admitted to an acceleration program as a direct consequence of attending the program. Moreover, other 10 teams started discussions with potential partners, investors or accelerators.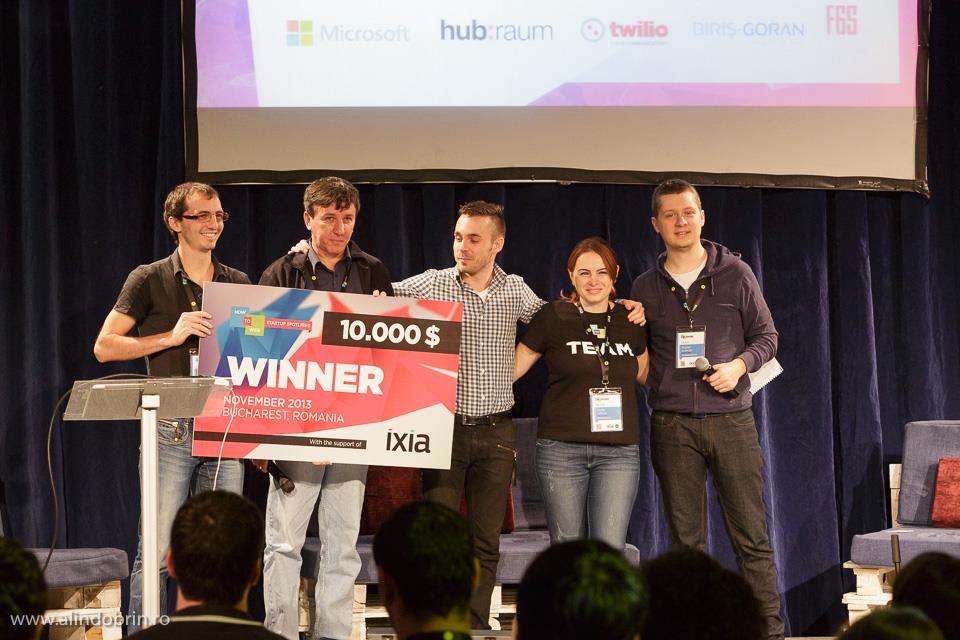 Synetiq, neuromarketing platform that provides businesses with consumer insights directly from their customers' brain, is the runner up of Startup Spotlight 2013 winners; they have further on raised 40.000 EUR and were accepted in the Startup Sauna accelerator program. A similar story is the one of Wyliodrin, winners of IXIA Innovation Award that have launched the second version of the platform, expanded their operations and partnered with Intel as the official recommended software for Galileo. The complete results of Startup Spotlight 2013 are presented in the follow-up report available online here.
This year as well, How to Web Startup Spotlight offers the participating teams the chance to meet strategic partners and experienced mentors, and discuss with angel investors and representatives of some of the most appreciated accelerator programs and early stage investment funds at international level.
500 Startups (US), TechStars (UK), Seedcamp (UK), Startupbootcamp (EU), Rockstart (NL), Startup Wise Guys (Eastern Europe) or Hub:raum (Poland) are just a few of the accelerators that confirmed their attendance to How to Web Startup Spotlight 2014. Daniel Lynch (Partner 3TS Capital), Jonathan Bixby (Executive Director Growlab Ventures), Vicky – Marie Gibbons (Partner Bethnal Green Ventures), Dan Lupu (Partner Early Bird Venture Capital) and Sitar Teli (Managing Partner Connect Ventures) are among the representatives of the early stage investment funds that are going to talk with the startups that make it into the program. The complete list of investors that are going to attend the event is available here.
Startup Spotlight targets technology startups having at least one Co-Founder from the CEE, with less than 2 years of activity, that have developed at least a functional prototype of their product to date and have not raised more than 100.000 EUR in funding until the present moment.
The finalists of the program will be selected by a jury comprising Alex Barrera (Co-Founder & Editor Tech.eu), Robert Knapp (Co-Founder & CEO Cyberghost), Carmen Sebe (ex-COO Avangate), Bogdan Ripa (Master Product Owner Adobe) and Cosmin Ochişor (Business Development Manager Hub:raum). The expert judges will review the applications based on their team fit and experience, market size & trend, market validation & traction, customer acquisition cost, scalability and overall feasibility.
CEE startups that are currently building tech products with disruptive potential are invited to submit their application online at http://startupspotlight.co until Monday, October 20. The results of the selection process will be available on Tuesday, October 28. Startup Spotlight 2014 is a program developed in partnership with IXIA Romania with the support of Telekom Romania, Bitdefender, Grapefruit, Avangate, Softlayer, CyberGhost, Hub:raum, Domain.me, the Canadian Embassy in Romania, and Reea.
Startup Spotlight 2014 takes place during How to Web Conference 2014, the most important event dedicated to innovation, technology and entrepreneurship in South Eastern Europe. The 5th international edition of How to Web marks a new beginning for the conference and proposes the audience an enhanced, more mature format, that discusses in depth several specific subjects. Thus, the main stage of the conference will bring into discussion topics related to future trends & entrepreneurship, while the specialized tracks about product management, game development and angel investments will help specific target groups gain valuable know-how in their field on interest. Very Early Bird tickets starting at 49 EUR are available online on the conference website http://howtoweb.co/tickets until Wednesday, October 22nd.
The visibility of the event is ensured by the main media partners Netocratic, Inventures.eu, Newtrend.bg, IT Dogadjaji, Digjitale, The Pole Society, Adevărul Tech, PLAYTECH, Hotnews.ro, Forbes România, Wall Street, Capital, Yoda, Times New Roman and the media partners Cariere, Business Review, Business Woman, Business Cover, Business 24, Incont.ro, Manager Express, Today Software Magazine, Gadget Trends, Comunicaţii Mobile, PC World, Agora, Games Arena, Ctrl-D, Startups.ro, România Liberă, Academia Caţavencu, Evenimentul Zilei, Zelist, Comunicatedepresa.ro, Ziare.com, Ejobs and Digitalizuj.me.
About How To Web
How to Web is the most important event dedicated to innovation, technology, and entrepreneurship in South East Europe. The conference targets technology innovators, web entrepreneurs, tech product developers, outsourcing companies interested in innovation, investors, as well as all tech & web lovers. More details about this year's event and the updated speakers list are available online on the conference website.
For more information about How to Web, contact:
Irina Nicoleta Scarlat
PR Manager
Email: irina [dot] scarlat [at] howtoweb [dot] co
Telefon: +40 720 034 031
Twitter: @how_to_web
Facebook: http://www.facebook.com/howtoweb