Zašto konferencije?
Javlja se dopisnik iz Kostarike (najzelenije države na svijetu, koja predstavlja 6% globalnog biodiverziteta (!)), sa ICANN konferencije, iz glavnog grada San Hozea, koji je na nadmorskoj visini od preko 1000 metara (i užasno duva vjetar :(), negdje između Pacifičkog okeana i Karipskog mora, sjeverno od Paname, južno od Nikaragve… (pošto ovo nije travel blog ne stavljam slike, pogledajte posle moj i Sanjin facebook profil :))…… I vjerovali ili ne fenomenalne destinacije nisu jedini razlog zbog kojih volim konferencije… naravno da je to prvi razlog i naravno da je lokacija ono što najviše privlači ljude kad se priča o konferencijama. Barem na početku…Ali koliko je samo konferencija na koje odem a da ne vidim ništa van hotela? Jer kad već odem tamo, prosto mi žao da ne vidim sva predavanja, ne sretnem se sa svima koji su tamo (ili barem onima koji su nam važni poslovni partneri), i sebi obećam da ću se vratiti, nekad, na ona mjesta koja su najviše obećavala. A možda sam samo pravi dobri đak koji voli da sjedi u prvoj klupi i sluša (čitaj štreber)… i Sanja je isto ;)…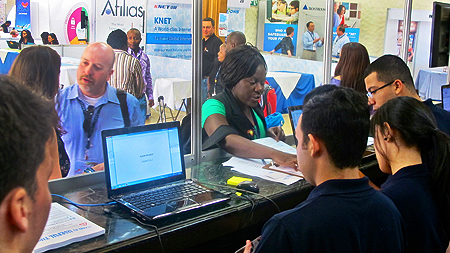 Koliko se nekad zakopamo u svoj posao, radeći jednu istu stvar svaki dan. Čak i dinamični posao nekad bude isti iz dana u dan. Dođem ujutro na posao, pregledam mailove dok pijem kafu, odgovorim na nekih 30 mailova odmah, vratim se na neke koji su ostali od prije…par telefonskih poziva, priča malo sa kolegama, izvještaji, pregledanje što drugi rade, što je novo. Ako imam sreće naletim na dobar članak koji me malo zagolica da moram da pokrenem vijuge … share na facebook, tweet… ako nemam sreće, samo iščitam par desetina članaka po raznoraznim tehničkim i marketinškim sajtovima/blogovima i to se zadrži u glavi par minuta posle, i izvjetri. I idem dalje, sjutra dan opet isto… Sva kreativnost je nekako … on hold.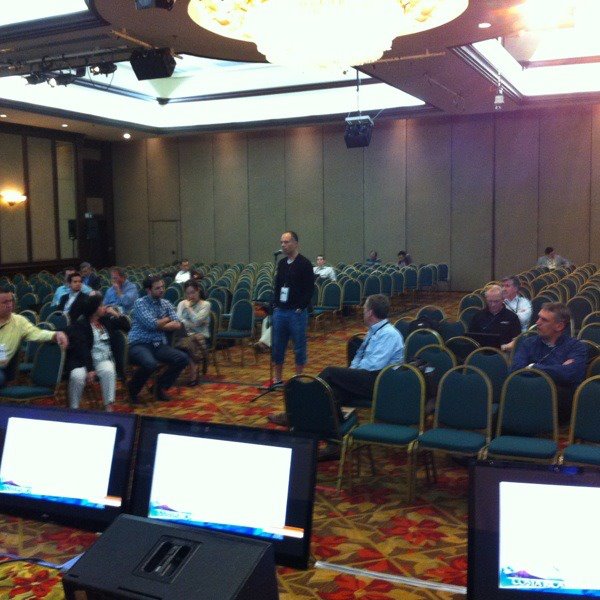 A kad odem na konferenciju (osim što sve gore navedeno moram da uradim), barem pozdravim druge ljude, popričam s nekima koji daju samo malo drugačiji pogled na svijet, ili žive u nekom drugom svijetu. Danas smo, u jednom danu upoznali Palestinca Ahmeda i Izraelca Joava. Morala sam (nisam mogla da odolim, Sanja je htjela da me ubije) da ih pitam ista pitanja vezano za političku situaciju u njihovoj zemlji. Zemlji sa dva imena… Obojica su suštinski ispričali istu priču. Onda sam predala Japancu poklon držeći paketić sa obje ruke. On ga prihvata sa obje ruke, prinosi ga čelu, jer je to način kako da se zahvali. Poljubila se sa 10 Evropljana po dva puta, par Rusa po tri puta, zagrljaj tipa rame-na-rame s million Amerikanaca "Hey, what's up?!", rukovala sa još ko zna koliko ljudi… bile ponosne jer se pozdravljamo na deset različith jezika u jednom danu… Hola, Zdravstvujte, Hi, Ciao – come stai, Wie getz?!, Salut … jednostavno susreli se sa 20 različitih kultura u jednom danu, prokomentarisale sve, jer smo osjetile isto – sudar kultura …različitosti…
A uz sve to smo svi skroz u biznis modu. 24 sata dnevno. Kad se pokreću vijuge, nove ideje pršte na sve strane, čak se po malo kajemo kad se sjetimo da smo spavali već neko vrijeme jer smo radili obični "fizički" posao, jer nismo mogli da smislimo ništa spektakularno novo … i sve ono što sam čitala, što je još ostalo u glavi, poprima neki novi oblik i smisao. Koncetracija raste,
izoštrava se vid 🙂 i sluh. Idemo dalje, na sljedeći dan, na 10 sastanaka dnevno, koji bi trebalo da svi imaju istu priču, jer imamo svoj sales pitch, a svaki se sastanak pretvori u nešto jedinstveno jer svaki put pričamo sa različitim ljudima, iz različitih kultura, sa različitim idejama.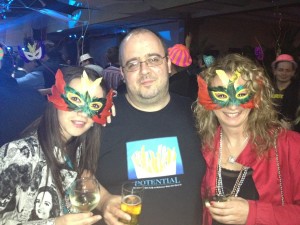 Samo je jedna stvar ista – konferencije bude neki novi smisao prema ljudskom. Konferencija izjednačava sve kulture, različite ljude sa različitim idejama. Pogotovo jer svi radimo za firme koje većinu posla obavljaju preko interneta. Konferencija daje poseban ton izrazu know-how. To su trenuci kad shvatiš koliko je čovjek važan dio svakog posla. I koliko smo svi isti. I koliko su veze i odnosi sa ljudima ono što pokreće i održava posao.