Predstavnici krakovskog hub:raum-a će u petak, 16. septembra u 18h, doći u prostorije kompanije doMEn da se upoznaju sa lokalnom startap zajednicom. Ako radite na startapu, dođite da ga prezentujete i možda osvojite neku od vrijednih nagrada, a ako još uvijek nemate svoj startap, dođite da čujete u kakve to ideje investitori ulažu i šta je to što hub:raum može da vam ponudi.
Ovaj događaj organizuje krakovski hub:raum u saradnji sa Digitalizuj.Me kao domaćinom i Crnogorskim Telekomom kao partnerom.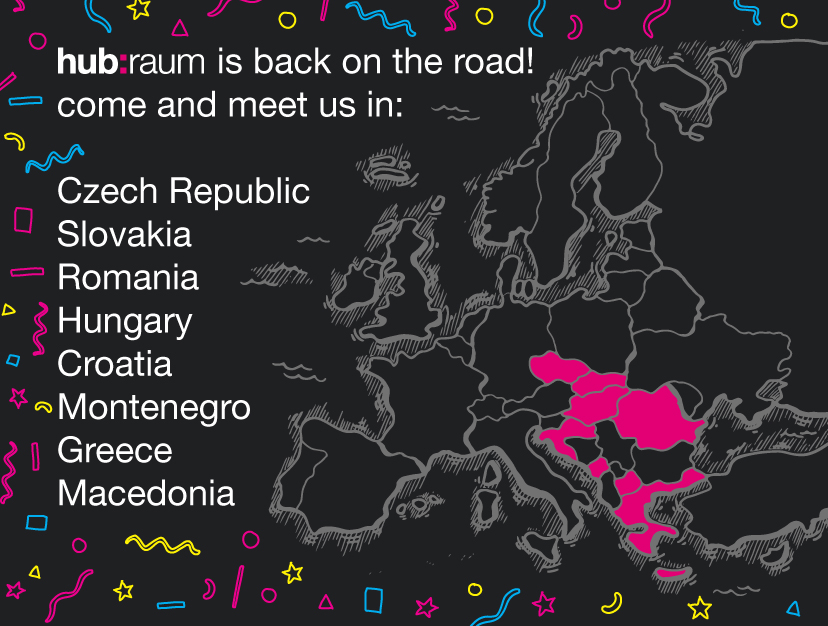 Šta je hub:raum Krakov i šta nudi startapima?
Hub:raum Krakov je startap akcelerator koji je dio Dojče Telekom grupe, a postoji sa ciljem da pomaže startapima koji su u ranoj fazi razvoja.
Hub:raum će vam, ako im se svidite, ponuditi takozvane pametne pare – što bi značilo da, osim investicije do 300.000€, možete dobiti i mnoge druge stvari neophodne za uspjeh biznisa. Pomoći će vam u svim aspektima poslovanja, povezati vas sa pravim ljudima, pomoći će vam da dođete do prvih klijenata, daće vam prostor za rad u Krakovu, a na raspolaganju vam može biti i kompletna infrastruktura Dojče Telekom grupe, kao i njihovih 150 miliona korisnika.
Kako dobiti sve to?
Prijavite se za neki od njihovih programa. Hub:raum tokom cijele godine organizuje događaje i programe kojima pomaže startapima, npr. WARP (turbo akceleratorski program), Challenge Up (program koji u saradnji sa Cisco-om i Intel-om organizuju za startape koji se bave internetom stvari)… Iz ličnog iskustva vam mogu potvrditi da je kvalitet tih programa na izuzetno velikom nivou. Posebno sam bio fasciniran kalibrom mentora kojih uvijek u velikom broju stavljaju startapima na raspolaganju.
Na njihovom sajtu možete vidjeti raspored programa i prijaviti se, mada postoji i lakši način.
Prečica do učešća na nekom od programa je da dođete u petak 16. septembra u 18h u prostorije kompanije DoMEn. Prezentujte svoju fantastičnu ideju predstavnicima hub:raum-a, svidite im se i osvojite direktan prolaz u neki od programa.
Startapi, ako želite da svoj projekat prezentujete predstavnicima hub:raum-a i možda osvojite neku od vrijednih nagrada,
Ako još uvijek nemate svoj startap, a želite ga pokrenuti u budućnosti, onda dođite da upoznate ljude iz akceleratora. Dođite jer ćete naučiti u kakve ideje investitori ulažu i jer će vam pomoći da ispolirate neke od startap ideja koje trenutno imate u glavi. Još jedan važan razlog da dođete je i to što će, kada budete spremni da o vašem startapu razgovarate sa investitorima, biti dovoljno da ekipi iz hub:raum-a pošaljete email sadržine:
"Ćao, upoznali smo se u Podgorici i pričali o XYZ… Sada imam ideju na kojoj radim i volio bih da čujem vaše mišljenje. Jeste li raspoloženi za jedan kratki Skype call?…".
Tako nekako. Javili bi vam se oni i saslušali vas i bez da ste se prvo upoznali, ali ovako će vas sigurno saslušati pažljivije i staviće vam više svog vremena na raspolaganju. Njihovo vrijeme je često ono za šta se startapi bore, ipak im se svakodnevno javlja jako puno startapova iz cijele Evrope.
Za kraj podsjećanje da je nekoliko naših startapova već prošlo hub:raum-ove akceleratorske programe u Krakovu. Sva iskustva govore isto – dobije se puno znanja, kontakata, unaprijede ideje i dobije nevjerovatna doza motivacije da se još predanije radi na svojim idejama… O svemu tome ćete na samom događaju više čuti iz prve ruke, tj. od startapera koji su prošli kroz hub:raum-ove programe.
Vidimo se u petak 16. septembra u 18h u prostorijama kompanije DoMEn!