M:tel App Builder liga: podsticaj za početnike
Predstavnici kompanije M:tel juče su na konferenciji za štampu objavili početak takmičenja u izradi Android aplikacija za smart telefone koje će trajati do 7. februara 2013. godine. Uz to, predstavljen je novi Mondo portal, dizajniran tako da odgovara smart telefonima i omogući korisnicima da, između ostalog, brzo dođu i do informacija o novotarijama iz oblasti mobilnih aplikacija.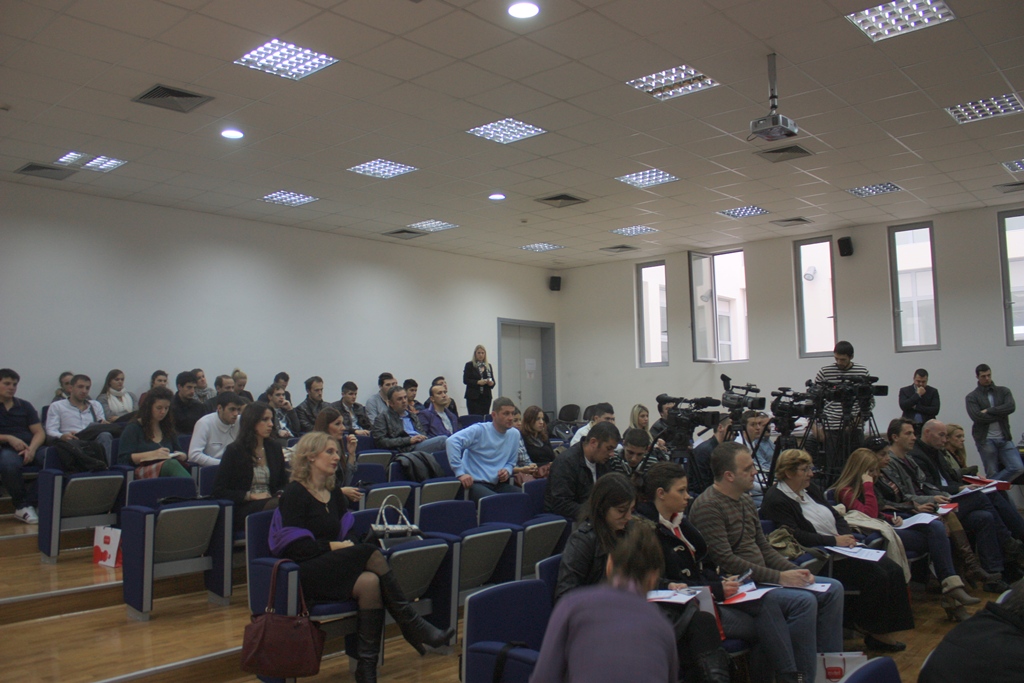 Takmičenje za najbolje Android aplikacije nosi naziv "M:tel App Builder liga" i namijenjeno je studentima, ali i svima drugima koji žele da se okušaju u ovom poslu. Dakle, možete se takmičiti čak i ako nijeste programer/ka ili dizajner/ka – potrebno je samo da imate dobru ideju i volju da eksperimentišete sa App Builder-om, online alatom za izradu aplikacija koji je obezbijedila kompanija M:tel.
Kako da počnete? Potrebno je da se na web stranici www.mtelappbuilderliga.me registrujete koristeći nalog sa jedne od društvenih mreža koje koristite, a da zatim, prateći uputstva, napravite svoju aplikaciju upotrebom funkcija App Builder-a. Kada vaša aplikacija bude gotova, moći će da je koriste svi oni čije uređaje pokreću Android, IOS, Windows ili Bada operativni sistemi. Iz kompanije M:tel napominju da je upravo to – mogućnost da istovremeno napravite aplikaciju za više platformi – najveća prednost App Buildera.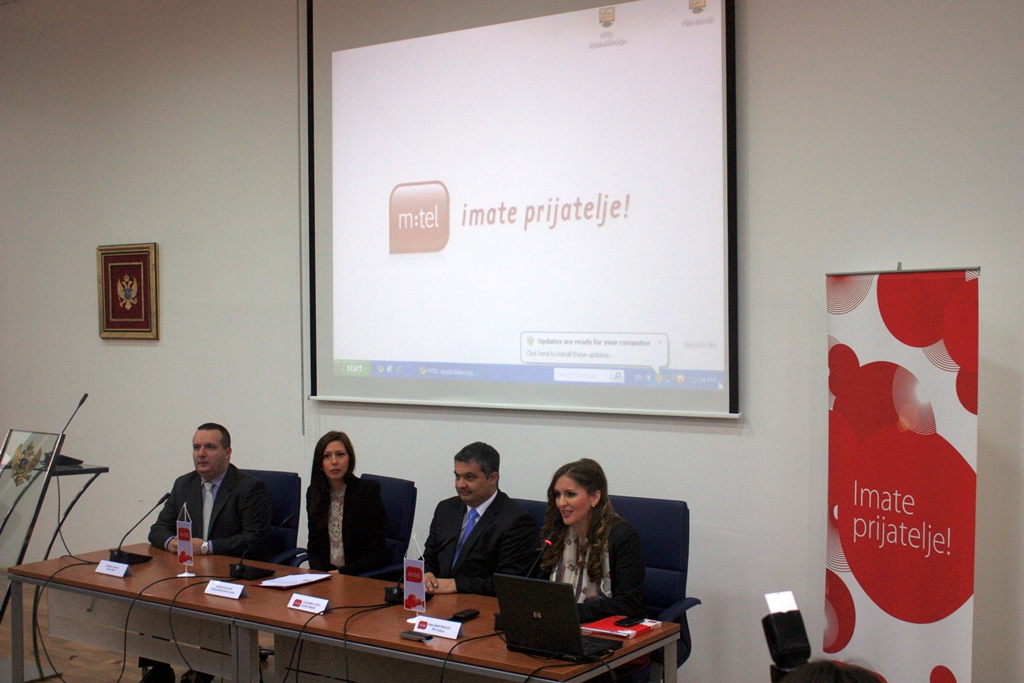 Svaki takmičar moći će da napravi i prijavi najviše 20 različitih aplikacija, a nagrade za tri najbolje aplikacije u tri kategorije su Samsung Galaxy S III, Galaxy Note i Samsung Galaxy S II.
U kategorije koje će ocjenjivati komisija spadaju najbolje adaptirani web sajt, najbolji dizajn i najbolja ideja. Osim toga, autor aplikacije koju korisnici prepoznaju kao najbolju dobiće Samsung Galaxy Tab. Svaka prijavljena aplikacija biće testirana na Samsung Galaxy S III telefonu, a one koje budu odobrene imaće svoju stranu na web sajtu pa će korisnici koji preuzmu aplikaciju moći i da je ocijene.
Osim kvalitetnih Android uređaja, oni koji odluče da učestvuju u ovom takmičenju imaju šansu da dobiju i posao: 5 najboljih takmičara će od kompanije M:tel dobiti ponudu za saradnju na promociji servisa "M:tel App Builder".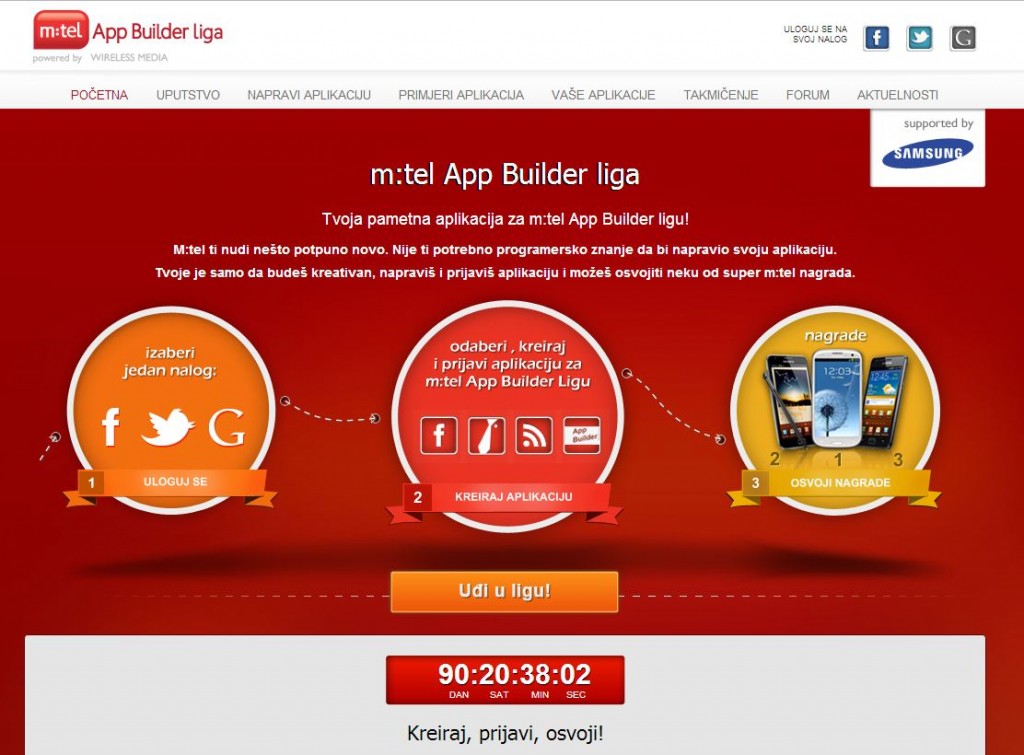 Hvale vrijedan potez kompanije M:tel – da svima pruži priliku i podsticaj da iz prve ruke vide kako se prave i kako funkcionišu aplikacije za smart telefone – podržavaju i Ministarstvo nauke i Univerzitet Crne Gore, čiji su predstavici takođe prisustvovali konferenciji za štampu. Ostaje da se vidi koliko će korisnika odlučiti da iskoristi ovu priliku, kao i to kako će aplikacije biti održavane i promovisane nakon kraja takmičenja i da li će biti dostupne na Google Playu. Do tada, prelažemo da kišne dane iskoristite za istraživanje mogućnosti App Buildera. Srećno!
Autori: Sonja Dragović i Bojan Ćinćur