Valjda je prirodno da na kraju godine imam napade sređivanja i pospremanja, nekog sumiranja rezultata, pokušaja, neuspjeha, svega što sam naučila i uradila, i ja pojedinačno, i moj tim, i lično i profesionalno. Na osnovu sređenih stvari mogu da počnem da planiram dalje. Nekad su to razumni planovi, nekad samo puke želje i fantaziranja. Nedavno sam shvatila da je tako nastao i Digitalizuj.Me – nas troje, Vanja, Pedja i ja smo imali napad sređivanja i planiranja na kraju godine. I uklopili smo sve to u jednu priču. Krenulo je spontano, nedefinisano, totalno utopijski i mogu da kažem skroz na osjećaj. Zovite to improvizacijom, idealizmom, patetikom. Ja danas znam da je Digitalizuj.Me na pravom putu da ispuni ono što smo mi željeli da on bude: pomoć zajednici, mjesto okupljanja onih koji žele da rade i uče, jedan od inicijatora promjene.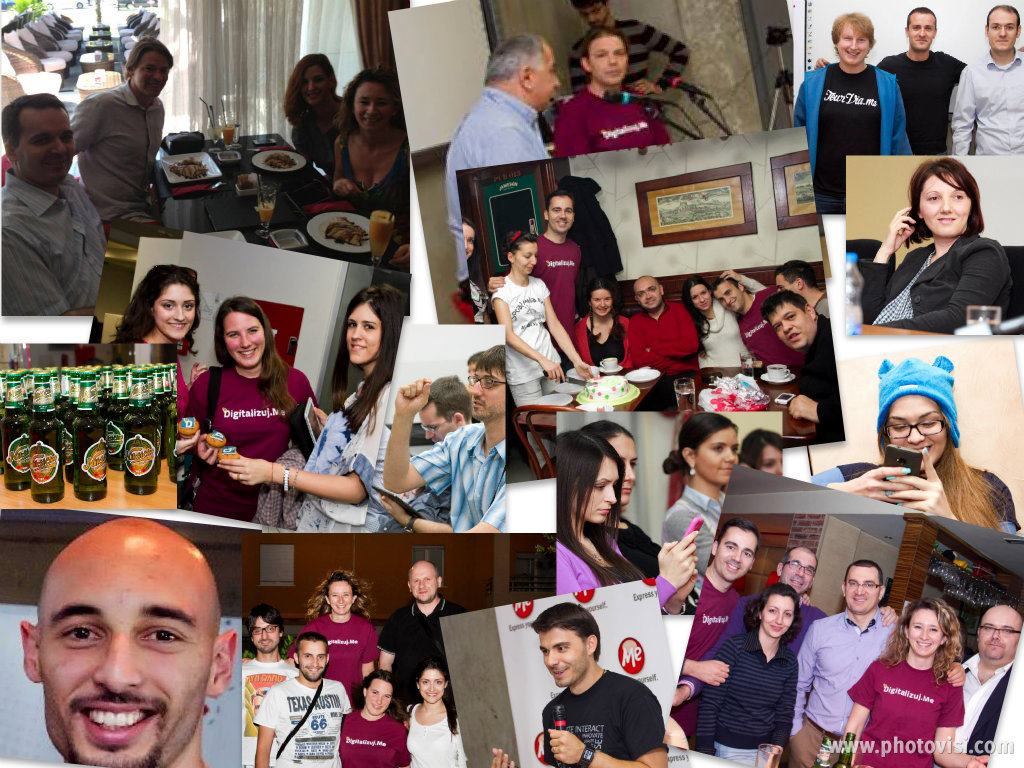 Danas je 7. decembar – tačno dvije godine od dana kad smo počeli i od mog prvog posta na Digitalizuj.Me gdje sam prvi put javno rekla da želim da promijenim svijet i objasnila kako to želim da uradim. I dalje čvrsto stojim kod toga da mijenjanjem sebe i uskog kruga ljudi oko sebe, možeš da promijeniš svijet. Ja danas znam da imam strašan krug ljudi oko sebe, koji je za ove dvije godine porastao sa nas troje na nas petoro, pa na nas desetak koji svakodnevno učestvuju u aktivnostima Digitalizuj.me. A osim nas desetak ima nas stotinjak koji učestvuju, pitaju, pomažu, doprinose. I osim nas stotinjak ima nas i hiljadu koji znaju što radimo, koji nas prate, koji nas hvale, i kritikuju i pomažu i savjetuju.
To više nije samo nas troje koji smo počeli ovaj "pokret", tu su i svi oni koji su se uključili, na papiru i mimo papira, tu su svi iz ekipe DoMEn i ME-net, studenti, volonteri. To je danas grupa ljudi koji žučno raspravlja na milion tema, a jedino oko čega se teško složi je vrijeme sastanka. Tu svi znamo istu stvar, a svi imamo svoje specijalnosti. Tu je naš tihi i nesebični snimatelj i tehnički mag, savjetodavac iz prikrajka – Milutin, Maša – od milošte pred$ednica, Nikola – mlađani brat koji mi čita misli, a i ja njemu i svi su zapanjeni. Tu su preslatki i predobri volonteri i gosti blogeri, 53 predavača i učesnika panel diskusija na 21 događaju. Tu je Igor – službeni fotograf za čiji
entuzijazam i vrednoću ne postoji jedinica mjere, Itana – zvana inicijativa i upornost i najbrže rastuća osoba u ekipi (ne po kilaži nego po znanju i vještinama), dvije Jovane, Jelena i Danica koje se iz naših ruku lansiraju u svijet, jer smo tako u mogućnosti.
I naravno, tu je Peđa, koji je pun beskrajnih ideja. Vanja, kojem znam što misli iz pogleda, ali pričamo na deset različitih društvenih mreža, svaki dan, svaki sat. Kad nađete ovakvu ekipu koja sve radi samo zato što to želi, postigli ste sve… I tu sam ja – koja s tihim ponosom majke gledam ljude oko sebe kako rastu i nadmašuju me, od kojih učim, koji me insprišu, sa kojima radim. I pošto su me pustili da napišem ovaj post kako god ja hoću pustite me da budem srećna i ponosna i sebična i da nam čestitam rođendan i kažem da smo divni. Ovo je trenutak u kojem mogu da se hvalim svojim uspjehom i uspjehom svoga tima. Srećan nam drugi Digitalizuj.Me rođendan! 🙂
Večeras u 20h izlazimo kao ekipa i skupljamo se u Pub 013! Pridružite nam se da oduvamo svjećice i proslavimo zajedno! Budite i vi dio ovog tima. 🙂