Digitalizuj.Me 1.0
Četvrtak, 15. decembar 2012. godine, sala DODEST u KIC "Budo Tomović" (po slobodnoj procjeni 60 ljudi), napolju podgorički decembarski pljusak sa vjetrom (po slobodnoj procjeni 10km/h), a u sali otvaranje počinje predavanjem Predraga Lešića – "Borbe tehnoloških titana". I tako je ozvaničen početak Digitalizuj.Me pokreta.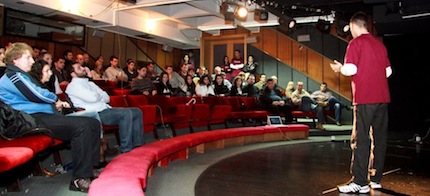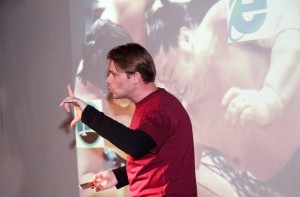 Ispostavilo se da su "Borbe titana" mnogo više od jedne linearne priče kroz IT istoriju koju sam, s dozom skepticizma, očekivao prije početka prezentacije. Naime, radilo se o upoređivanju rješenja za razne segmente industrije (protokola, operativnih sistema, servera…), a zatim i servisa koji su nastali zahvaljujući tehnologiji koja je odnijela pobjedu. Kao nekome ko nije iz IT branše ovaj pregled mi je bio veoma interesantan da, sa jedne strane obnovim ono što sam znao, a sa druge usvojim i nešto novo.
Mislim da je najveća vrijednost podsticanje na kritičko mišljenje i ono golicanje mozga kako se ne bi zapostavio, pošto nam je na ovim prostorima inertnost dijelom i urođena. Što bi možda bio logičan nastavak ove prezentacije (a o čemu će, nadam se, biti govora u budućnosti) je šta će se dešavati dalje u IT svijetu? Što će uraditi Microsoft da povrati staru slavu i da li ima prostora na tržištu za neki novi proizvod? Šta će preovladati, brauzer ili klijent? Ima li Facebook konkurenciju i ako je bude, da li će to biti društvena mreža ili nešto četvrto?
Naravno, razumijem da je otvaranju prisustvovao izvjestan broj ljudi kojima su brojevi, stringovi, heštagovi i ludi aovi mnogo bliži nego meni i da je možda to pleme tekija ("techies") gledalo na "Titane" kao na samo još jedno lagano obnavljanje gradiva. Ali da li su oni uopšte pleme?
A o tome šta je pleme, govorio je Vanja Vulić u predavanju "Digitalna plemena i društveni mediji". Do tada nisam čuo da se riječ pleme koristi u sličnom kontekstu, ali koliko shvatam blisko je onome što zovemo zajednica ("community") – grupa ljudi koja je organizovana oko zajedničkog cilja/ideje/projekta. To je slučaj sa korisnicima Apple brenda, sa navijačima Partizana, sa ljubiteljima stripova itd., s tim što se komunikacija iz oflajn svijeta sve više izmiješta u onlajn te tako plemena postaju digitalna.
Ovdje bi bilo interesantno čuti nešto o top 10 onlajn plemena ili o tome kako plemena postaju savez. Nije li i Digitalizuj.Me nešto slično? Možda nešto što će u budućnosti biti plemenski savez koji pokušava da okupi plemena informatičara, preduzetnika, fanova FarmVillea, navijača Zvezde itd. sa ciljem popularizacije interneta i svega što se tiče interneta  u Crnoj Gori. U skladu s tim ja lično od Digitalizuj.Me pokreta očekujem da bude neka vrsta kolektivnog brejnstorminga gdje su svi pozvani da učestvuju. Ako sam negdje pogriješio Ispravite.ME, a ako se slažete Ispoštujte.ME (komentarima). 🙂
Autor: Vuksan Rajković, @vuks
Fotografije: Igor Milić Photography