Organizacioni tim Spark.me, jedne od najvećih poslovnih konferencija u Jugoistočnoj Evropi, koja je zakazana za 4. i 5. jun u Auditorijumu Porto Montenegra u Tivtu, je objavio ime petog govornika – u pitanju je Ser Pol Kolijer (Sir Paul Collier), profesor ekonomije i javne politike na Blavatnik školi javne uprave Univerziteta u Oksfordu (Blavatnik School of Government, University of Oxford). Video snimak njegovog TED govora iz 2008. godine ima više od 1,6 miliona pregleda.
Profesor Kolijer je direktor Međunarodnog centra za rast (International Growth Centre) kao i britanskog Savjeta za ekonomska i društvena istraživanja u oblasti makroekonomije (Economic and Social Research Council). U fokusu njegovog istraživanja su teme poput slabljenja države i institucija, transformacije privrede iz stanja siromaštva u stanje razvoja i napretka, migracije i izbjeglice, posljedice psihologije grupe na razvoj, te urbanizacije u siromašnim zemljama. Temu krize savremenog kapitalizma posebno je obradio u svojoj knjizi – "The Future of Capitalism".
Kako organizatori konferencije ističu, profesor Kolijer je 2014. godine odlikovan titulom viteza zbog zasluga za promociju istraživanja i promjene javne politike u Africi, a proglašen je i za jednog od 100 najuticajnih mislilaca u oblasti javne politike.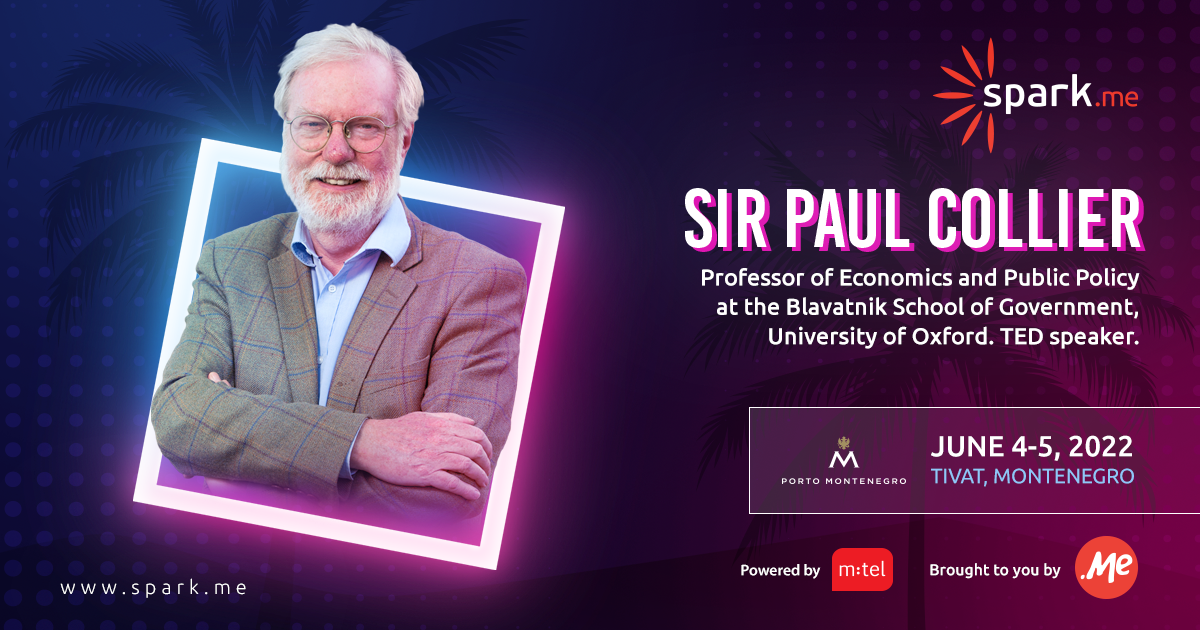 Organizatori su prethodno objavili imena četiri Spark.me 2022 govornika – u pitanju su Michael G Jacobides (jedan od 50 najvećih biznis i menadžment mislioca na svijetu u redovnom dvogodišnjem izboru Thinkers50 i profesor preduzetništva i inovacija i profesor strategije na prestižnoj Londonskoj poslovnoj školi), Christopher S. Penn(svjetski autoritet na polju digitalnog marketinga čija je posebna ekspertiza u oblastima analitike, nauke o podacima i mašinskom učenju), Fredrik Härén (istraživač kreativnosti koji je do sada održao preko 2.000 predavanja u više od 70 država na šest kontinenata) i Pete Blackshaw (međunarodno priznati stručnjak iz oblasti digitalnog marketinga i brendiranja, inovator, autor i lider koji je bio zadužen za digitalne i društvene medije u kompanijama Nestlé, Nielsen i Procter & Gamble).
Karte za konferenciju Spark.me 2022 se mogu kupiti na zvaničnom sajtu – www.spark.me. Puna cijena karte iznosi 300€, ali zainteresovani do 22. maja mogu kupiti svoju kartu po promotivnoj cijeni od 200€. Kao motivacija za sve mlade ljude željne znanja, u ponudi su i studentske karte po cijeni od svega 50€, koje su namijenjene srednjoškolcima i studentima redovnih, postdiplomskih i doktorskih studija koji su mlađi od 27 godina. Cijena karte uključuje pristup svim predavanjima (4-5. juna), startap takmičenju (4-5. juna), ručak za oba dana konferencije, osvježenje na svim kafe pauzama u toku oba dana konferencije, kao i koktel prijem (4. juna). Cijena karte ne uključuje troškove prevoza i smještaja. Kupljene karte se mogu naknadno prenijeti na drugu osobu ("name change"), ali se uplaćeni novac ne može refundirati.
Ovo je osmo izdanje Spark.me, a drugi put da će se konferencija održati u Porto Montenegru, srcu nautičkog turizma Crne Gore i jednoj od najekskluzivnijih marina na Jadranskom primorju. Organizator Spark.me je kompanija doMEn, agent registracije crnogorskog nacionalnog internet domena – .ME, a generalni sponzor je kompanija m:tel. Spark.me nudi priliku učesnicima da o aktuelnim trendovima u oblasti marketinga, tehnologije i biznisa uče od svjetski poznatih eksperata, te da ostvare kontakt sa liderima iz poslovnog svijeta, svijeta tehnologije i inovacija, marketarima, startapovima i ljudima željnih znanja. Riječ je o interaktivnoj konferenciji koja je dizajnirana da podstakne kreativnost učesnika, da im omogući da unaprijede svoje znanje zahvaljujući međunarodno priznatim govornicima, da ih pomogne da unaprijede svoje poslovanje, kao i da sami osmisle i započnu nove poslovne poduhvate. Konferenciji Spark.me prisustvuje preko 700 učesnika iz više od 20 država širom svijeta.
 Za više informacija o Spark.me 2022 posjetite zvanični sajt konferencije na adresi www.spark.me, Facebook stranicu, Twitter nalog, Instagram nalog i LinkedIn nalog.