Peti, jubilarni, festival integrisanih komunikacija KAKTUS 2019 biće održan 29. i 30. oktobra u Madlenianum Opera&Theatre, pod sloganom "Make room for a new BLOOM". Jedan od najnagrađivanijih globalnih kreativaca, Eduardo Marques, Chief Creative Officer u agenciji Publicis Spain, glavni je predavač ovogodišnjeg festivala KAKTUS 2019. On će predavanjem na veoma zanimljivu temu "Don't Wait. Just Make it." zatvoriti ovogodišnji festival. Tim povodom, razgovarali smo sa njim o idejama koje izlaze iz granica očiglednog.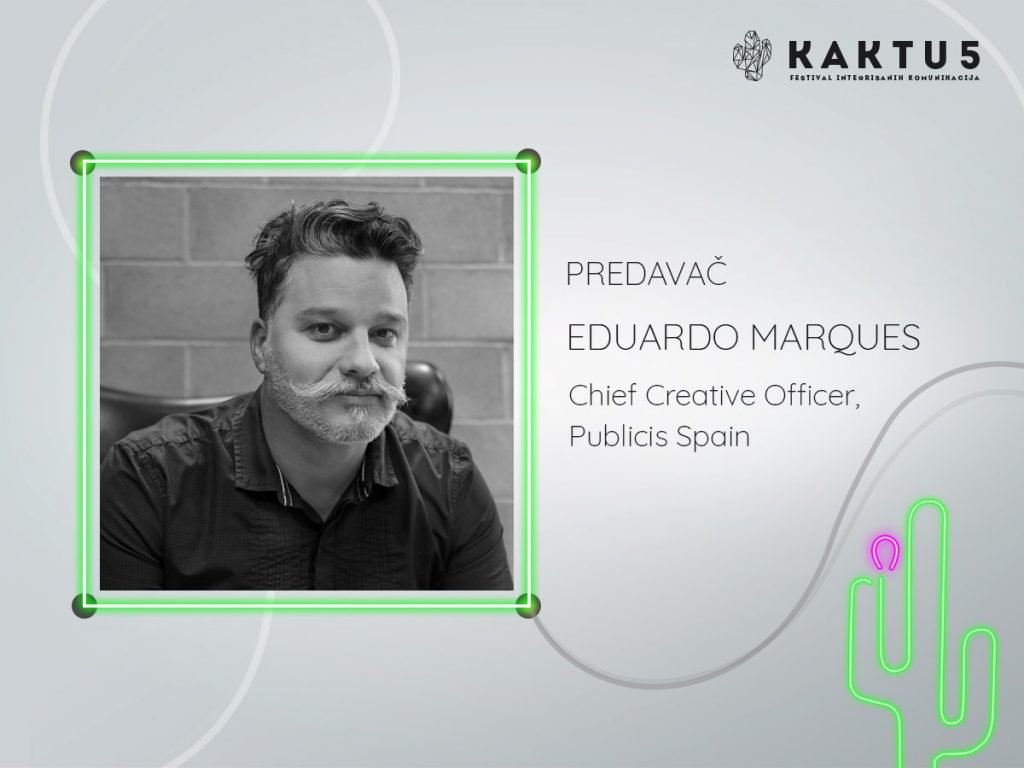 Kako da znamo kada imamo ideju za koju se vrijedi boriti?
Jednostavno imate osjećaj da je to nešto potpuno novo, drugačije. To je vrsta ideje za koju kažete svojim vršnjacima, a ona izazove trenutnu reakciju i većina vam na njoj zavidi. Obično je to jednostavna ideja, koju možete tvitnuti. Ako vam treba mnogo da je objasnite, to vjerovatno nije toliko sjajno.
Mislite li da pretjerano razmišljanje može uništiti dobru ideju?
Mislim da je ponekad pretjerano razmišljanje dio procesa da bi se ideja na kraju učinila jednostavnom. Nekada takva ideja dođe na prvu, a ponekad je potrebno "čišćenje". Često se dešava da ne prestajete razmišljati o tome kako da budete bolji i bolji, a većinu vremena se u stvari vraćate izvornoj, sirovoj, jednostavnoj misli, koja je upravo ta najsjajnija ideja.
Kako se riješiti neuspjeha?
Neuspjeh nas zaista čini jačima. Nakon neuspjeha sledeća prilika je uvijek pravi put. Neuspjesi su ti koji nas vode ka slavi.
Možete li da navedete jedan primjer kada se ideja sa velikim NE pretvorila u ideju sa velikim DA?
Upravo ću o tome govoriti tokom svog izlaganja na festivalu KAKTUS 2019. Dakle, dopustite mi da ostavim iznenađenje za događaj!
"NE, nemoguće je" može biti najveći pritisak za ljude koji rade u advertajzingu. Ako je to "nemoguće", onda to niko nikada ranije nije učinio. I upravo to je pravac kojim želimo da idemo.
Koji su faktori koji utiču na to da ideja postane velika?
Vaša strast za tom idejom. Ostalo je posljedica.
Više informacija o festivalu KAKTUS 2019 možete pronaći na sajtu.
Festival KAKTUS 2019 podržalo je preko 45 medijskih kuća iz cijelog regiona, kompanije Delta Holding, Zlatiborac, Vip Mobile, Jaffa Crvenka, Marbo Product, Mercator S, Ušće Shopping Centar, Doncaffe, Forma Ideale, Frikom, Nectar i Eurobank. Partneri festivala su agencije – Direct Media United Solutions, Ovation BBDO, Headline, Degordian, Reprodukcija, DPC Group, Alma Quattro, Nova Communications, Tawo Dev i Info Media Group. Festival su podržali i Novaston Marketing Consultancy, Flexis Consulting, Kliping, Led Media BiH, Propix, Srpska asocijacija menadžera, Core Event, Kreativa New Formula, Chameleon i Spring Onion Studio. Prijatelj festivala je kompanija Microsoft.
Bronzani sponzor festivala je Apatinska pivara, Srebrni sponzor kompanija Mastercard, a Zlatni sponzor kompanija MARS.