Marketing mreža 29. i 30. oktobra u Madlenianum Opera&Theatre organizuje peti po redu, jubilarni, festival integrisanih komunikacija KAKTUS 2019. Pod sloganom "Make room for a new BLOOM", ove godine akcenat festivala je na talentima, ali i inovacijama, jer drugačiji pristup u advertising industriji otvara nove uglove i rađa nove ideje.
Kao i prošle godine, KAKTUS 2019 ponudiće učesnicima kvalitetan i raznovrstan program iz različitih oblasti integrisanih komunikacija, a Beograd će tokom dva dana trajanja festivala biti domaćin vrhunskim stručnjacima iz cijelog sveta. Takođe, ove godine festival će činiti Dan inovacija i Dan talenata.
Pored uobičajeno kvalitetnog programa, u okviru drugog dana festivala KAKTUS 2019 – Dana talenata, Marketing mreža će, u saradnji sa kompanijom Mastercard, po prvi put ove godine, organizovati takmičenje mladih talenata.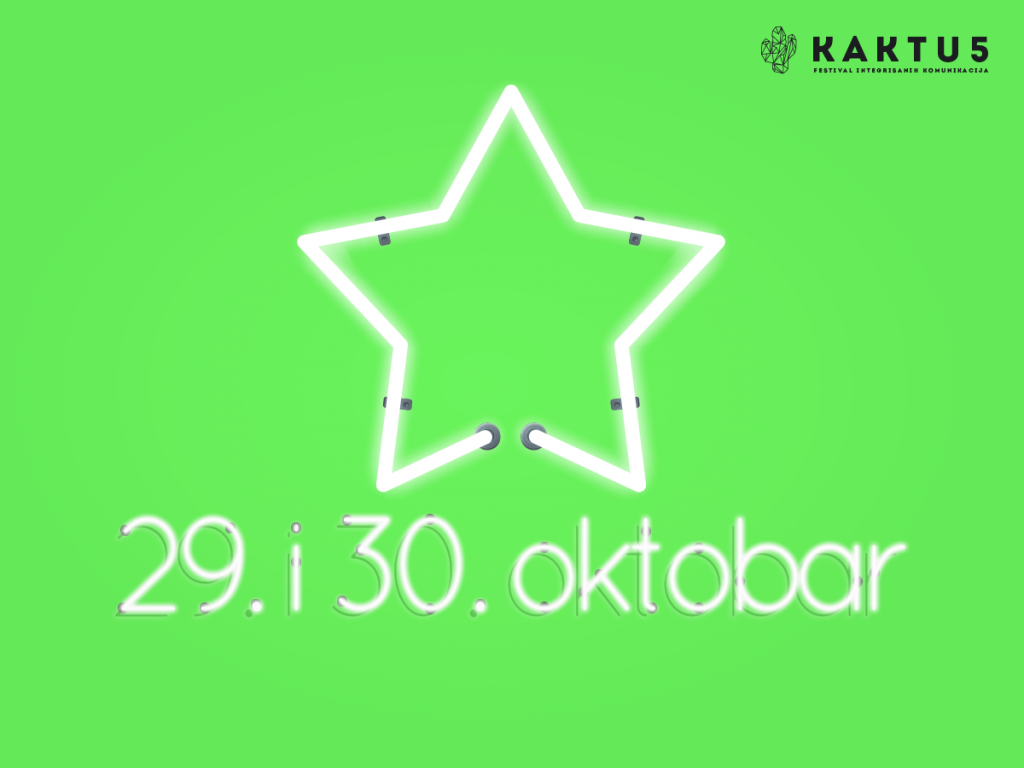 Na takmičenje mogu da se prijave mladi profesionalci iz kreativnih, PR, digitalnih i medijskih agencija u Srbiji, starosti do 32 godine.
Ove godine mladi talenti pokazaće svoju kreativnost i inovativnost u okviru kategorije Kreativna upotreba medija, odnosno imaće zadatak da odgovore na brief kroz tri kanala komunikacije po izboru (tradicionalne ili online).
Cilj ovog takmičenja jeste da podstakne i motiviše mlade u kreativnoj industriji, ali i da ukaže stručnoj javnosti na njihove potencijale, talente i kreativnost. Pored toga, ovo takmičenje ima humanitarni karakter, a radovi i ideje koje budu kreirani u okviru takmičenja biće donirani socijalnom preduzeću ili udruženju na čiji brief su takmičari imali zadatak da odgovore.
Žiri KAKTUS Talents Award čini 12 uglednih profesionalaca iz kompanija, kreativnih, PR i digitalnih agencija iz Srbije, kao i jedan tajni član – predstavnik socijalnog preduzeća ili udruženja. Ove godine žiri, na čelu sa Ivanom Kozličić, marketing direktorkom za Balkan u kompaniji Mastercard, radiće u sastavu – Bojan Babić, Creative Director, Executive Group; Branka Pudrlja Durbaba, Senior Market Director, Vip Mobile; Vanja Vagić, Corporate Affairs Manager, Mars Multisales Baltics Balkan Adriatic; Jasmina Stojanov, Managing Director, Nova Communications; Ljiljana Radosavljević, Menadžer korporativnih politika i komunikacije, PepsiCo West Balkans; Marina Grihović, Managing Director, Headline & Dkit; Nebojša Krivokuća, Creative Director, Communis DDB; Olivera Nikodijević, Brands and Consumer Excellence Director SRB & MNE, Apatinska pivara; Sanja Lalević, Facebook Lead Serbia, HTTPOOL; Svetlana Ćopić, Creative Director, Block&Roll i Tamara Jokanović, Managing Director, Represent Communications.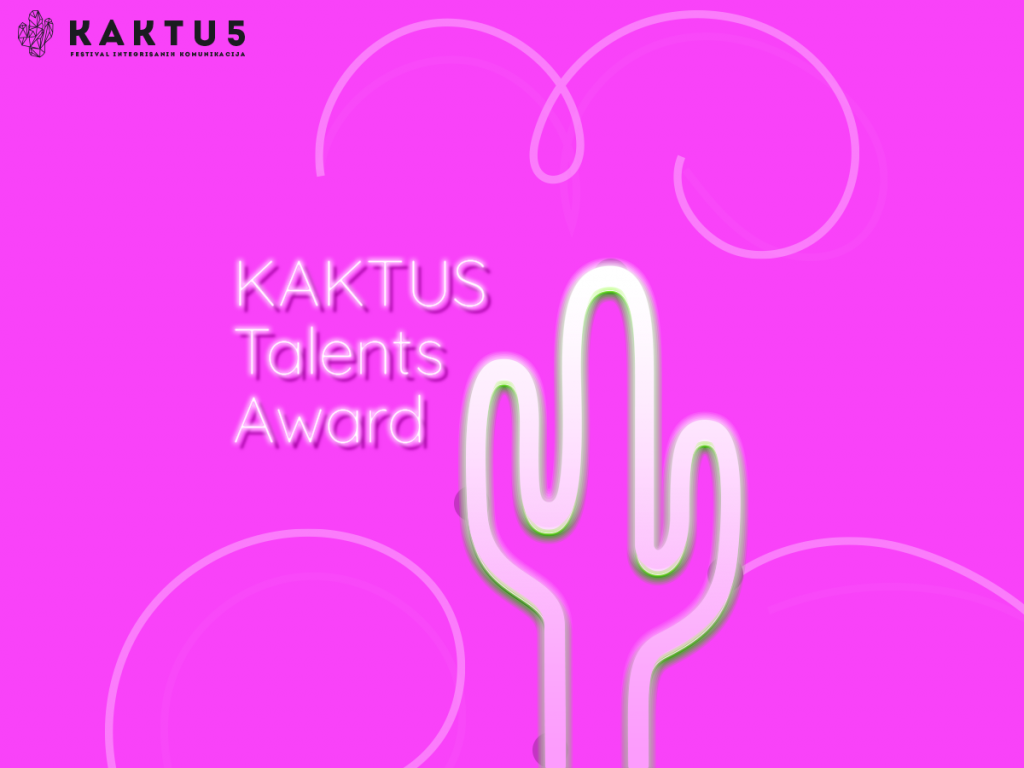 "Inovacije su oduvijek predstavljale srž poslovanja Mastercard kompanije i mnogobrojni globalni podsticajni programi koji su namijenjeni mladima i stvaranju novih lidera budućnosti ono su na šta smo veoma ponosni. Zadovoljstvo nam je što smo sa KAKTUS festivalom ostvarili saradnju koja za cilj ima da prepozna i nagradi mlade talente u srpskoj kreativnoj industriji. Ovi mladi ljudi će biti pokretači razvoja u našoj zemlji i stvaraće neprocjenjiva iskustva generacijama koje dolaze. To je upravo jedan od razloga zbog kojeg kontinuirano promovišemo potragu za novim talentima i inovativnim idejama koje oni donose. Vjerujemo da je Dan talenta prilika za mlade kreativne ljude da ispolje svoje strasti i sposobnosti za razvoj jednog potpuno novog načina angažovanja mladih ljudi na projektima koji su od značaja za čitavu zajednicu u kojoj živimo", rekla je Ivana Kozličić, direktorka marketinga za Balkan u kompaniji Mastercard.
Prijavljivanje timova za takmičenje otvoreno je do 20. septembra na sajtu i potpuno je besplatno.
U toku je konkurs za tradicionalne KAKTUS nagrade
Konkurs za 5. nacionalnu dodjelu godišnjih nagrada KAKTUS 2019 otvoren je do 20. septembra. Nagrade se dodjeljuju u 23 kategorije, a dobijaju ih organizacije, kompanije, institucije i agencije za najkvalitetnije i najprofesionalnije pojedinačne i integrisane kampanje u protekloj godini. Glavne nagrade na festivalu su, kao i do sada, Agencija godine, Oglašivač godine i Integrisana kampanja godine – Grand Prix. Kao i prethodnih godina, KAKTUS 2019 slavi samo one ideje koje izlaze iz granica očiglednog i uprkos teškim uslovima inspirišu i proizvode najefikasniju komunikaciju sa ciljnim grupama.
Više informacija o festivalu KAKTUS 2019 možete pronaći na sajtu.
Festival KAKTUS 2019 podržalo je preko 45 medijskih kuća iz cijelog regiona, kompanije Delta Holding, Zlatiborac, Vip Mobile, Jaffa Crvenka, Marbo Product, Mercator S i Apatinska pivara. Partneri festivala su agencije – Direct Media United Solutions, Ovation BBDO, Headline, Degordian, Reprodukcija, DPC Group, Alma Quattro, Nova Communications i Info Media Group. Festival su podržali i Novaston Marketing Consultancy, Flexis Consulting, Kliping, Led Media BiH, Propix, Srpska asocijacija menadžera, Core Event i Spring Onion Studio. Srebrni sponzor festivala KAKTUS 2019 je kompanija Mastercard.