Prvi Digitalizuj.Me događaj u ovoj godini, a 53. po redu, održan je u utorak, 19. februara 2019. godine. Interesantno je to što je ovo prvi put da je predavač na Digitalizuj.Me događaju bio i govornik na Spark.me konferenciji. Tema predavanja bili su "Digitalni gradovi", a predavač je bio Met Dezmije (Matt Desmier), britanski ekspert za digitalni urbani razvoj. Met nam je kroz brojne primjere objasnio kako je mali grad iz kojeg on potiče postao poznat kao najbrže rastući digitalni grad u Ujedinjenom Kraljevstvu, kao i kako da slijedimo taj primjer i digitalizujemo bilo koji crnogorski grad.
Na samom početku predavanja, Met nam se predstavio i rekao da dolazi iz Bornmuta, malog grada na jugu Engleske. Objasnio nam je da je Bornmut do nedavno bio poznat kao "grad u koji stari ljudi dolaze da umru", a da je 2015. godine proglašen za najbrže rastući digitalni centar u Ujedinjenom Kraljevstvu. Shvatio je da ukoliko poboljša svoju okolinu i digitalnu ekonomiju svog grada, da će tako pomoći i sebi. Vodeći se Sokratovom izrekom: "Način da se stekne dobra reputacija je da težiš da budeš onakav kakvim želiš da se pokažeš.", rekao je da je poenta postaviti cilj i uraditi sve što je u našoj moći da se taj cilj ispuni.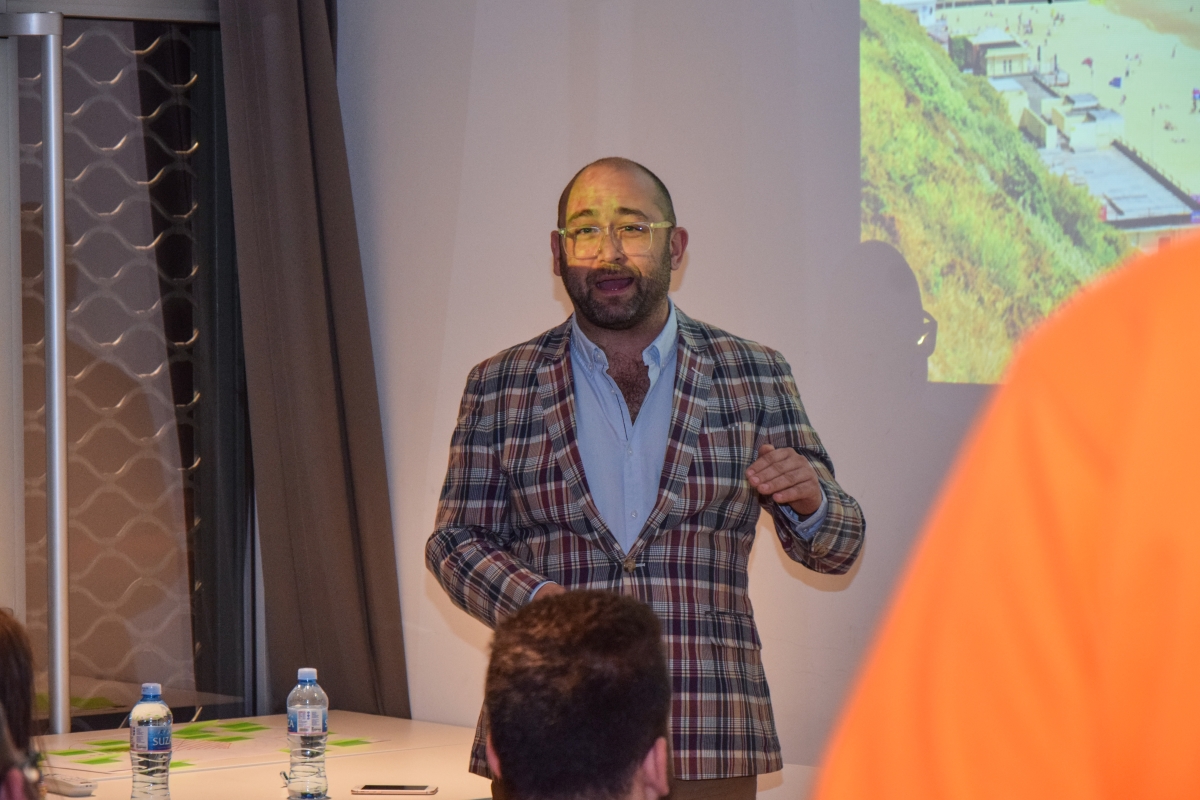 Istakao je da njegov grad nije mijenjala vlast, opština ili gradsko vijeće, već grupa ljudi poput njega. Oni su slijedili primjer Šordiča, okruga u Engleskoj, u koji niko nije išao, a koji je, za kratko vrijeme, postao važan digitalni centar. Na ovo su uticala tri bitna faktora: ljudi, vrijednosti i mreže ljudi. Prvi faktor su poznati ljudi koji potiču iz ovog okruga, koji su bili njegovi ambasadori. Drugi faktor su vrijednosti koje Šordič može ponuditi, a to su razne kompanije, objekti i infrastruktura, ali i kafići i restorani; i treći faktor je umreženost ljudi koji imaju želju da kreiraju promjene.
Ono što je bilo bitno za njih u Bornmutu je da kod sebe prepoznaju ta tri glavna faktora. Za njih su ambasadori bili šestoro ljudi koji vode poznate firme i startapove. Njihove vrijednosti, osim desetak kilometara duge zlatne plaže i mora, su kompanije čije je sjedište baš u Bornmutu. Neke od njih su Sunseeker, Lush, JPMorgan. Ono što je njima bilo bitno jeste da počnu da mijenjaju sliku koju ostatak svijeta ima prema Bornmutu i da ga predstave u novom svjetlu. Njihov cilj je bio da kada se spomene Bornmut, niko ne pomisli na stare ljude, već na uspješne kompanije, agencije i preduzeća koja se tamo nalaze. Ono što im je išlo u korist jeste da je nekoliko dobitnika filmske nagrade Oskar diplomiralo na Univrzitetu umjetnosti u Bornmutu. Najvažnija, za postizanje njihovog cilja, bila je umreženost svih kompanija i ljudi. Organizovali su razna okupljanja i konferencije na kojima su dijelili svoja znanja i smišljali nove strategije za razvoj zajednice. Najveći događaji ovog tipa su Meetdraw i Silicon Beach konferencija, čiji je Met organizator.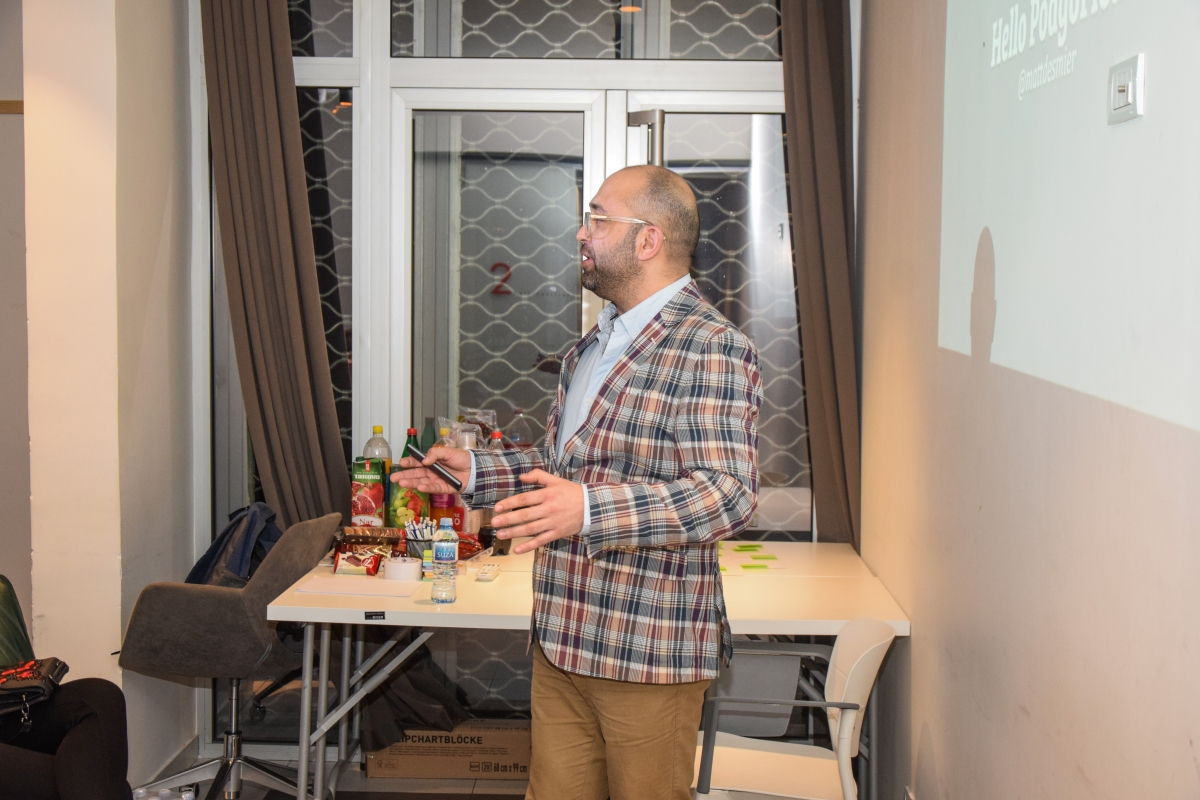 Ovaj grad nije se promijenio preko noći, već su za to bile potrebne godine i velika upornost građana. Identifikujući ranije pomenuta tri bitna faktora, uz želju i volju stanovnika i jasnu viziju kojim putem žele da idu, uspjeli su u svom cilju i promijenili sliku o svom gradu.
Prezentaciju je završio komentarišući situaciju u Podgorici, kada je digitalizacija u pitanju. Po njegovom mišljenju, mi imamo dva od tri bitna faktora, a to su ljudi i vrijednosti. Potrebna je samo veća umreženost i bolja povezanost, i bićemo spremni za promjene na bolje.
Na samom kraju, publika je imala priliku da postavi pitanja Metu, na koja je on vrlo rado odgovorio.
Bilo da ste propustili ovaj Digitalizuj.Me događaj, ili ste mu prisustvovali, a ipak želite ponovo da razgovarate sa Metom, dođite na ovogodišnju Spark.me konferenciju, gdje on neće biti predavač, ali će nositi svoja poznata cvjetna odijela.
Autorka: Tamara Knežević