Super Bowl je naziv za finalnu utakmicu Nacionalne fudbalske lige (NFL), najvišeg ranga profesionalnog takmičenja u američkom fudbalu u SAD. Kompletan spektakl koji je razvijen oko Super Bowla, i uključuje brojne žurke, festivale, koncerte i promocije, se zove "Super Bowl vikend", dok je sam dan odigravanja utakmice poznat pod imenom "Super Bowl nedelja" i mnogi ga smatraju de facto nacionalnim praznikom u SAD.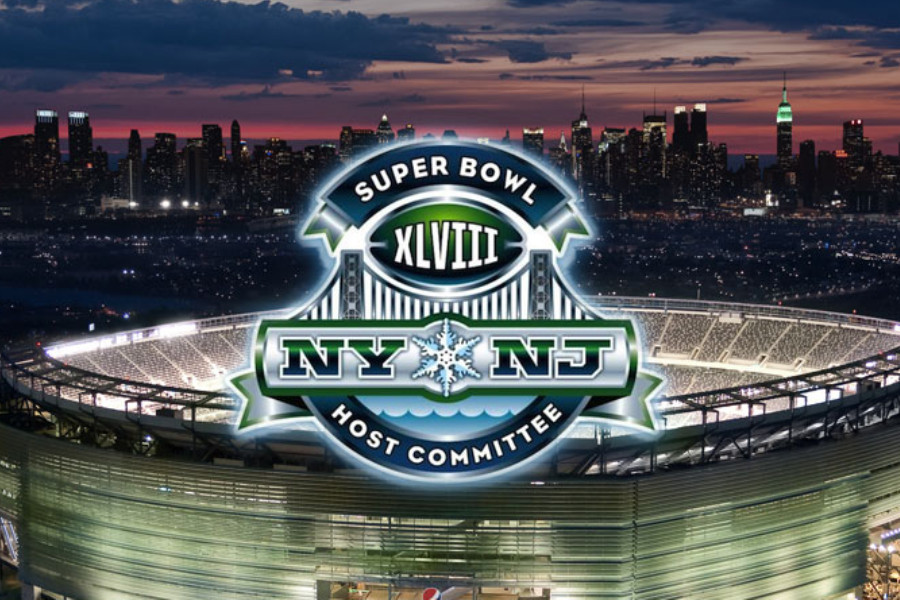 Dan u godini u kojem se pojede najviše hrane u SAD je Dan zahvalnosti, a odmah na drugom mjestu se nalazi Super Bowl nedelja. Super Bowl je najgledaniji televizijski program u SAD – preciznije, na listi najgledanijih TV programa u istoriji, prva četiri mjesta drži Super Bowl (na petom mjestu je poslednja epizoda popularne serije M*A*S*H)! Kada su u pitanju sportski događaji u SAD, na listi 20 najgledanijih prenosa svih vremena, 18 su sa Super Bowla. Super Bowl je
drugi najgledaniji sportski događaj na svijetu koji se organizuje svake godine – prvo mjesto neprikosnoveno drži finale UEFA Lige šampiona.
Posledica ogromne popularnosti i gledanosti Super Bowla je atraktivnost reklamnog prostora u toku same utakmice. Kompanije se naprosto utrkuju da zakupe prostor za svoju reklamu u toku prenosa, pa cijene dostižu rekordne vrijednosti. Tako je prosječna cijena zakupa za reklamu od 30 sekundi u toku ovogodišnjeg Super Bowla iznosila nevjerovatnih 4 miliona dolara!
Vremenom su kompanije i njihove reklamne agencije počele da se "takmiče" ko će imati najbolju reklamu na Super Bowlu te godine, pa su reklame postale podjednako važan dio Super Bowla kao i sama utakmica. Jedna od prvih kultnih Super Bowl reklama je Coca-Colina iz 1980. godine, u kojoj mladi navijač nudi Coca-Colu kao osvježenje igraču Pittsburgh Steelersa, i jednom od najboljih odbrambenih igrača u istoriji, "Mean Joe" Greeneu, koji mu u znak zahvalnosti poklanja svoj dres. Ova reklama, popularno poznata kao "Hey Kid, Catch!", se smatra jednom od najboljih reklama svih vremena. Pepsi je poslije mnogo godina napravio svoju parodiju na ovu reklamu sa Davidom Beckhamom i mladim navijačem Juventusa u glavnim ulogama.
Ove godine, Coca-Cola se odlučila za genijalan reklamni spot nazvan "It's Beautiful", u trajanju od 60 sekundi, za koji je kompanija morala da izdvoji astronomskih 8 miliona dolara za zakup reklamnog prostora. Ideja spota je jednostavna – prikazuju se scene iz američkog života (porodica, zabave, putovanja…), dok u pozadini svira popularna patriotska pjesma "America the Beautiful" ("Lijepa Amerika"). Uz video je na internetu išao opis – "The only thing more beautiful than this country are the people who live here. Watch and discover why #AmericaIsBeautiful." ("Jedina stvar koja je ljepša od ove zemlje su ljudi koji žive u njoj. Pogledajte i otkrijte zbog čega je Amerika lijepa.")
Što je to toliko revolucionarno u ovoj reklami, da je Coca-Cola odlučila da upravo nju prikaže na Super Bowlu XLVIII? Činjenica da je jedna od najpopularnijih američkih patriotskih pjesama, pored engleskog, ispjevana u reklami na još sedam stranih jezika – španskom, hebrejskom, arapskom, senegalskom francuskom, mandarinskom (grupa dijalekata kojima se govori u najvećeg dijelu sjeverne i jugozapadne Kine), keres (porodica sjevernoameričkih indijanskih jezika iz Novog Meksika) i tagalogu (najrasprostranjeniji jezik na Filipinima)!
Teško da postoji neki brend koji bolje odslikava američki duh i jedinstvo od Coca-Cole. Decenijama je u Coca-Colinim reklamama predstavljan ideal – ideja po kojoj su ljudi jedno, bez obzira na razlike. Povezuju nas jednostavne stvari, kao što su osmjeh, pjesma i Coca-Cola. U konkretnom slučaju, poruka za Amerikance sa Super Bowla XLVIII je jednostavna – bez obzira na porijeklo, boju kože, seksualnu orijentaciju, običaje i način žvota, svi su jedno – svi su Amerikanci. Amerika je jaka upravo zbog toga što može da apsorbuje snove, talente, znanja i vještine hrabrih ljudi iz svih krajeva svijeta, a da pri tome ne uništi njihove nacionalne kulture. Coca-Cola je, u međuvremenu, objavila još moćniji video, koji dodatno objašnjava reklamu.
Veliki broj gledaoca je bio oduševljen, pa su mnogi reklamu okarakterisali kao najbolju na ovogodišnjem Super Bowlu, dok su neki gledaoci napisali da je reklama nešto "istinski najameričkije" što su vidjeli na televiziji poslednjih godina.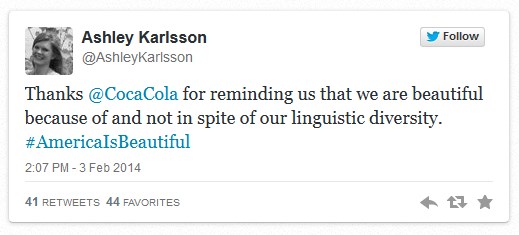 Nažalost, "Lijepa Amerika" je očigledno probudila i u onu drugu Ameriku – ružnu. Društvene mreže, u prvom redu Twitter, su su se usijale zbog negativnih komentara uvrijeđenih gledalaca, koji su činjenicu da se američka patriotska pjesma pjeva na nekom stranu jeziku doživjeli kao direktnu provokaciju. Reklama je proglašena neameričkom, a ređale su se brojne uvrede na račun Coca-Cole – njeni menadžeri su nazivani idiotima, rečeno im je da "od*ebu", kao i da se "ne za*ebavaju". Vrhunac je bio kada je kompaniji poručeno da brojni Amerikanci nisu ginuli u ratovima da bi se njihove patriotske pjesme pjevale na stranim jezicima.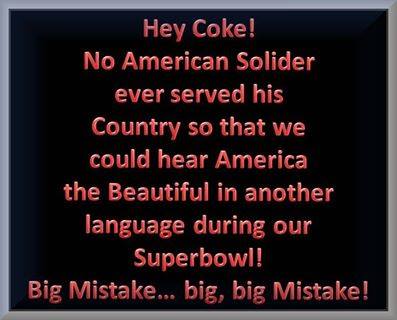 Pokrenut je hashtag "Govorimo Američki", #SpeakAmerican, koji je odmah postao popularan na Twitteru. Kupci su pozvani na bojkot Coca-Cole, uz hashtag #BoycottCoke. Za svega nekoliko minuta, #BoycottCoke je postao "trending topic" na globalnom nivou. Naravno, veliki broj tvitova je pozitivnog karaktera, u kojima su korisnici isticali značaj Coca-Coline reklame i objašnjavali zašto je suludo kritikovati kompaniju i pozivati na bojkot. Bilo je i satiričnih tvitova, koji su akciju bojkota izvrgivali ruglu. Ipak, svi ovi tvitovi su samo doprinosili popularnosti hashtaga #BoycottCoke i održavali ga na "trending" listi. Pogledajte neke od uvredljivih tvitova nakon emitovanja Coca-Coline reklame.
Napomena: Ovaj tekst je dio akcije Coca-Cola System – Bloggers Network.