Šta se sprema u Facebooku – novi izgled fan stranica
Ako ste imali Facebook fan page, sad je trenutak da zaplačete nad njim (ako ste imali tabove i aplikacije, jer su ih pomjerili na neko manje očigledno mjesto) ali i da ispravite sve greške koje ste napravili spavajući i propuštajući važne događaje. 😉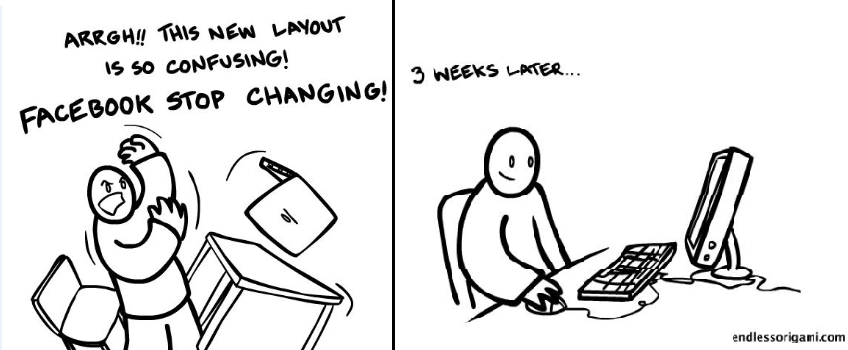 Prekjuče je Facebook po ko zna koji put izmijenio svoj izgled, ili barem samo jedan dio, što je opet uvod za mnogo veće izmjene koje tek predstoje. Znači, nije to samo šminka ili podešavanje u skladu sa normama UX dizajna, nego i uvod u
premium biznis korišćenje Facebooka. Svi stručnjaci su se usaglasili da je mlađani Zuckerberg odlučio da uzme malo para svim kompanijama koje su se bile razbaškarile po Facebooku, i za male ili nikakve pare širile bazu svojih vjernih obožavalaca (ili barem pokušavale da to urade). Ali o tom ćemo nekom drugom prilikom. Facebook počinje sa namještanjem poslovnih stranica da izgledaju isto kao i obični profili pojedinaca i za sada je administratorima stranica omogućeno da se pripreme i izvježbaju za novi Timeline. Tako, ako imate Facebook stranicu možete do kraja marta da isprobavate razne varijante, i da se igrate dizajnera, a 30. marta će sve to biti objavljeno htjeli vi to ili ne. Pošto mi volimo da se igramo i da isprobavamo nove stvari, evo kako to izgleda na našem primjeru:
1. Dizajn – prvi utisak
Prvo namjestite Cover photo: To je ona velika slika na vrhu (ako se još sjećate podešavanja za svoj lični profil to je to), slična baneru. Važno je da vodite računa da je dimenzija ove slike 851 x 315 piksela. Ako nemate ideju šta da stavite tamo pogledajte neke od najboljih primjera. Dobra stvar je što se ova slika može mijenjati. Ima nekih stvari koje je Facebook zabranio za ovu sliku, a to se uglavnom odnosi na poruke tipa "sniženje 40%", "exra popust" i ostale poruke komercijalnog tipa. Ne znam kako će to da isprate ali dobro…
Ako već niste, onda namjestite profile sliku. Veličina je 180 x 180 pix, a treba da izgleda dobro i u veličini 32 x 32 pix.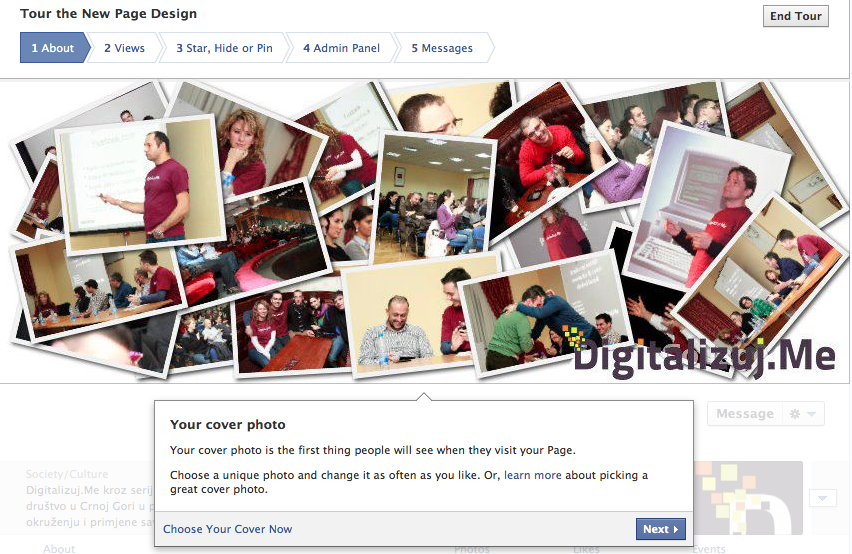 2. Provjerite dio Views and apps. Opcije su jako ograničene, i to se nadam da će da poboljšaju, jer sad se pojavljuje slika koja je poslednja uploadovana, i možete da dodate samo Notes and video, što je ograničavajuće. Naravno tu su i ostaci aplikacija za one koji plaču od juče.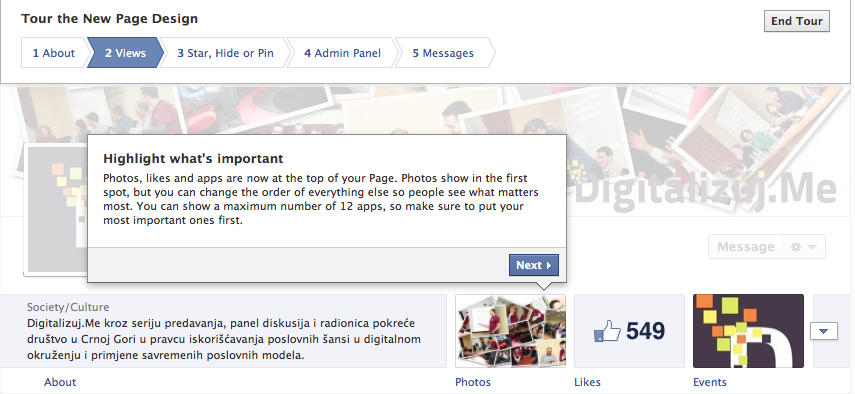 3. E sad ide najteži i najdosadniji dio sređivanja timelinea koji se odnosi na postavljanje zvjezdica, pinovanja i skrivanja. Mali je problem postavljanja i sklanjanja statusa u kojima neko pominje vašu stranu, a ima ogroman broj lajkova i shareova, kao ova Vanjina na slici, koja je bez obzira na datum postavljanja jako visoko u timelineu i miješa se u druge postove. To, naravno, ne znači da treba da prestanete da lajkujete sve što Vanja napiše. 🙂 Ovdje namještate i milestones, odnosno dostignuća.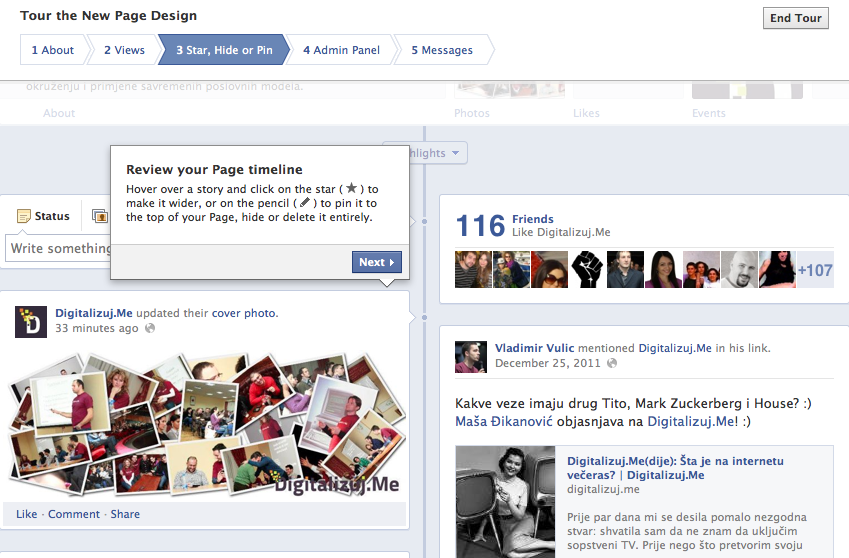 4. Posle toga ide istraživanje admin panela, koji je prilično jednostavan. Tada treba da smislite i da li želite da vam vaši vjerni fanovi pišu pisma…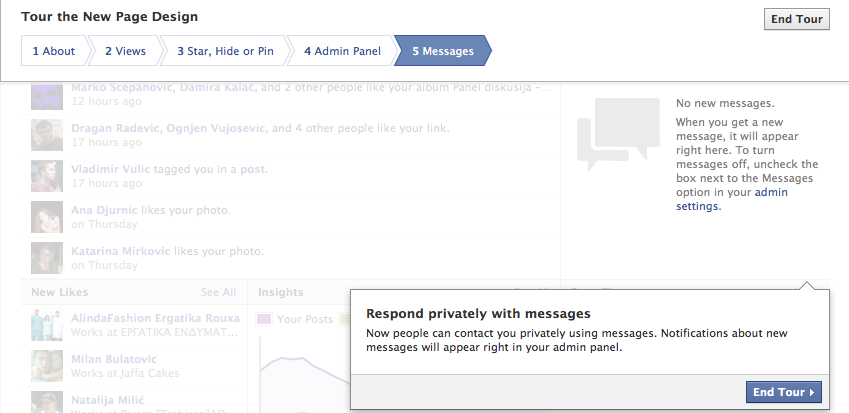 5. Dodatne stvarčice:
About tekst je užasno važan, na udarnom je mjestu i jedini je tekst koji se vidi na vrhu strane. Naravno puno govori o vašoj strani.
I par savjeta za kraj:
Ubacujte dosta slika i uopšte vizuelnih stvari u timeline. Sad je trenutak da ispravite sve što ste nekad zaboravili ili pogriješili. Kao što znamo slika govori više od riječi. 😉