U šoping molu Delta City 21. marta počinje akcija sakupljanja stare garderobe kojoj će se dati nova upotrebna vrijednost. Cilj projekta je promocija održivih i savjesnih načina upotrebe mode. Akcija traje do 21. aprila.
Podizanje svijesti o savjesnom odnosu prema modi jedan je od stubova strategije korporativne društvene odgovornosti Delta City šoping mola. Stoga je, prateći svjetske trendove u oblasti održive mode, Delta City pokrenuo projekat "Samo da podrži", kojim se stavlja akcenat na važnost savjesnog tretmana odjeće nakon što joj se upotrebni vijek završi.
U periodu od 21. marta do 21. aprila, posjetioci Delta City-ja biće u prilici da garderobu, koja im više ne služi, odlože u centralnom holu šoping mola, u za to predviđeno mjesto, a u svrhu njenog ponovnog korištenja i stvaranja nove vrijednosti.
"Imamo više ideja kako da prikupljenu garderobu u krajnjem tretiramo – da li kroz saradnju sa organizacijama za najugroženije, dekoraterima i dizajnerima koji bi od stare odjeće napravili nove komade, ćebad za životinje u azilima širom Crne Gore ili tako što ćemo je izvesti u neku od zemalja Evropske unije, gdje postoje reciklažni centri za tekstil. Za koju opciju ćemo se odlučiti, i da li ćemo moći realizovati sve, zavisi od toga koliko će ljudi učestvovati. Zato pozivamo sve naše posjetioce da daju doprinos ovoj važnoj akciji, kako bi i njen efekat bio veći", ističe direktor marketinga Delta City-ja Dragan Perišić.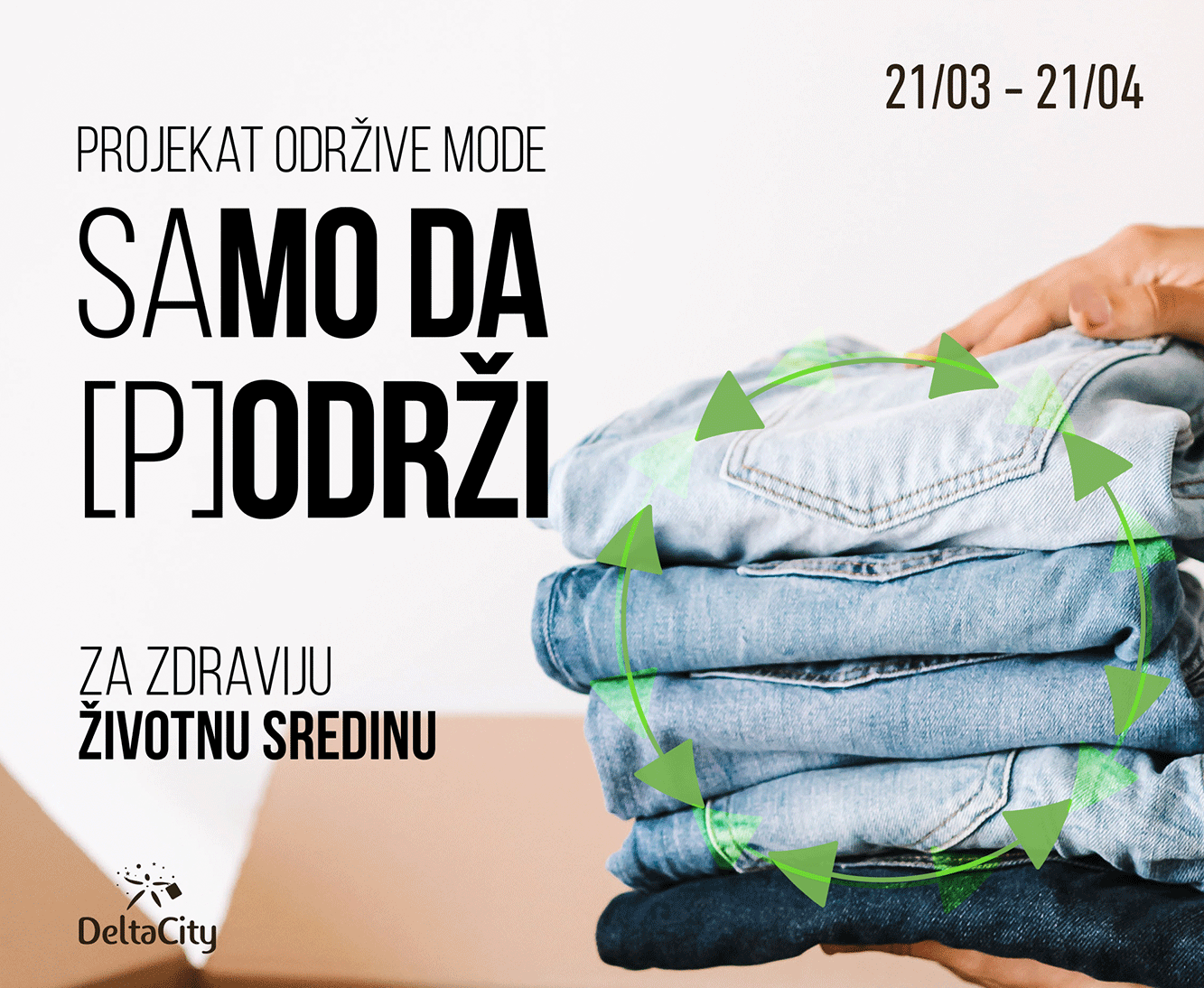 Misija projekta je da crnogorsku publiku upozna sa konceptima re-use i re-purpose, koji spadaju pod okrilje spore mode, a koji podrazumijevaju da se od već korištenih materijala ili ostataka materijala proizvode neobični i unikatni odjevni predmeti, a u isto vrijeme se čuva životna sredina.
"Naravno da nam je estetika važna, mi smo društvo u kojem ona igra važnu ulogu, i ovim projektom mi ne želimo ni na koji način da to minimiziramo. Ono što želimo jeste da tome dodamo još jednu komponentu, a to je odnos prema garderobi koju posjedujemo. Delta City sam po sebi nije proizvođač, ali je domaćin modnoj industriji, stoga se izazovi u pogledu održivosti sa kojima se ova industrija suočava djelimično odnose i na nas. Tu odgovornost uzimamo za ozbiljno," ističe Perišić.
Delta City šoping mol je prisutan na crnogorskom trzištu već 13 godina, tokom kojih kontinuirano sprovodi niz društveno odgovornih aktivnosti značajnih za zajednicu u kojoj posluje. Osim projekta Održive mode, važne segmenti strategije društvene odgovornosti čine projekti koji podrazumijevaju podršku kreativnom preduzetništvu, te udomljavanju nezbrinutih životinja, koji se već par godina unazad uspješno realizuju.