Spark.Me i more utisaka!
Web zajednica Crne Gore 26 i 27. septembra postala je bogatija za još jedno iskustvo koje je donijelo pregršt kvalitetnih iskri i sve nas koji smo bili tamo podstaklo da i dalje težimo svojim snovima, a to je konferencija Spark. Me koju je organizovala ekipa Domain. ME! Prenosimo vam u par redaka kako je bilo na ovom događaju godine i pripremili smo za vas neke dogodovštine, pogledajte i kratak VIDEO.

Crvene stolice sale za konferencije bile su zauzete ova dva dana sve do jedne, čak su organizatori pokazavši koliko je u sali vladala dobra atmosfeta sjedjeli na podu, prislonjeni uz zid sa osmjesima i vedrim licima uprkos (slatkom) umoru. Oko dvadesetak predavača i preko 350 učesnika bili su iskre koje su zajedno svijetljele i dijelile jedne sa drugima entuzijazam i iskustva ovih par dana u Budvi u hotelu Splendid.
Prvi dan Spark. Me konferencije je otvoren predavanjem strateškog savjetnika dr. Elija Oppera, a zatim smo imali priliku da čujemo od Ryan Fujiua (About. Me) kako je najteže napraviti mnogo koristan, a jednostavan proizvod. Svi predavači su bili svojstveni, a među njima su prvog dana bili John Biggs(Techcrunch), Ivor Bihar (iStudio), Bogdan lordache kao i Monty Metzger. Tvitovalo se itekako, zvanični hashtag #SparkME je bio čini mi se u svakom ćošku Twittera, tj "prikradao" se u mnogim tvitovima ovih dana.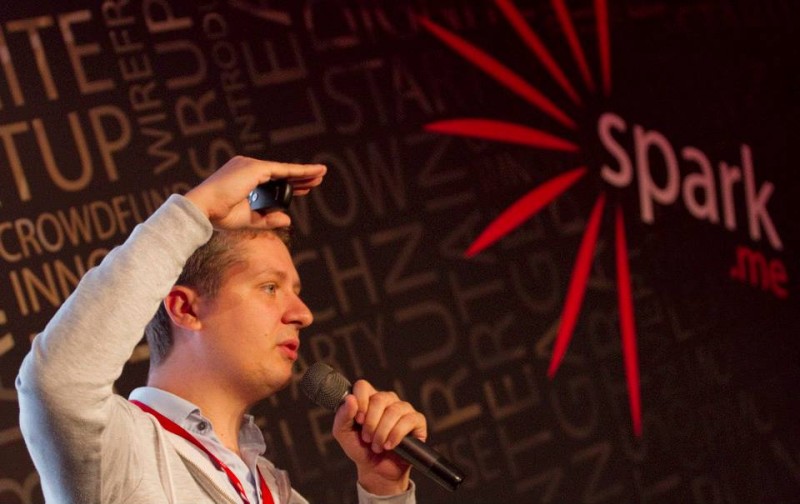 Svako od predavača imao je na raspolaganju 45 minuta, tako da smo u sesijama čuli i drugi dan Spark. Me konferencije priče o tome šta se krije u Dropboxu od Chrisa Varenhorsta, zatim kada je nastao i prvi video poziv Skypea od Meelika Gornoia. Sve prezentacije predavača ovogodišnje konferencije Spark. Me možete naći OVDJE i pogledati detaljno čemu su nas naučili. Sva predavanja su bila na engleskom jeziku. A tokom konferencije je zaživjela ona narodna dosjetka – "Najslađe za kraj", to nas je i čekalo. 🙂 Naime Dragana Đermanović i njena asistentkinja Aleksandra Vuković iz PRPeppera su nam otkrile koliko je važno da vjerujete u sebe i vašu intuiciju! Aleksandra je prije dvije godine bila student koja je tvitnula da bi voljela da bude kao Gaga Đermanović, a onda je sigurnosno koračala do pozicije njenog asistenta. U vazduhu smo osjetili sklad njihovih ličnosti i koliko je važno kada učite od najboljih, što je Aleksandra i naglasila.
Spark. Me konferencija koja podstiče kreativnost, takođe je i dala priliku finalistima StartUp okršaja da se takmiče za odlazak na TechCrunch Disrupt 2014 u Njujorku. Finalisti su bili: Social Spot, Jelly Note, DataMaid, Zzzzap Wireless, TruckTrack, TourVia.me, Lovely Heroku, Cruise.me, Bark i Stream Arena. Karte za TechCrunch Disrupt 2014 su dobili Vukašin Stojkov i Vuk Nikolić "krivci" za fenomenalni TruckTrack!
Osim predavanja i takmičenja tu su bile i panel diskusije koje su bile prava stvar za interakciju publike i samo diskutovanje sa gostima o raznim temama koje su bile održane i prvog i drugog dana nakon sesija svih predavanja. Šansu da ostvarimo poznanstva sa ljudima koji su poznata imena u sferi Interenta imali smo i na kafe pauzama kao i na koktelu.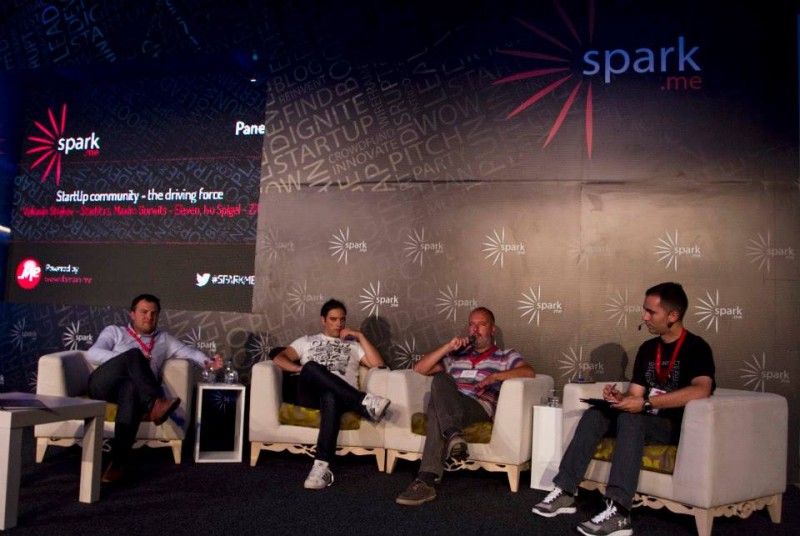 Osim što su ovi dani bili edukativnog karaktera upotpunili smo ih dobrim druženjem kao i mnoštvom začkoljica koje smo naučili upoznavši jedni druge iz različitih djelova svijeta. A ono što nam je dalo snagu osim adrenalina je i hrana. Nijesam smjela u početku da je pomenem da ne bi neko možda trknuo do frižidera pa prekinuo sa čitanjem blog posta. Takođe se ne usuđujem da vam nabrojim šta je sve bilo na trpezi restorana hotela Splendid jer bih se skroz zapetljala. A parola kojom smo se vodili bila je – "Težak rad iziskuje težak odmor, a izgleda i tešku
hranu!"
A sad počinje odbrojavanje do Spark. Me 2014 koji će biti 19. i 20. juna – vidimo se! 🙂