O Lazaru
Lazar Džamić jedan je od vodećih digitalnih stratega na svijetu, predavač na katedri za digitalni marketing na Fakultetu za medije i komunikacije Singidunum univerziteta, pisac i bivši šef za brend planiranje u evropskoj centrali kompanije Google.
Radio je kao direktor planiranja u nekoliko vodećih integrisanih britanskih agencija (EHS Brann, Kitcatt Nohr Digitas), kao i u digitalnoj pureplay agenciji Underwired. Nagrađivan je kao strateg na projektima za vodeće britanske klijente kao što su Waitrose, Virgin Holidays, Visit Wales, GAP, Glenfiddich, AXA, Nando's i mnoge druge.
Lazar Džamić je specijalista za digitalni trening i jedan od prvih digitalnih predavača na IDM (Institute of Direct Marketing), kao i čest govornik na konferencijama. O digitalnom marketingu je pisao za mnoge vodeće svjetske publikacije, uključujući i britanski list Gardijan.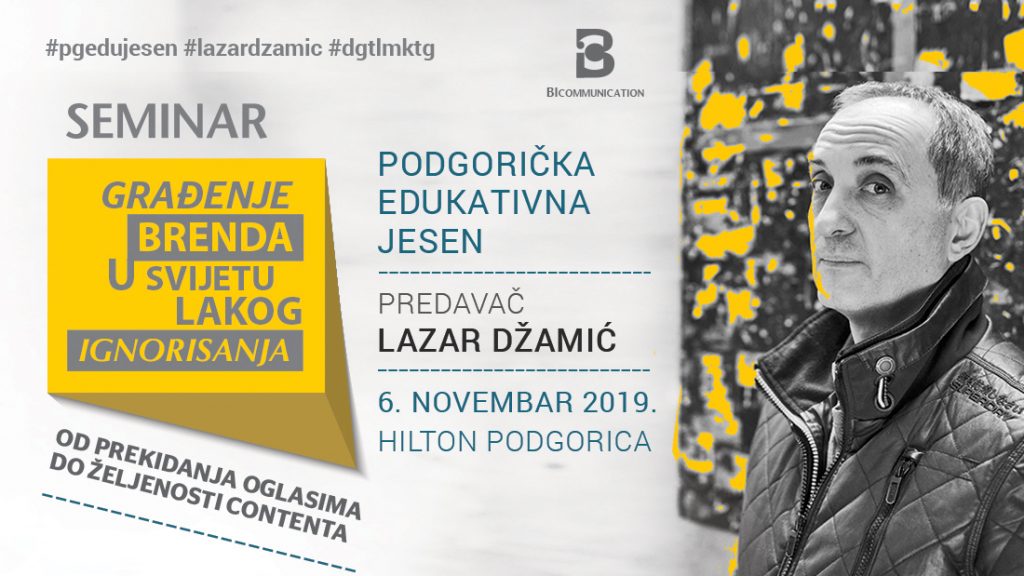 O seminaru
Seminar Građenje brenda u svijetu lakog ignorisanja – Od prekidanja oglasima do željenosti contenta, koji organizuje BI Communication, sadrži pregršt korisnih tema koje svaki savremeni marketar mora da zna.
Na seminaru ćete, između ostalog, saznati:
Kako se to brend komunikacija potpuno promijenila – i ostala ista!
Zašto je lakoća ignorisanja sadržaja u modernom medijskom prostoru najveća opasnost za brendove.
Kako zaslužiti pažnju u digitalnom ekosistemu.
Kako izgleda marketing poslije Kotlera.
Datum: 6. novembar 2019.
Vrijeme: 9.00-17.00 h
Mjesto: Hotel Hilton Podgorica, sala Jelena
Kotizacija uključuje:
Prisustvo cjelodnevnom seminaru
Ručak
Dvije kafe-pauze
Knjigu Marketing kroz sadržaj, Lazar Džamić i Džastin Kirbi*
Mogućnost povezivanja sa kolegama iz industrije
*Važi za uplate do 23. oktobra 2019.
Cijena kotizacije: 130EUR+pdv
Možete se prijaviti putem linka.