Dok gledate jednu od najpopularnijih serija današnjice, "House of Cards", koji vam brendovi "bodu" oči?
Claire Underwood se ne odvaja od svog iPhonea, Remy Danton se uvek nalazi u neposrednoj blizini Buicka, dok Frank Underwood nikuda ne ide bez svog  IWC sata. Samo u trećoj sezoni ove serije, pojavljuje se preko 105 svetski poznatih brendova, što je manji broj nego u prvoj (129 brendova) i drugoj (134 brenda) sezoni ove popularne Netflixove serije.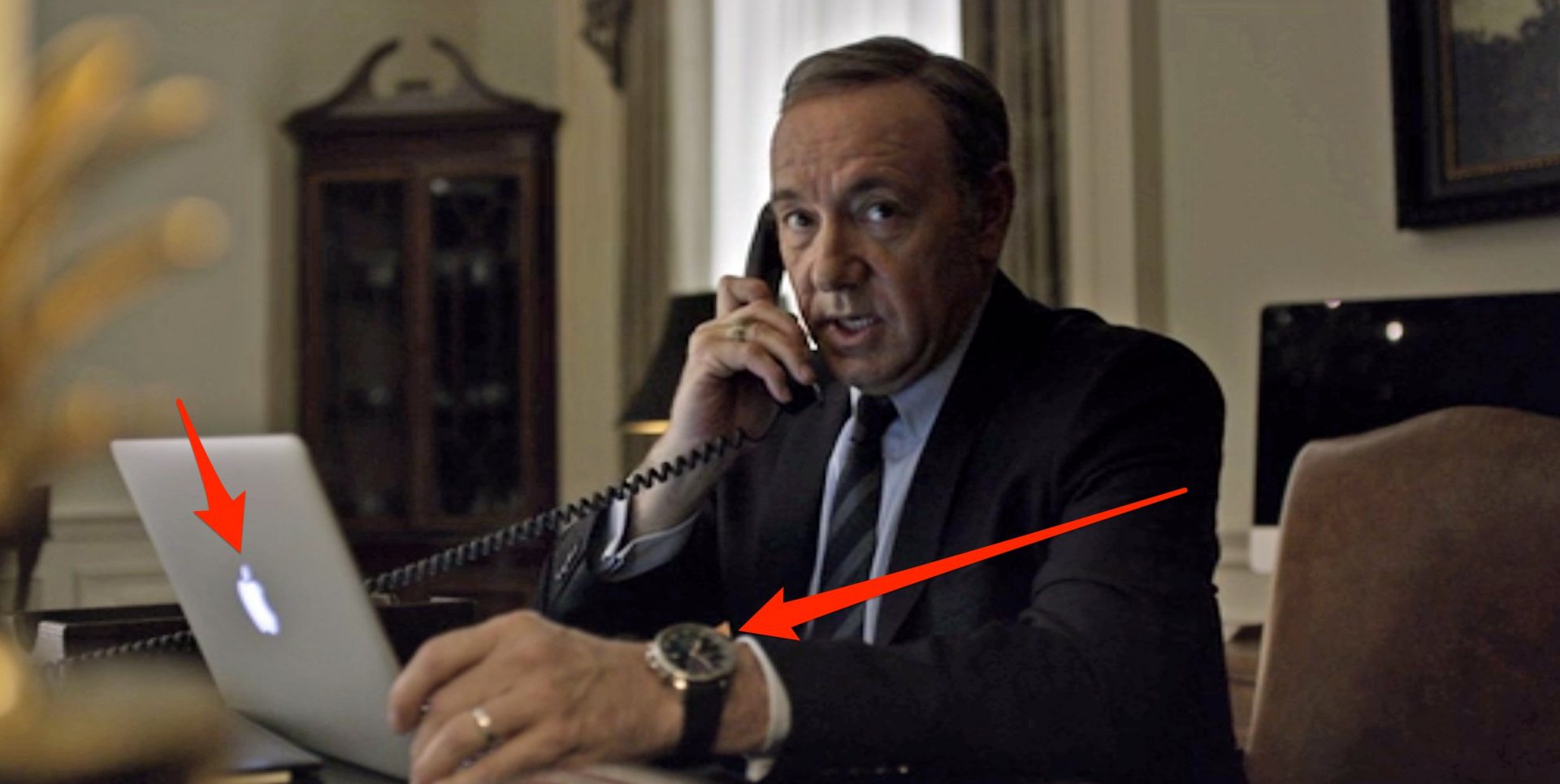 Concave, kompanija koja se bavi istraživanjem i analizom zastupljenosti brendova u filmovima i na televiziji, pratila je zastupljenost brendova u sve tri sezone ove popularne serije, navodi Business Insider, a mi vam prenosimo rezultate ovog istraživanja.
Najzastupljeniji brendovi u trećoj sezoni su: Apple, IWC, Chevrolet, Washington Nationals, Avaya, Cartier, Nokia, Samsung, Blackberry, Dell. Na slici ispod možete pogledati top 10 najzastupljenijih brendova kroz sve tri sezone, po epizodama.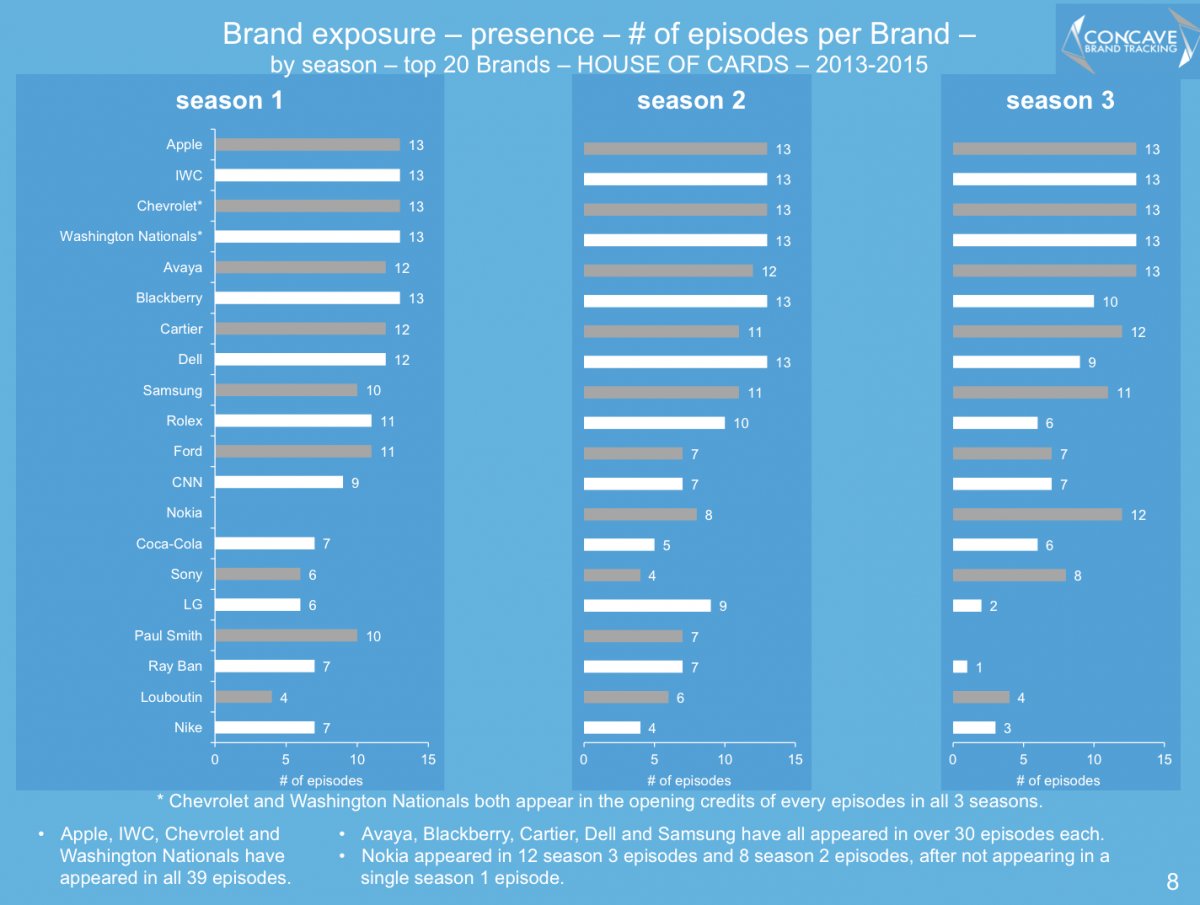 Lista najzastupljenijih brendova u toku sve tri sezone se razlikuje. Kao što možete videti na grafiku ispod, Samsung je povećao svoju zastupljenost, a CNN i NBC se takodje pojavljuju u Top 10.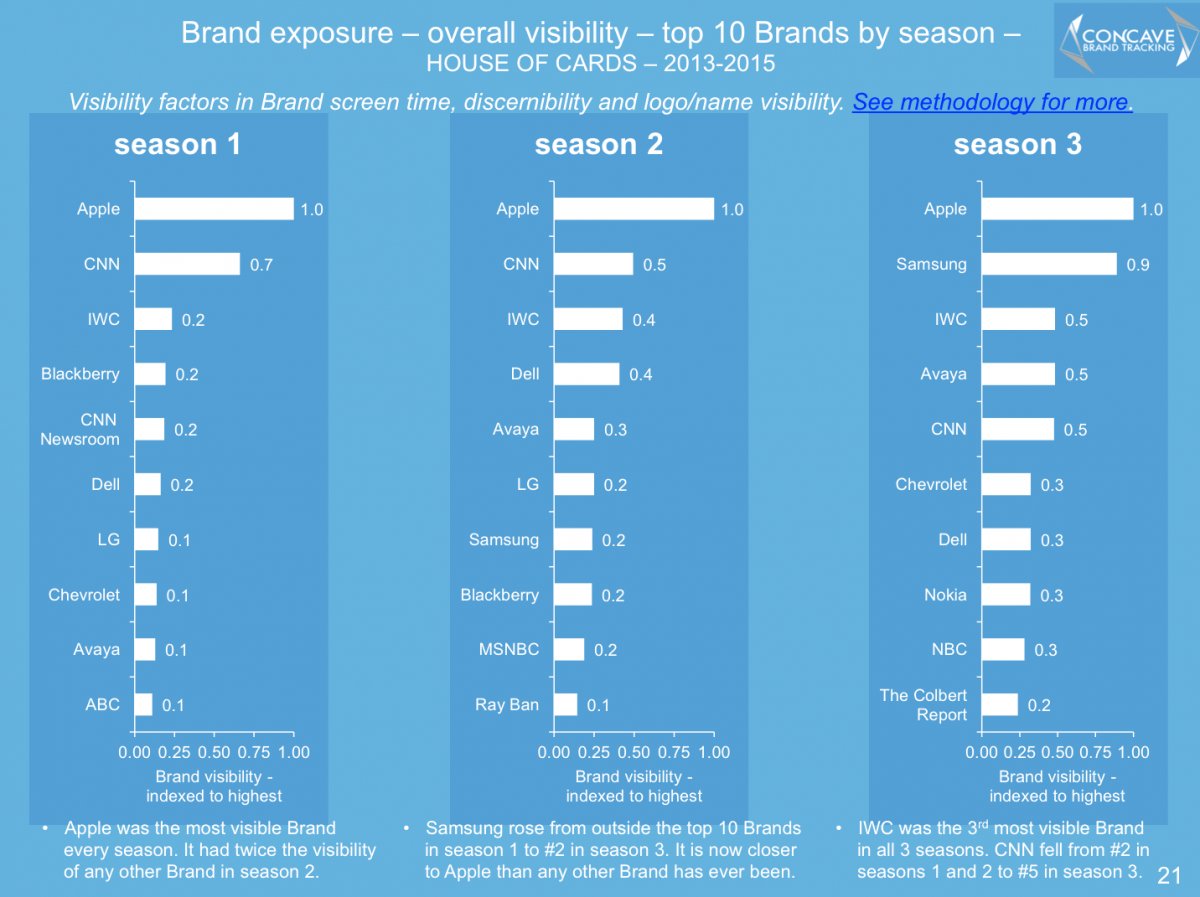 A koji su to omiljeni brendovi Franka i ekipe? Apple je u top pet kod četiri lika iz serije, dok je Samsung u top pet brendova za čak sedam likova. Nokia, Dell, i Samsung su brendovi koje koriste sporedne uloge kao što su Heather Dunbar i Seth Grayson.
A koliko dugo su ovi brendovi vidljivi na našim ekranima? Prema istraživanjima Concave, brendovi su ukupno, na našim ekranima oko četiri sata (u trećoj sezoni), što je manje nego u drugoj, ali više nego u prvoj sezoni serije.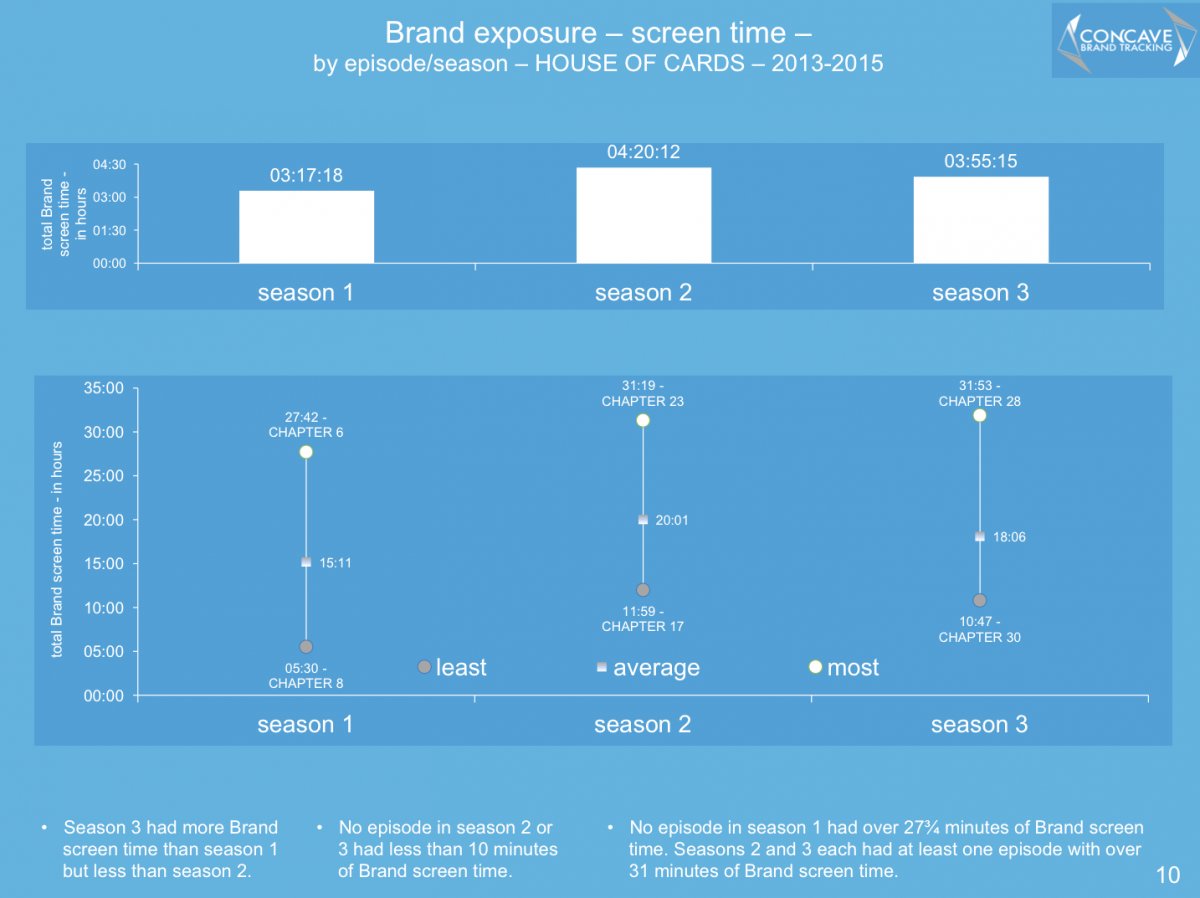 Do sada ste verovatno shvatili da na većinu ovih brendova niste ni obratili pažnju jer je samo 10% od ukupnog broja brendova, koji su vidljivi na ekranu, snimljeno izbliza.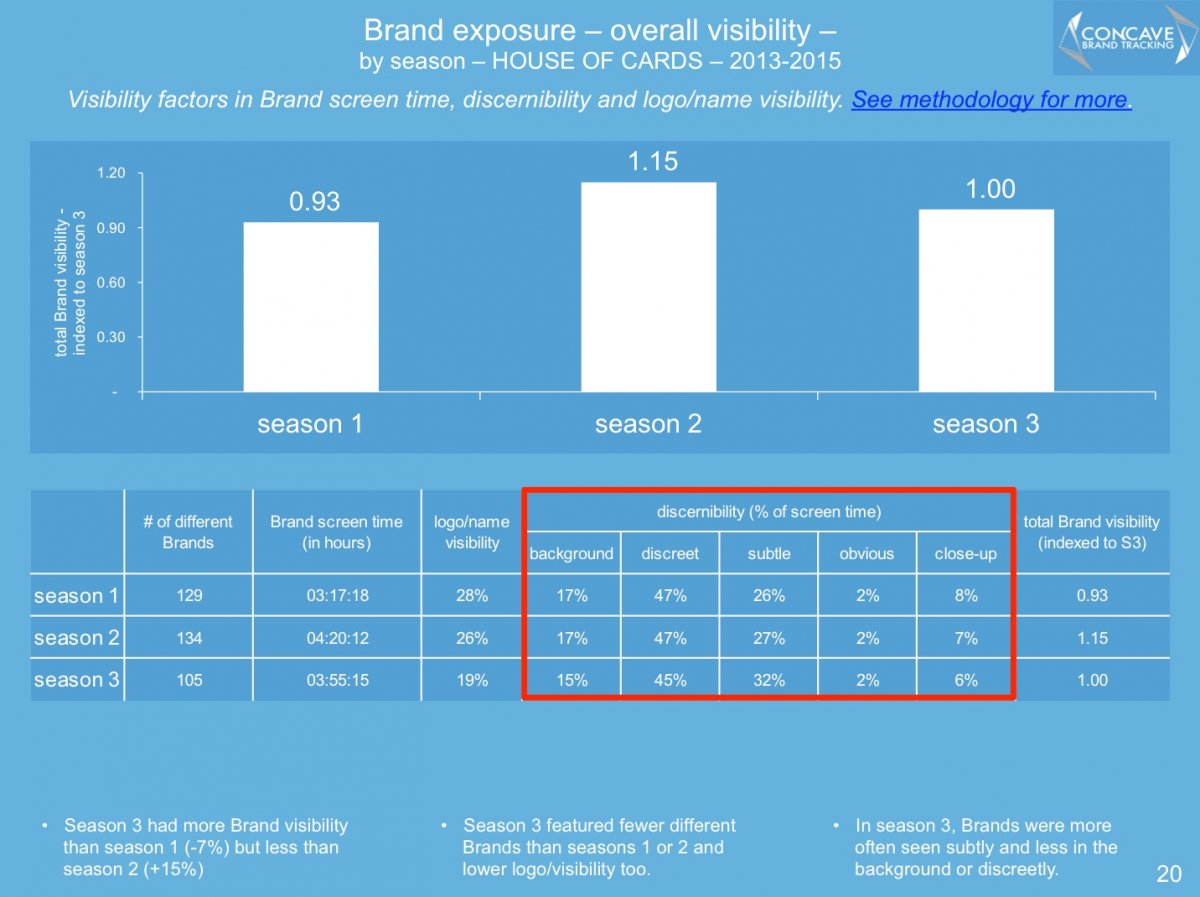 Evo kako Concave pravi razliku u vidljivosti brenda: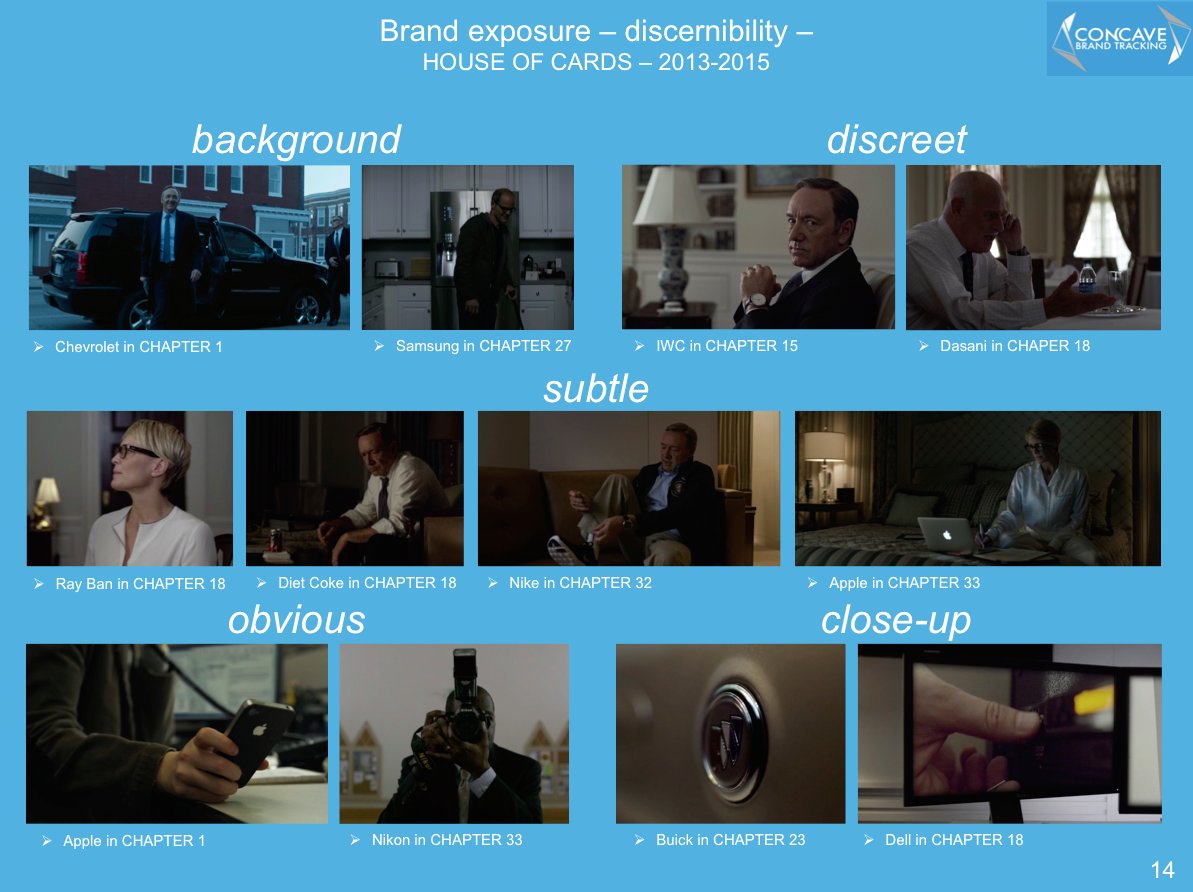 Brendove koje najlakše prepoznajemo su oni snimljeni izbliza, a najzapaženiji u trećoj sezoni su Apple, Louboutin, Samsung i Dell. Iako je Apple najzastupljeniji brend u seriji, Samsung ima 24% posto ukupnog broja kadrova snimljenih izbliza.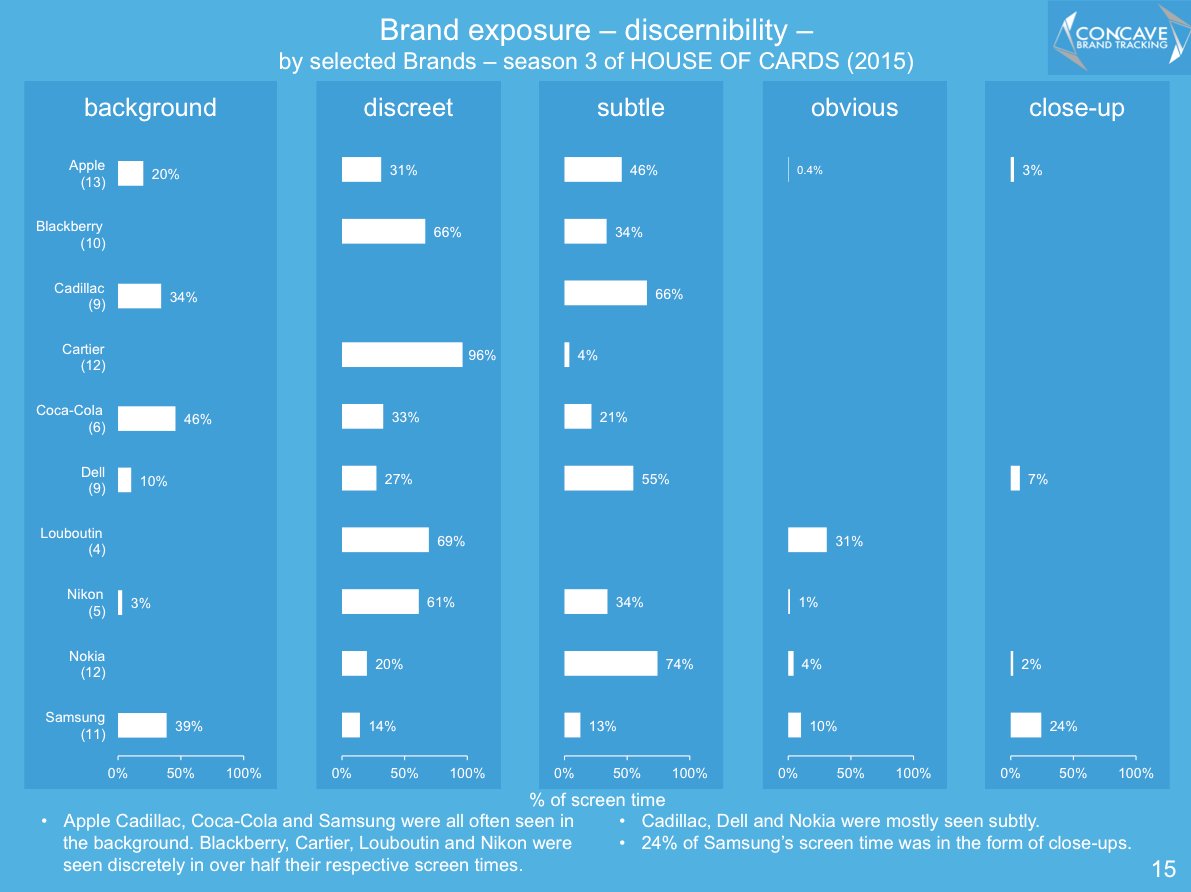 U iščekivanju četvrte sezone ove genijalne serije, nadajmo se možda i nekim novim brendovima… 🙂