Udruženje studenata informatike FONIS sa Fakulteta organizacionih nauka po prvi put organizuje humanitarni gaming turnir pod nazivom FGL Belgrade (Fonis Gaming League) koji će se održati 17. i 18. maja u Beogradu, uz podršku Centra za promociju nauke, kao i brojnih sponzora.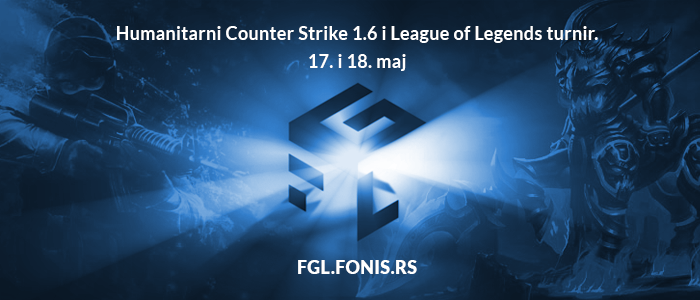 Igrači "Counter strike-a" i "League of Legends-a" koji žele da pomognu deci oboleloj od malignih bolesti mogu da učestvuju na humanitarnom turniru u ovim igricama u subotu, 17. i nedelju 18. maja, u prostorijama Centra za promociju nauke u Knez Mihailovoj ulici u Beogradu. Takmičarima će biti obezbeđeni svi uslovi za igru – hardverska oprema, hrana i osveženje.
Prijave za učešće su otvorene na sajtu fgl.fonis.rs. Prijave se zatvaraju 10. maja ili dok se ne popune planirani kapaciteti od 32 ekipe (16 ekipa za svaku igru). Za učešće se mogu prijaviti osobe do 27 godina starosti, uz uslov da svaka ekipa mora imati bar jednog punoletnog člana. Svaki tim mora imati 5 članova, a prijava to članu je 500 RSD (novac za prijave se donosi na dan otvaranja, 16. maja). Sav prihod biće uplaćen Nacionalnom udruženju roditelja dece obolele od raka NURDOR (www.nurdor.org).
Naši sponzori obezbedili su za pobednike vredne nagrade u vidu gejmerske opreme. Igrači League of Legends-a osvajaju tournament kodove i to:
1. mesto: 3200 RP & Triumphant Ryze skin za svakog igrača
2. mesto: 2400 RP po igraču
3. mesto: 1600 RP po igraču
4. mesto: 800 RP po igraču
Otvaranje turnira održaće se u petak, 16. maja u u prostorijama Centra za promociju nauke. Tom prilikom biće objašnjena pravila za takmičenje, predstaviće se sponzori, kao i timovi koji učestvuju.
Turnir je planiran kao dvodnevno takmičenje gde će se prvog dana igrati eliminacije, a drugog dana polufinala i finala u obe igre. Više o samim pravilima vezanim za igre pročitajte u odeljcima Info za svaku igru na sajtu fgl.fonis.rs ili na Facebook stranici FGL Belgrade.
Autor: Anđela Branović