U utorak, 10. juna u prostorijama kompanije doMEn u saradnji sa Nikšićkim pivom na XXVII događaju naš gost bio je iz Makedonije, osnivač digitalne agencije New Media MK, Darko Buldioski. Kao što je Nikola najavio, ovo je poseban događaj kao i posljednji pred Spark.Me. 🙂 U nastavku pročitajte o čemu nam je Darko pričao i koji su to primjeri na društvenim mrežama aktuelni u Makedoniji. Tema događaja bila je: "Kako biti 'social' bez dosadne Facebook aplikacije?" Događaj je trajao skoro dva sata, a za to vrijeme nam je naš gost kroz svoje iskustvo ispričao šta su dobre a šta loše strane društvenih mreža.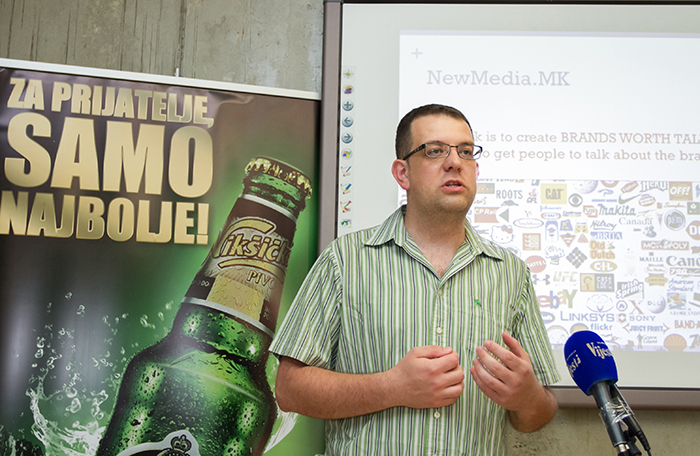 U istočnoj Makedoniji na festivalu su Darko i njegova ekipa napravili Dža Best Social Corner koji je motivisao ljude kroz niz aktivnosti da sheruju na net fotografije, statuse i ostale objave. Pozvali su pet tviteraša koji prate festivale, smatrajući da oni treba da budu njihovi ambasadori. A za kraj su dobili rezultat koji je značajno povećao broj korisnika ovog brenda kako online tako i offline. Sljedeći primjer bio je vezan za otvaranje butika ženske garderobe. Da bi što više ljudi došlo objavili su da ukoliko bude više lajkova na Facebook stranici oni će ostaviti više kupona sa popustom u prodavnici koji će biti u balonima, a koje mogu iskoristiti tokom mjeseca.
Njihova najdraža kampanja – #TwitterAjvar, organizovana je kao TweetUp i veoma zapaženo prošla u 2011. godini. To je bio oficijelno prvi TweetUp u Makedoniji koji je kreiran od strane brenda. Uz degustaciju ajvara napravili su nove naljepnice na teglama, tako su tviteraši pomoću tvita poklanjali jedni drugima ajvar bas u tom trenutku i tako se upoznavali.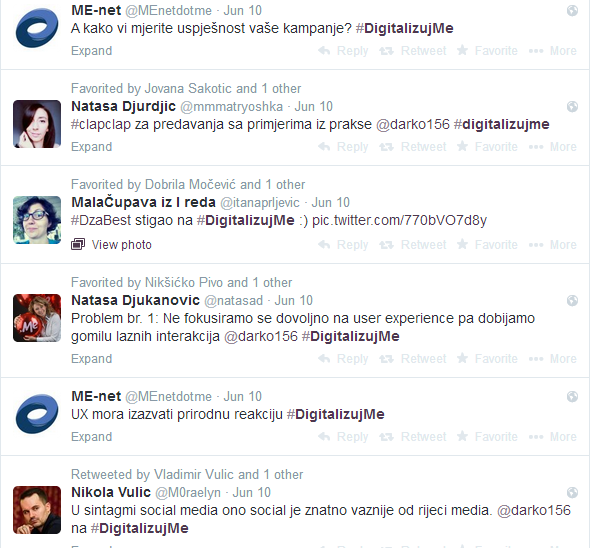 Darko nam je govorio o sadašnjoj Dža Best kampanji, kao i o zadacima (10 zadataka, tri nedjelje) za učesnike koji se bore za nagradu. Prvi zadatak – Uradi selfie sa najmanje petoro ljudi, objavi na Facebook i sve ih taguj, dobijaš 10 poena. Top pet koji imaju najviše ljudi na selfiu dobijaju 15 poena, a najviše ih je bilo oko 50. Drugi zadatak – snimite sami video za drugi rođendan Dža Besta. A treći zadatak zahtijevao je da takmičari – Ubijede troje svojih prijatelja da promijene avatar na Facebooku ili Twitteru i dobijaju 10 poena, dok onaj ko bude imao najviše dobija 15 poena. Avatar treba da stoji dok ne objave sljedeći zadatak, a pobjednik je imao 125 "svojih avatara" tj. ubijedio je toliko prijatelja da promijene avatar u njegov.
Pitanja koja su bitna tokom nagradnih igara, koje je Darko istakao su:
Ko je tvoja ciljna grupa?
Koliko ljudi uživa u toj akciji?
Kako da korisnici promovišu vaš brend?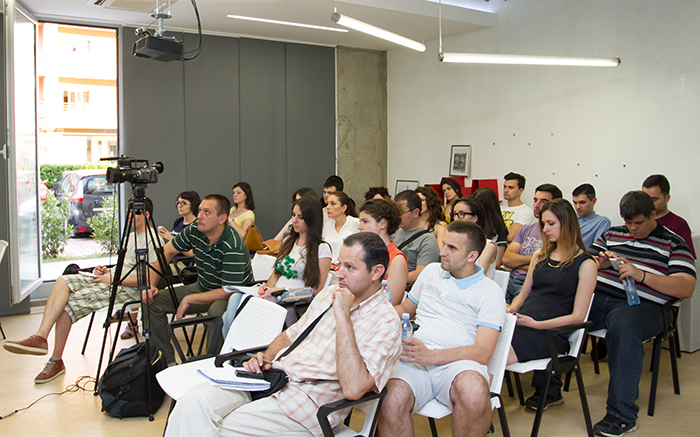 Tokom kampanja je naučio da kada se jave hejteri tada može biti siguran da nešto dobro radi. Zatim smatra da se tokom kampanje uopšteno ne fokusiramo dovoljno na user experience pa dobijamo gomilu laznih interakcija. I istakao da je u centru svake kampanje da nađete nešto što ljudi zaista rade i uz pomoć toga ostvarite svoj cilj. Usljed niza Natašinih pitanja rekao je nešto što zaista treba znati, a to je: "Ako klijent ne vidi razliku između usluge iskusne agencije i komšije tinejdžera, nama ne treba takav klijent!"
Takođe smatra da biznis cilj neke kompanije za koju pravite nastup na društvenim mrežama treba da bude smjernica ka social cilju. To je ključno, jer uz pomoć social media tools možemo vidjeti da li je taj biznis cilj dobar. Nakon toga Itana, kao moderator mu je postavila pitanje: "Koja je to kampanja najzahtijevnija koju ste uradili?"
Darko je odgovorio da je to bilo za One Telekom, trebali su da urade dvije aplikacije za košarkaško prvenstvo u Makedoniji. Na jednoj su mogli da kreiraju svoju petorku, a uz pomoć druge aplikacije su mogli da tipuju ko pobjeđuje taj dan na evropskom prvenstvu. Da bi imali kredite da tipuju, morali su da urade nešto tokom takmičenja, kao što su objava fotografija ili statusa sa prvenstva.
Nama je bilo zadovoljstvo što smo imali priliku da ugostimo ovako kvalitetnog predavača kao što je Darko, a nadamo se da ste i vi uživali!
Ovdje možete pogledati snimak cijelog događaja i na kraju pitanja o kojima je Darko zajedno sa prisutnima diskutovao. 🙂