#GetUpStartUp seminar u Crnoj Gori: Prvi BEST – ov internacionalni

Ideja o osnivanju BEST – a (Board of European Students of Technology) je nastala u Stokholmu maja 1987. godine tokom evropske konferencije za studente. Rezultat konferencije bila je odluka da se organizuje internacionalna nedjelja svakih šest mjeseci u nekoj drugoj zemlji u kojoj bi se razvila interakcija između evropskih studenata. BEST organizacija postoji na 95 univerziteta širom Evrope u 33 zemlje, jedan od glavnih ciljeva BEST – a je povezivanje
i edukacija studenata kroz organizaciju akademskih kurseva. U Podgorici BEST je relativno nova organizacija, formirana u avgustu 2011. godine. U dosadašnjem radu BEST je poslao preko 50 naših studenta na 20 međunarodnih događaja organizovanih u okviru BEST – a. Takođe su ugostili preko 25 stranih studenata na 3 događaja do sada organizovana.
U Kotoru je od 5 do 13 jula odrzan prvi BEST – ov internacionalni kurs u Crnoj Gori pod nazivom: "Get Up Start Up" gdje su učesnici imali priliku da upoznaju ljude iz različitih krajeva svijeta (Italije, Francuske, Španije, Turske, Makedonije, Rusije, Finske, Portugalije..) Kroz predavanja i radionice učesnici su mogli da čuju dosta toga o startup kompanijama i kroz timski rad dođu do realizacije potencijalnih biznis ideja.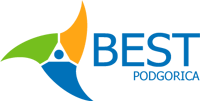 Iako "dugometražni" akademski dio, bio je ispunjen na pravi način i sa intrigantnim igricama koje su bile itekako korisne (nastava je održana na engleskom jeziku). Prvi predavač bio je Nikola Vulić, koji je ukazivao koliko se okruženje brzo mijenja u sferi preduzetništva. Osim dosta primjera kako su mnogi preduzetnici preživljavali, učesnici seminara su toga dana naučili kroz interaktivnu nastavu da nije lako "preživjeti" kao preduzetnik iako je na prvi pogled izgledalo jednostavno. Kao što Nikola kaže: "The business environment is changing constantly!"
Štafetu je preuzeo Srđan Vukčević nagovjestivši koliko je bitno da ukoliko želite da započnete sopstveni biznis morate biti usko specijalizovani i konstantno se usavršavati. Istakao je: "In business, expect the unexpected." Toga dana učesnici su bili radnici fabrike, a Srđan takozvani gazda. Prvi put da bi napravili proizvod učesnicima je trebalo 1 min i 43 sek, a nakon nekoliko pokušaja svega 2 sekunde, što je ukazivalo koliko je timski rad bitan. U drugom dijelu su učesnici bili kupci, a Srđan prodavac lizalica i bombona, pa je na kraju to bio slatki zadatak uz dobro zaslađenje.
Tokom svakog predavanja učesnici su bili dobro raspoloženi, a za to je bio "krivac" dio BEST – ovih običaja da se strani i lokalni participanti druže kako tokom predavanja tako i nakon njih uz dobro organizovane razne zadatke, internacionale večeri, timske igre, dijeljenje ideja..
Kako izgleda osnovati startup i uopšte održati ga "živim" govorio je Vukašin Stojkov o njegovom startup – u TruckTrack i približio im kako sve to funkcioniše na vebu. Osim druženja sa učesnicima pripremao ih je za finalni dio kursa u obliku pitch prezentacija i otkrivajući im neke trikove kako bi svoju ideju bolje predstavili potencijalnim investitorima. Postavio je na prvo mjesto praksu, a samim tim rekao: "Don't waste too much time on definitions."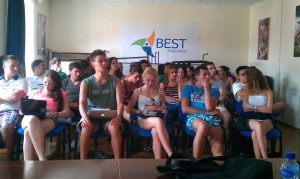 Koliko su društveni mediji bitni za dobre startup – ove nagovijestili su Predrag Lešić i Maša Đikanović ukazujući kako ih treba koristiti i koliko su značajni za Domain.ME Moglo se čuti i zabilježiti mnogo korisnih stvari od Predraga, a posebno njegova rečenica koja vas navodi na razmišljanje: "When you put your idea on the timeline, big question is: It is real on this time?" Nakon toga su pomogli učesnicima u osmisljavanju ideja. Bile su spremne tri ideje za prezentovanje: iznajmljivanje knjiga, sajt svih događaja i studentski sajt mnogih kurseva. Ostaje da učesnici uz sklopljena prijateljstva prepuste se okršajima i možda realizuju zajedničkim snagama neke od ovih ideja. Na kraju je Maša nastojala da učesnike okuraži da počnu sa pisanjem ličnog bloga, kao što je i rekla: "Really a good idea is when you have a personal blog." Oficijalni hashtag seminara bio je #GetUpStartUp
BEST Podgorica od 9 septembra najavljuje početak narednog regrutaciong perioda, a mi im želimo da prošire svoju ekipu i nastave sa organizovanjem sličnih seminara kao što je bio ovaj! 🙂