Coursera – Dobrodošli u predivni svijet besplatnih online kurseva!
Usuđujete li se da pored svog pohadjate i jedan od svjetski renomiranih univerziteta? Da li ste možda razmišljali o usavršavanju na jednom od najprestižnijih univerziteta širom svijeta – i to potpuno besplatno?!

Isak Adižes, jedan od 30 vodećih menadžment mislilaca na svijetu, kaže: "Ne bojite se da učite od svega. Što više učimo – mudriji smo!". Svako zanimanje traži konstantno usavršavanje. U savremenom svijetu postoji mnogo načina za to. Jedan koji je meni posebno zanimljiv jeste MOOC (Massive Open Online Course). Coursera kampus je definitivno jedan od najpoznatijih MOOC sajtova. Ovaj i razni drugi sajtovi omogućavaju ljudima širom svijeta da slušaju predavanja sa raznih univerziteta i iz različitih oblasti. Možete im pristupiti 24/7 tj. kad god vam padne na pamet. Ovi sajtovi omogućavaju praćenje online nastave sa najprestižnijih univerziteta iz cijelog svijeta i dobijanje sertifikata pri završetku
programa. Sertifikatom profesor potvrđuje da ste prošli kroz cjelokupan program i pri tom ostvarili minimum 80% ukupnih bodova. Najbolja stvar od svega jeste to što je sve ovo besplatno! Jedino što treba da uložite je vaše vrijeme i volja – volja da naučite nešto novo da proširite svoje znanje.
Kako doći do kursa?
Potrebno je da iz mora kurseva odaberete ono što vas zanima. Pruža vam se širok diapazon oblasti u kojima ćete pronaći vaše interesovanje. Za svakoga ima po nešto – od medicine, preko programiranja i umjetnosti, do istorije isl. U toj masi kurseva za svakog se može naći nešto. Tako sam ja jednog dana, u trenutnoj dosadi, uzela da pretražujem sajt za koji sam nedavno čula. Moj prvi korak bio je filtrirati listu na kurseve ekonomskog karaktera i od ponuđenih naći neki po mom ukusu. Poslije nekog vremena provedenog gledajući uvodne klipove i čitajući nastavne planove i programe, odabir je pao na "Leading Strategic Innovation in Organizations". Čini mi se da je uprvao kratak video profesora Davida Owensa sa Vanderbilt Univerziteta uticao na donošenje odluke. Njegova opuštenost, ali u određenoj mjeri i ozbiljnost navela me da donesem odluku. Nakon odabira tog kursa jedino što je preostajalo jeste čekati da počne. Da budem iskrena, nisam znala na šta će to da liči. Po malo sam se plašila – bilo me je strah da neću uspjeti da se uklopim u cijeli taj program. Bila sam jako nervozna u isčekivanju da kurs počne, ali isto toliko me ispunjavala radoznalost. Upuštala sam se u nešto potpuno novo, a sve novo je zanimljivo.
Kako izgleda jedna nedjelja kursa?
Nakon pola mjeseca čekanja konačno sam bila u mogućnosti da pristupim online nastavi. "Osam nedjelja – hmm izdržaću ja to!". Dobila sam pripremni e-mail od profesora sa detaljnim objašnjenjem kako će kurs biti koncipiran. Aktivnosti na ovom kursu podijeljene su na nekoliko različitih djelova. U početku uopšte nisam mogla da se snađem. Bila sam skroz pogubljena u svim tim obavezama. Nisam znala gdje se što nalazi, što se boduje a što ne. Sva sreća, brzo sam se snašla – došla sam do potrebnih uputstava.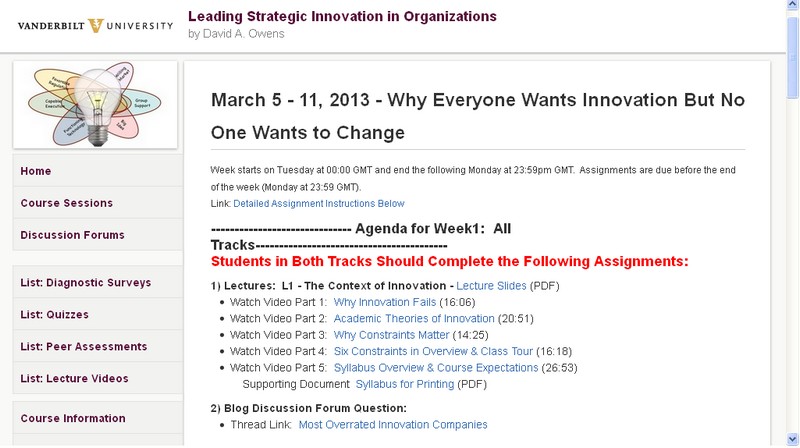 Na redu je bilo aktivirati se, početi sa radom. Prva stvar koju sam uradila bila je da se predsavim mojim kolegama. Discussion board – "Where are you from?" je izgledao kao dobar način za to. Prva reakcija, prvo iznenađenje – Bože koliko se samo osoba prijavilo na ovaj kurs. Nebrojeno mnogo ljudi se uključivalo u razgovor, iz svih krajeva svijeta. (Pažnja: Ne preporučujem da se prijavljujete za obavještenja sa foruma. Postoji velika vjerovatnoća da ćete biti pretrpani hiljadama e-mailova.) Ovo je bio i dobar način da se nađu partneri za grupni rad. Neophodno je pronaći nekog iz iste vremenske zone. I ljudi su se sami javljali. Tako je oformljena grupa ExYu. Međutm, grupni rad je dio naprednog programa i tražio je puno više vremena. Upravo iz tog razloga, vremena kojeg ja nisam imala, morala sam se zadovoljiti sa regularnim programom.
"U redu, predstavila sam se masi. Idemo dalje." Sljedeće na redu je bilo slušanje video-predavanja. Udobno sam se smjestila u svoju stolicu za radnim stolom i pustila predavanje broj 1. Ispostavilo se da moja očekivanja u vezi ovog dijela i nisu bila daleko od istine. Bijela pozadina, profesor koji stoji sa desne strane i slajdovi koji se mijenjaju kako on odmiče sa predavanjem. Svake nedjelje imamo serije mini video-predavanja. Sva se trebaju pažljivo ispratiti, hvatati bilješke. Pasivno gledanje video-predavanja nije dovoljno. Pored svih ostalih razloga evo i jednog ne baš očekivanog – u sred predavanja pojavljuju se kviz pitanja.
Na nekim kursevima u okviru Coursere profesori obezbjeđuju besplatne knjige u elektronskom izdanju za svoje studente. To nije bio slučaj sa ovim kursom. Literatura jeste bila besplatna ali se moj profesor nije odlučio za knjige. Umjesto njih obezbijedio je članke sa raznih portala kao i neke blog postove. Pored toga, predložio je i dodatnu literaturu. Naravno, ona nije bila besplatna i nije ulazila u ocjenjivanje.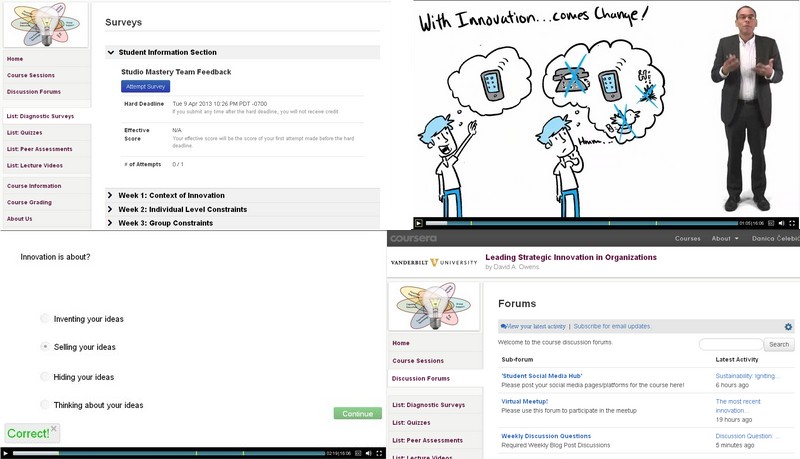 Diagnostic Survey je jos jedna stvar koja je sastavni dio aktivnosti kursa. Oduzimaju svega 5 minuta. Nakon što ga odradi, na osnovu datih odgovora, studenat treba da napiše kratak esej o stanju koje anketa oslikava. On ne treba biti duži od 100-200 riječi. Drugi student, odabran slučajnim uzorkom, komentariše rad i daje predloge za rešenje opisanog problema.
Učestvovanje u diskusijama na forumu se ne smije preskočiti. Poenta kursa je da ne učimo samo od profesora, već da se koliko toliko interaktivno uključujemo. Cilj je da razmjenjujemo mišljenja, da učimo jedni od drugih. Profesor na forumu postavlja glavnu temu iz oblasti koja se obrađuje te nedjelje. Bitno je iskazati svoj stav i najmanje što se traži od studenta jeste da se uključi u diskusiju 2-3 puta.
Posljednja aktivnost u okviru nedjelje jeste test. Njim potvrđujete da ste odslušali sva predavanja, pročitali literaturu. Potrebno je odgovoriti na par pitanja u vezi cjelokupnog nedjeljnog programa. Prilikom davanja odgovora neophodno je poštovati "kodeks časti". Potrebno je biti iskren, jer glavni cilj svega jeste učenje novih stvari a ne dobijanje papira sa potpisom profesora.
U suštini: "Dan u kojem niste ništa naučili je izgubljen dan.". Slušajuci profesora Adižesa, ali i mnoge druge, zaključak je da trebamo ulagati stalno u učenje. Trebamo povećavati nivo svog znanja. Edukacija je suštinska stvar za svaku osobu. Upravo je nivo edukacije ono što pomaže ljudima da stvore ugled. Važnost obrazovanja je neosporna, svi ljudi moraju da uče. Samo sa konstantnim učenjem možemo obezbijediti sebi potrebnu količinu znanja i vidjeti svijet na drugačiji način.