Peti, jubilarni, festival integrisanih komunikacija KAKTUS 2019 biće održan 29. i 30. oktobra u Madlenianum Opera&Theatre, pod sloganom "Make room for a new BLOOM".  Regan Warner, Creative Director agencije McCann London (Velika Britanija), jedna je od predavača ovogodišnjeg festivala KAKTUS 2019. Ona će, u okviru Dana inovacija, govoriti na veoma zanimljivu temu "Making Age a Non-Issue". Tim povodom razgovarali smo sa njom o inovacijama u industriji ljepote.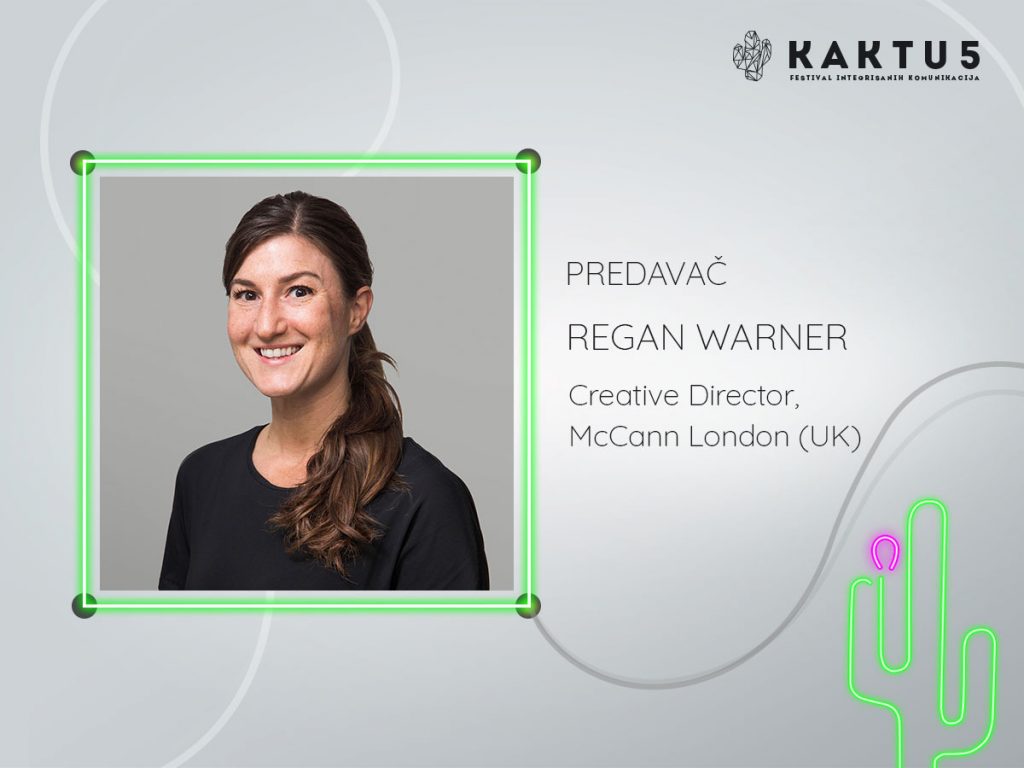 Koje su to inovacije u marketingu u beauty industriji?
Makeup video tutorijali su i dalje na samom vrhu. Oni predstavljaju najveći procenat pregleda video snimaka o ljepoti, mnogo veći od reklama. Proširena stvarnost (AR) postoji već neko vrijeme, ali konačno je postala jednostavna za korišćenje i postoji više platformi koje podržavaju tu tehnologiju. Koristili smo Facebook sa AR-om za The Non-Issue koristeći njihov Messenger za otkrivanje ekskluzivnog intervjua. Influenseri donose autentičnost brendovima i organski reach. Modeli zasnovani na pretplatama (tj. Birchbok, FabFitFun) omogućavaju potrošačima da isprobavaju više proizvoda svakog mjeseca. Na kraju krajeva sam put kupovine se promijenio. Prešli smo sa: "Zainteresovan/a, posjetiću vaš sajt" do "Jesam li to upravo kupila" u svijetu Instagrama.
Mislite li da su influenseri najznačajniji u marketingu u beauty industriji?
Influenseri su veoma važni za beauty industriju jer mogu da pruže pravi glas / mišljenje. Brendovi pokušavaju da transformišu influensera u nešto drugo i tada stvari prestaju da funkcionišu. Gubi se autentičnost tog influensera i njegovi pratioci to primjećuju. Influenseri takođe gube autentičnost kada nisu lojalni brendu. Ovo ne važi toliko za video tutorijale, koliko na kreativnu strategiju brenda. Influenseri koji rade za više brendova koji imaju istu vrstu proizvoda ne odaju utisak autentičnosti, već isključivo "jure" za novcem.
Šta mislite o važnosti uređivanja fotografija na društvenim mrežama?
Moramo prestati da razmišljamo editovanju fotografija kao o nečemu lošem. Svi smo imali neki promašaj kojeg se više ne želimo sjećati i mislim da je to u redu. Skoro uvijek je potrebno korigovati boje kako bi se dobila prava dubina i kontrast na fotografiji. Ako korigovanje i uklanjanje onoga što štrči ne remeti slanje ključne poruke, onda mislim da smo na pravom putu.
Šta mislite kako se beauty brendovi mogu izdvojiti u odnosu na ostale, s obzirom na to da imaju slične proizvode i ciljnu grupu?
Ovo je standardna dilema za sve brendove koji imaju slične proizvode. Ali vjerujem da svaki brend ima različit glas i svaki proizvod se na neki način razlikuje od drugog. Coco i Eve su sjajan primer kako se utisci koje generišu korisnici iskoriste i za brend komunikaciju. To je balzam, a ipak se čini posebnim na osnovu tih utisaka i cijene. Glossier je započeo blogom i stvorio neviđenu interakciju sa korisnicima, povjerenje i kupovinu kroz drugačiji način razmišljanja. Iskoristite to. Budite drugačiji. Ističite se u masi. Učinite i izgovarajte stvari na svoj, jedinstven način kako biste ostvarili komunikaciju sa svojom ciljnom grupom.
Mislite li da je uređivanje slika postalo zavisnost?
Vjerujem da smo svi postali stručni u obrađivanju fotografija u aplikacijama koje su nam dostupne. Mislim kakav je bio svijet prije "smooth" alatke… Jesmo li svi imali nesavršenosti?! Postoji kriva učenja koju svi moraju proći, to je ono što dizajneri prolaze dok savladavaju zanat. Počinjete sa osvetljenjem, zatim postajete malo avanturistični, zatim smiješni, a zatim se vraćate u stvarnost – blažoj obradi. Svi prolazimo ovo putovanje.
Više informacija o festivalu KAKTUS 2019 možete pronaći na sajtu.
Festival KAKTUS 2019 podržalo je preko 45 medijskih kuća iz cijelog regiona, kompanije Delta Holding, Zlatiborac, Vip Mobile, Jaffa Crvenka, Marbo Product, Mercator S, Ušće Shopping Centar, Doncaffe, Forma Ideale, Frikom, Nectar i Eurobank. Partneri festivala su agencije – Direct Media United Solutions, Ovation BBDO, Headline, Degordian, Reprodukcija, DPC Group, Alma Quattro, Nova Communications, Tawo Dev i Info Media Group. Festival su podržali i Novaston Marketing Consultancy, Flexis Consulting, Kliping, Led Media BiH, Propix, Srpska asocijacija menadžera, Core Event, Kreativa New Formula, Chameleon i Spring Onion Studio. Prijatelj festivala je kompanija Microsoft. Bronzani sponzor festivala je Apatinska pivara, Srebrni sponzor kompanija Mastercard, a Zlatni sponzor kompanija MARS.