Prva Spark.me konferencija održana je 2013. godine. Od tada do danas, Spark.me je od mjesta susreta nekoliko desetina entuzijasta postao tehnološki i marketinški događaj koji se ne smije propustiti. Ponosni smo na činjenicu da je Digitalizuj.Me bio partner u organizaciji ovog majskog spektakla cijelim putem i izuzetno smo ponosni što ove godine očekujemo više od 550 posjetilaca iz preko 20 zemalja! Od samog početka, misija Spark.me konferencije je da unaprijedi život ljudi u Jugoistočnoj Evropi podizanjem svijesti o mogućnostima koje nam donose internet i razvoj tehnologije – kroz edukaciju, takmičenja i prilike za povezivanje. A ukoliko si student i zainteresovan si za ove teme, Spark.me 2018 studentsko takmičenje je najbolji način da postaneš dio Spark.me priče!
Šta je Spark.me 2018 studentsko takmičenje?
Organizator konferencije, kompanija doMEn d.o.o, agent registracije crnogorskog nacionalnog internet domena – .ME, želi ohrabriti mlade ljude da budu pokretači promjena u svojim zajednicama koristeći prednosti digitalnog doba. S obzirom na to da je Crna Gora domaćin konferencije, odlučili su da organizuju Spark.me 2018 studentsko takmičenje i daju šansu svim crnogorskim studentima da osvoje besplatnu kartu za konferenciju!
Kako da se prijaviš?
Mogu se prijaviti svi studenti iz Crne Gore koji imaju od 18 do 27 godina. Da bi učestvovao u takmičenju potrebno je da napišeš esej (do 500 riječi) na engleskom jeziku, na temu "Budućnost društvenih medija iz perspektive milenijalca" ("The Future of Social Media from the Perspective of a Millennial") i pošalješ ga na: [email protected]. Esej treba da sadrži tvoje mišljenje o tome kako će nove generacije oblikovati društvene medije u budućnosti i pruži odgovore na sljedeća pitanja: Koje su to navike i obrasci ponašanja koje uočavaš u svojoj upotrebi društvenih medija i upotrebi društenih medija među tvojim vršnjacima? Koji su kriterijumi o kojima vodiš računa kada biraš sredstvo komunikacije i prikazivanja sebe svijetu? Takmičenje je individualno i autori pet najboljih eseja biće nagrađeni kartom za Spark.me konferenciju. Prijave su otvorene do 20. maja u 01:59:59 po našem vremenu. Imena pet odabranih studenata koji dobijaju besplatne karte za konferenciju biće objavljena na sajtu domain.me 21. maja.
Zašto treba da se prijaviš za Spark.me 2018 studentsko takmičenje?
Imaćeš priliku da upoznaš nevjerovatne ljude, naučiš nove stvari i iskusiš nešto zaista jedinstveno i drugačije. Osim toga,
do sada su najavljeni fenomenalni govornici
, a organizacioni tim ima još nekoliko iznenađenja koja ćemo uskoro podijeliti sa vama.
Karta uključuje pristup svim predavanjima (26-27. maj), radionicama (25. maj), startap takmičenju (26-27. maj), ručak u hotelu Mediteran na bazi švedskog stola za oba dana konferencije, osvježenje na svim kafe pauzama u toku oba dana konferencije, kao i koktel prijem (26. maj). Cijena karte ne uključuje troškove prevoza i smještaja. Dobijena karta se ne može naknadno prenijeti na drugu osobu ("name change"), niti može biti zamjenjena za novac. Karte za konferenciju Spark.me 2018 se mogu kupiti na zvaničnom sajtu konferencije. Puna cijena karte je 300€, ali svi zainteresovani mogu kupiti svoju kartu po sniženoj cijeni od 250€, do 13. maja.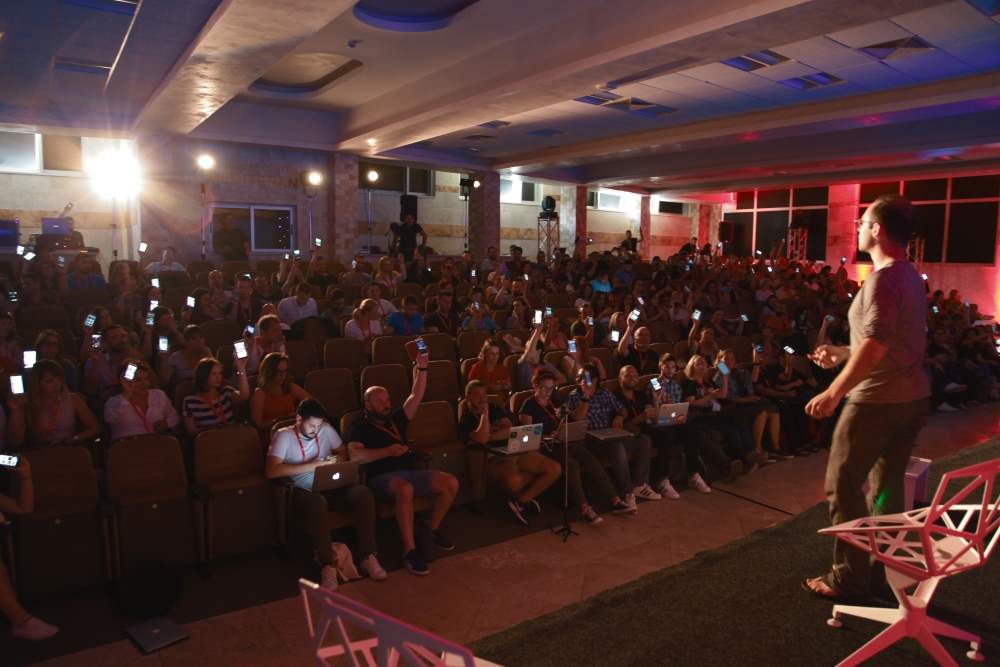 Konferencija Spark.me održaće se po šesti put, 26. i 27. maja, u hotelu Mediteran u Budvi. U skladu sa težnjom da svake godine dodatno obogate program konferencije, organizacioni tim Spark.me 2018 je za učesnike konferencije pripremio seriju besplatnih radionica iz oblasti marketinga i preduzetništva, koje će se održati 25. maja u hotelu Mediteran u Budvi. Organizator Spark.me je kompanija doMEn d.o.o, agent registracije crnogorskog nacionalnog internet domena – .ME, koja od 2013. godine organizuje konferenciju jednom godišnje u Budvi. Spark.me nudi priliku učesnicima da o aktuelnim trendovima u oblasti marketinga, tehnologije i biznisa uče od svjetski poznatih eksperata, te da ostvare kontakt sa preko 550 učesnika konferencije iz više od 20 država širom svijeta, među kojima će naći lidere iz poslovnog svijeta, svijeta tehnologije i inovacija, marketare, startapove i ljude željne znanja.
Za više informacija o Spark.me 2018 posjetite zvanični sajt konferencije, Facebook stranicu, Twitter nalog i Instagram nalog.