Wikipedia: "Wearable technology, wearables, fashionable technology, wearable devices, tech togs, or fashion electronics are clothing and accessories incorporating computer and advanced electronic technologies. The designs often incorporate practical functions and features, but may also have a purely critical or aesthetic agenda."
Svi ste, vjerujem, već upoznati sa terminima "Internet of Things" (IoT) i "wearables" kao jednim dijelom ove velike grupe IoT generacije uređaja. Ja, iskreno, imam veliki problem sa prevodom ovih izraza, tako da je bilo kakva pomoć više nego dobro došla. 🙂 Nego, da se vratim na temu, živimo u vremenu u kom se tehnologija razvija nevjerovatnom brzinom, i to u nekoliko dimenzija: brzina obrade podataka, veličina uređaja, "jezici" za komunikaciju među uređajima, 3D tehnologija printanja i tako dalje… Sve navedeno je uslovilo stvaranje novih trendova u načinima na koje se odnosimo prema sopstvenom tijelu i okruženju.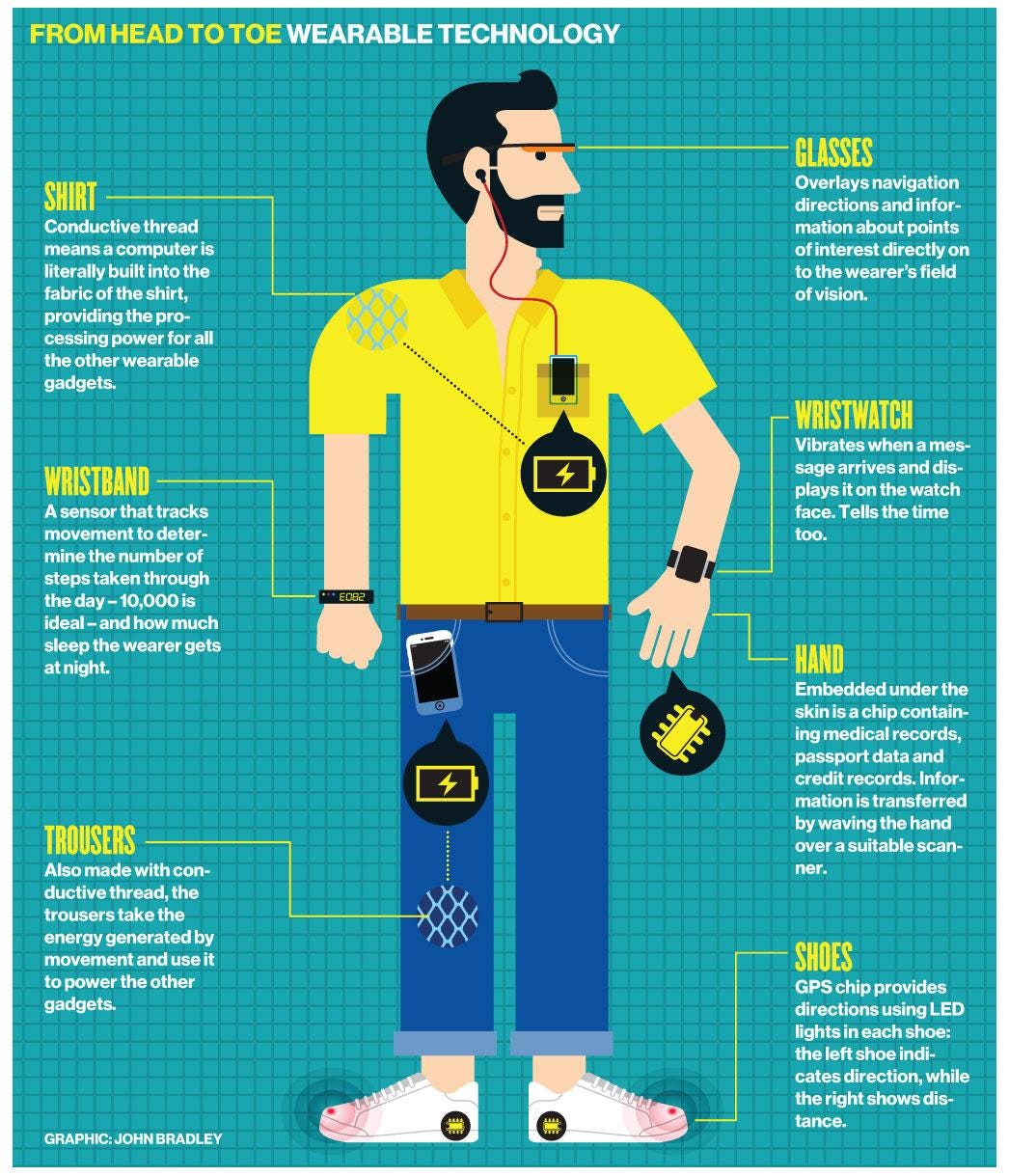 Uređaji koje nosimo (wearables) bi generalno trebali da nam olakšaju svakodnevno funkcionisanje, bilo da se nalazimo u poznatom ili nepoznatom okruženju. Danas najpoznatiji ovakvi uređaji su svakako oni koji prate vašu fizičku aktivnost kao što su FitBit ili Jawbone UP. Njima su se ubrzo pridružili pametni satovi tipa Pebble, Samsung Gear ili Apple Watch…
U ovu kategoriju spada i Google Glass, uređaj koji je predstavljen na velika zvona od strane samog Googlea ali, kao što i sami znate, nije doživio veliku slavu. No, taj uređaj tek treba da pokaže šta se sve može uraditi sa njim u nekom drugom obliku jer pristup informacijama preko ekrana koji možemo da koristimo dok obavljamo svakodnevne aktivnosti je nešto na šta tek treba da se priviknemo.
Posebna kategorija ovih uređaja su i uređaji pomoću kojih pratimo sopstveno zdravlje. Ovom segentu ćemo posvetiti sledeći blog post kao i 4. meetup koji pripremamo…
U principu, uređaj koji nosimo, je bilo koji uređaj koji nam donosi informaciju koja nam je na neki način od koristi, bilo da je šaljemo ili primamo. Danas su obično upakovani sa nekim MEMS (Micro-Electro-Mechanical-Systems) senzorom u okviru nekog "pametnijeg" uređaja koji je u stanju da obradi podatke koje prima sa samog senzora.
Ova tema je prilično široka i inspirativna i danas se sa relativno malim sredstvima može napraviti prototip nekog uređaja koji je u stanju da komunicira sa telefonom, a samim tim i sa nekim servisom koji pruža daleko veće mogućnosti za rad.
Zato vas sve očekujemo u srijedu, da se ispričamo o vašim iskustvima sa ovim malim uređajima i idejama koje imate na ovu temu. Za šta bi se sve mogli koristiti i kakve bi sve mogli napraviti, kakve to elemente treba da imate za njihovu izradu, i da vidimo ko u tome može da vam pomogne. Svi koji ste zainteresovani za ovu temu ste pozvani da u srijedu 4. novembra, dođete na #DigitalizujMe startup meetup u Soul II Soul, u 19 h. Prijatelj, kao i prethodnih puta, je Crnogorski Telekom koji nas sve časti jednim pićem na njihov račun. 🙂 Vidimo se!