Kao vlasnicima bankovnih računa, važno nam je da smo u mogućnosti da redovno pratimo pregled stanja i promjena na svom računu. Iz tog razloga već neko vrijeme postoje servisi koji nam olakšavaju svakodnevno praćenje informacija o računu, putem e-bankinga, primanjem poruke o prilivima i/ili odlivima na računu… Pojedini servisi podrazumijevaju unošenje kodova i slanje poruke na određeni broj banke. Ovaj postupak nekim korisnicima može se činiti zamornim, i željeli bi da na jednostavniji način, u svakom trenutku, mogu dobiti infomacije o stanju na svom bankovnom računu.
Ukoliko ste nekada razmišljali na ovaj način, vjerovatno će vas zainteresovati nova mobilna aplikacija, SMSBank, koju je nedavno napravila 2BI kompanija (Business Integration and Business Intelligence d.o.o). Aplikacija SMSBank je napravljena sa ciljem da korisnicima, nakon početnih podešavanja, pomoću samo jednog klika, obezbijedi uvid u stanje na računu, kreditnoj kartici…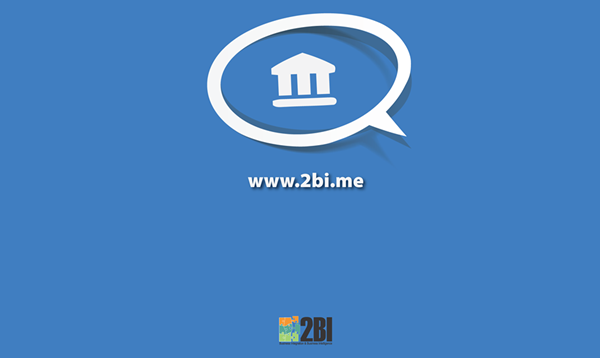 Aplikacija funkcioniše tako što, nakon instaliranja, izaberete jednu ili više banaka čije SMS usluge želite da koristite. U nastavku, klikom na određenu banku, dobijate pregled SMS usluga koje banka nudi, i po odabiru iste, aplikacija šalje poruku sa ispisanim kodom na potreban broj. Dakle, aplikacija predstavlja zamjenu za ustaljeni proces kucanja i slanja poruke sa kodom na određeni broj.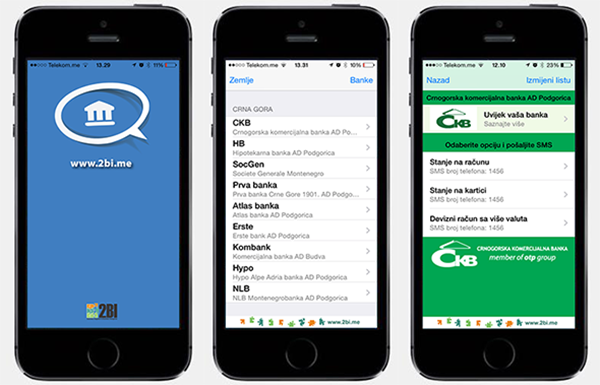 Ono što se, sigurna sam, svima nameće kao prvo pitanje, jeste pitanje bezbjednosti. Kako korisnici mogu biti sigurni da su njihovi podaci zaštićeni? Na koji način nam se garantuje da aplikacija nema uvid u finansijske informacije o korisnicima i da te podatke ne može koristiti? Na pitanja o bezbjednosti korišćenja aplikacije odgovorio nam je Miloš Lalatović, jedan od kreatora SMSBank aplikacije:
"Aplikacija je napravljena na način da olakšava slanje SMS poruke na broj koji određuje banka. Dakle, funkcioniše praktično na isti način kao što radi aplikacija za plaćanje parkinga. Jednom kada se sve podesi, jednim klikom dolazite do ekrana za slanje SMS poruke sa vašeg pametnog telefona sa već unijetim potrebnim podacima, a to su broj telefona na koji se šalje poruka i sadržaj poruke. Broj telefona i sadržaj određuje banka čije usluge koristite. Poruke se šalju i primaju kroz podrazumijevanu aplikaciju za SMS.
Možda je najveća garancija ipak to što je recimo NLB banka, u okviru svoje Internet stranice koja je posvećena SMS servisu, predložila svojim klijentima da preuzmu aplikaciju i postavila uputstvo za podešavanje aplikacije za njihovu banku. U toku su razgovori i sa ostalim bankama u Crnoj Gori."
Korišćenjem ove aplikacije klijenti plaćaju uobičajenu tarifu za slanje poruke, koju bi inače plaćali za korišćenje ovog servisa. Uputstva za sve banke u Crnoj Gori, za iOS i Android mogu se preuzeti na sajtu 2BI kompanije.