Nakon što nas je Predrag svojim blog postom o čudnom snu iz "tamo neke godine, prošlog stoljeća", pozvao da odsanjamo nešto do narednog okupljanja, a onda se i družimo sa dvojicom uspješnih momaka koji su svoje snove zaista i
ostvarili, svi smo se radovali sledećem, 24. Digitalizuj.Me događaju. Jer uvijek je lijepo čuti nekog ko svojim primjerom može da vam pokaže da je samo ono što sami želite zapravo i vaša granica.
Možda ste se nekada pitali ko nam omogućava da se na Trgu republike, u Kraljevom parku i na još par lokacija u gradu služimo besplatnim internetom? Da li je to samo filantropija ili nečiji interes? Koliko tehnoloski kasnimo za svijetom? I kakva je budućnost telekomunikacija? Jaša Jovićević i Danilo Ćetković, iz agencije MNNews bili su odlični gosti koji su nam odgovorili na ova i mnoga druga pitanja.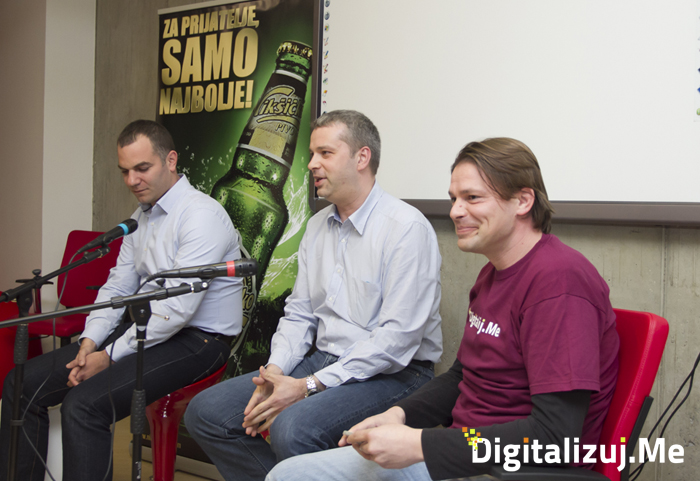 "Ja bih to znao", je recenica koja najbolje opisuje stav sa kojim je Jaša ušao u cijelu priču, još '98. godine. Prepoznao je šansu u ideji Američkog kulturnog centra da komunikaciju sa publikom proširi na digitalnu formu. Kako se već bavio internetom, koji je, i sam kaže, tada bio 'egzotična kategorija', ponudio im je projekat. Nije znao sve o tome, ali imao je ideju i spremnost da uči. I tako je otvorena prva internet učionica u Crnoj Gori. Nažalost, kao i mnoge druge planove tada, bombardovanje je zaustavilo i ovaj projekat posle nekih godinu dana.
Jašu i Danila, koji se ubrzo pridružio priči, iako potpuno različitih interesovanja, spajale su iste ideje.
Interesantno je bilo čuti da je u tim godinama o Crnoj Gori objavljeno nekoliko hiljada članaka u stranim medijima. Kako se i broj stranih turista povećao, nedostatak informacija za njih bila je jos jedna dobra šansa za posao. Započeli su izdavanje prve elektronske novine u Crnoj Gori, Mne Daily, gdje su svakog dana objavljivali tekstove iz zemlje na engleskom jeziku.
Sledeći korak bio je portal MNNews. Portali su u to vrijeme bili rijetki, i vodili su ih uglavnom veliki mediji (Yahoo, CNN, BBC…). Činilo se kao dobra prilika, a ujedno i doprinos popularizaciji zemlje u inostranstvu.
Vremenom, zbog izuzetne posjećenosti, došlo je do transformisanja portala u novinsku agenciju [email protected] Iako u početku nisu znali ništa o novinskim agencijama, bili su spremni da uče. Do sada, za 13 god postojanja agencije [email protected], objavljeno je preko pola miliona tekstova. Ipak, agencija, kroz koju je za to vrijeme prošlo preko sto ljudi, iako odlično prihvaćen, bila je ekonomski neisplativ projekat. Zanimljivo je da je su kasnije bili pozvani da učestvuju u podizanju nove iračke novinske agencije Nina, koja je nastala u cjelosti kao kopija crnogorske agencije [email protected]!
I vratili su se onome sto najbolje znaju- tehnologiji. Crnoj Gori je nedostajao novi internet projekat, a njima jos jednom nije falilo volje za učenjem. Analiza trzišta, iščitavanje dokumentacije, treninzi, investiranje u opremu, formiranje mreže, dobijanje licence… mnogo posla koji je prethodio konačnom početku rada. I prvim korisnicima. A našli su ih poznanstvima. Sami su montirali opremu, davali je besplatno na korišćenje, popravljali korisnicima mreže… I nezaobilazna praksa na koju bi se mnogi operateri i službe morali ugledati- odgovarali uvijek na pozive korisnika! To ih je učinilo prepoznatljivim, jer, kako kazu, protiv velikih igrača možete igrati samo kvalitetom.
Vremenom su postali vrlo ozbiljna i uspješna kompanija. I mada nisu smjeli da nam odaju kolika je najozbiljnija ponuda koju su dobili, otkrili smo da je u pitanju sedmocifren broj. Vjerovatno bi mnogima na početku, kao i meni, palo na pamet da se takva ponuda ne odbija, oni je ipak nisu prihvatili. Jer su vjerovali da mogu bolje.
Lijepo je čuti da u svoj priči nisu zaboravljali na svoju zajednicu, na društvo. Vodili su se idejom da žele da obezbijede pristup nečemu sto je njima falilo kada su počinjali. I da, oni su ti koji su prvi pokrili lokacije u gradu besplatnim internetom. 🙂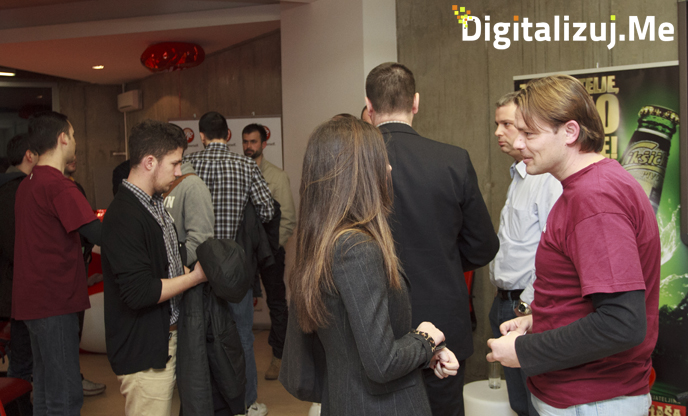 Kada pred sobom imate ljude koji su godinama uspješno predosjećali u kom ce se pravcu odvijati telekomunikacija, naravno da želite da znate kakav razvoj očekuju u budućnosti. I dobili smo neke zanimljive odgovore: SMS ce da umre, klasični poziv i broj telefona takođe… I ono sto smo vjerovatno svi i očekivali- zavisnost od Interneta će biti daleko veća!
Pred kraj druženja ekipa je izrazila želju da za narednih godinu dana u Crnoj Gori vidimo bar 10 novih startupova! Poput Hook i Tourvia.Me. A svi koji oni koji se usude i realizuju svoje ideje, mogu računati na punu podršku ovih momaka i Digitalizuj.Me ekipe! Za tehnološke ili neke druge projekte. Iz bilo koje oblasti u kojoj može da se napreduje. A prostora je mnogo! 🙂
Ako ste propustili događaj, možete pogledati kompletan snimak. 😉