Naša ekipa bila je dio trodnevnog Coca-Cola karavana dobre volje (od 29. novembra do 01. decembra) za djecu sa smetnjama i teškoćama u razvoju sa sjevera Crne Gore koji je organizovan u Mall of Montenegro. Osim što smo donirali, pomagali u sakupljanju i pakovanju stvari, izvještavali smo sa lica mjesta na društvenim mrežama i pozvali ljude da dođu. Akciji prikupljanja doprinijelo je više od 200 građana, koji su  donirali garderobu i igračke. Zaista smo bili prezadovoljni što su građani kroz veliki broj poklona pokazali spremnost na humanost i solidarnost.
Pored građana, garderobu i igračke donijeli su i zaposleni iz partnerskih organizacija – Ministarstva rada i socijalnog staranja, Fonda za aktivno građanstvo, Mall of Montenegro, Mercator-CG, TV Vijesti i Digitalizuj.me pokreta. U akciju su se uključili  zaposleni kompanije Represent Communications, Vladine Mreže za društvenu odgovornost, kao i  djeca iz vrtića "Đina Vrbica", koja su nekoliko dana na radionicama pripremala poklone za svoje vršnjake sa smetnjama i teškoćama u razvoju.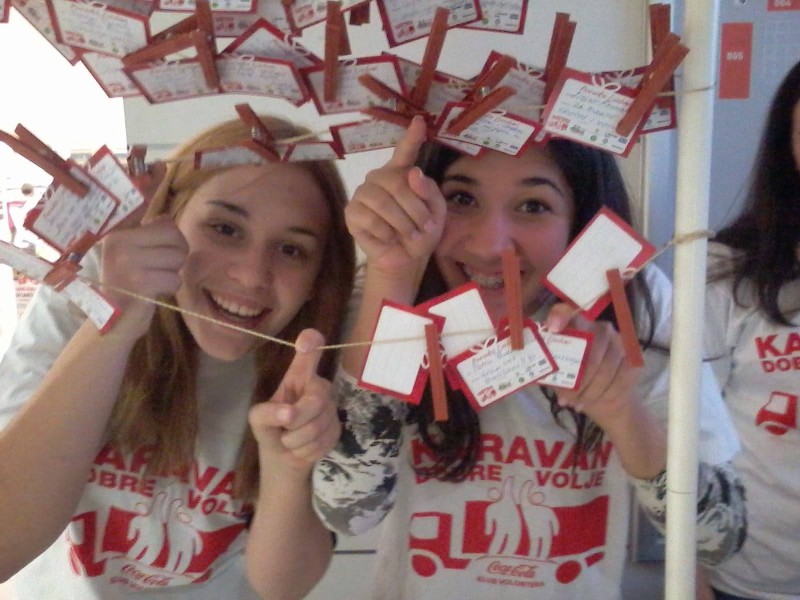 "Srećni smo što su se građani Crne Gore pokazali humanost i u velikom broju se odazvali našem pozivu da učestvuju u Coca-Cola karavanu dobre volje. Posebno raduje činjenica da je znatan broj njih donio igračke koje su upravo namijenjene za stimulaciju didaktičkih sposobnosti kod djece sa smetnjama i teškoćama u razvoju. Sigurna sam da će sakupljene igračke i odjeća obradovati djecu iz udruženja podjednako kao i poruke ljubavi koje su im građani napisali", saopštila je Jovana Tufegdžić iz kompanije Coca-Cola Hellenic.
Prikupljena garderoba i igračke, uz donaciju potrebne opreme i mobilijara kompanije Coca-Cola Hellenic Crna Gora, biće tokom naredne sedmice uručeni djeci sa smetnjama i teškoćama u razvoju iz udruženja "Zvijezda" Kolašina, "Olakšajmo život djeci sa posebnim potrebama" Rožaje, "Korak nade" Berane i Dnevnog centra "Lipa" iz Plava.
Humanost se uči od malih nogu, a mi smo se u to uvjerili vidjevši mališane koji su poklanjali stvari. Tokom karavana bilo je i sjaja u očima onih koji daruju, ali i poneka suza dok su pisali porukice. Zato smatramo da je bitno ukoliko jedni sa drugima dijelimo kako stvari, tako i emocije. Ova tri dana su za članove naše ekipe, koji su cijelo vrijeme bili dio karavana dobre volje samo jedna od karika humanosti, pa uskoro se nadamo da će biti još više humanitarnih akcija! 🙂