Dobrodošli na sajam "Tehnologije novog doba"
Kompanije Vision Event u saradnji sa TC Mall of Montenegro organizuje prvi sajam telekomunikacija, informatike i digitalne opreme u Podgorici, pod nazivom "Tehnologije novog doba". Sajam je namijenjen popularizaciji novih tehnologija i razvoju informacionog društva u Crnoj Gori, a održaće se u subotu 19.10.2013. od 10h do 22h u TC Mall of Montenegro. Sastoji se iz izložbenog dijela, u kojem će kompanije učesnice sajma, na svom izložbenom prostoru prezentovati krajnjim korisnicima svoje aktuelne proizvode i usluge i edukativnog dijela, na kojem će prijavljeni učesnici govoriti na različite teme iz oblasti novih tehnologija.

Na Sajmu ce učestvovati sva tri operatora mobilne telefonije (Telekom, Telenor i Mtel), što će posjetiocima omogućiti da na jednom mjestu dobiju sve informacije iz oblasti mobilnih telekomunikacija, te da brzo i lako za sebe odaberu najprihvatljiviji proizvod ili uslugu. Kompanija Integra će, kao ovlašćeni distributer za Alkatel, predstaviti posjetiocima ponudu ovog brenda. Pin Montenegro će, kao ovlašćeni distributer, predstaviti proizvode brendova Dell, Kingston, Nokia, MSI, Blueberry, Targus, D-Link, Maxell. Kompanija Telemont će posjetioce upoznati sa proizvodima brenda Huawei. Top Com će izlagati računare i računarsku opremu brendova Asus, Lenovo, Fujitsu, Toshiba, HP, Dell, Acer. Za ljubitelje fotografije i fotografske opreme, brendove Konica Minolta, OKI, Hama, Praktica, Kodak, predstaviće D Photo Trade. Na sajmu će učestvovati provajder tekomunikacione opreme ZTE, kao i kompanija Abordage koja se bavi razvojem softverskih rješenja. Alarmne sisteme nove generacije, kao i satelitske telefone predstaviće Dream Team Security.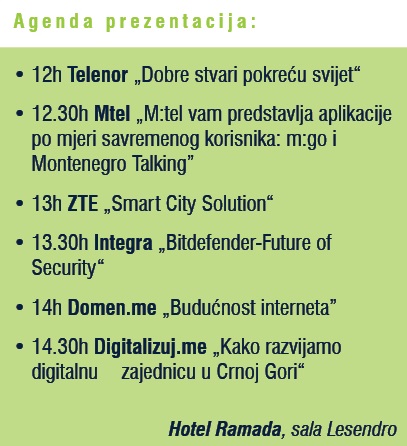 Drugi dio manifestacije, koji čine prezentacije na aktuelne teme iz oblasti telekomunikacija i novih tehnologija, održaće se u hotelu Ramada, u sali Lesendro od 12h do 15h. "Dobre stvari pokreću svijet" je naziv prve prezentacije u organizaciji kompanije Telenor. Zatim će Mtel predstaviti aplikacije po mjeri savremenog korisnika – m:go i Montenegro Talking. Kompanija ZTE će se prezentirati "Smart City Solution", rješenja koja ZTE nudi gradovima
za digitializaciju i lakšu komunikaciju raznih gradskih sistema. U nastavku prezentacionog dijela, Integra će predstaviti Bitdefender sigurnosna rješenja. Kompanija doMEn će posjetiocima približiti "Budućnost interneta", dok će Digitalizuj.Me održati prezentaciju na temu "Kako razvijamo digitalnu zajednicu u Crnoj Gori".
Ulaz je slododan za sve posjetioce Sajma, kako izložbenog, tako i prezentacionog dijela. Dobrodošli! 🙂