Marketing mreža nagradila je organizacije, kompanije, institucije i agencije za najkvalitetnije i najprofesionalnije pojedinačne i integrisane kampanje na petom, jubilarnom festivalu integrisanih komunikacija KAKTUS 2019. Za nagrade ove godine konkurisala su čak 183 projekta, što je rast od 38,64% u odnosu na prošlu godinu.
Kampanja "Mame, dobro došle na svet", koju je osmislila i realizovala agencija Leo Burnett za klijenta Vip Mobile, proglašena je Integrisanom kampanjom godine – Grand Prix. Ova kampanja osvojila je nagrade i u kategorijama Pojedinačni radovi – TV i Brand awarness integrisana kampanja. Agencija Leo Burnett osvojila je i nagradu u kategoriji Interne komunikacije za kampanju "Nesebična knjiga" za klijenta Vip Mobile.
Agencija McCann Beograd, sa 13 finalista i četiri dobitnika, proglašena je Agencijom godine. Ova agencija osvojila je nagrade i u kategorijama Pojedinačni radovi – Print i Cross media integrisana kampanja za projekat "Ne odričem se", u kategoriji Mobile za kampanju fARytale Journey za klijenta The Coca-Cola Company i Digitalna integrisana kampanja za #StayClean i Exit Fondaciju.
Sa pet dobitnika i devet finalista, Vip Mobile proglašen je treću godinu za redom Oglašivačem godine.
Agencija Ovation BBDO osvojila je dve nagrade za kampanju "Lavovske priče" za klijenta Carlsberg Srbija, u kategorijama Pojedinačni radovi – Video i Content marketing, kao i nagradu za kampanju "Visa Srbija Contactless ft Beer Fest", klijent Visa Srbija.
Agencija New Moment New Ideas Company nagrađena je u kategorijama Pojedinačni radovi – Radio za kampanju "My Voice Is Me – Soldier" i u kategoriji Influencer marketing za kampanju "Call of beauty".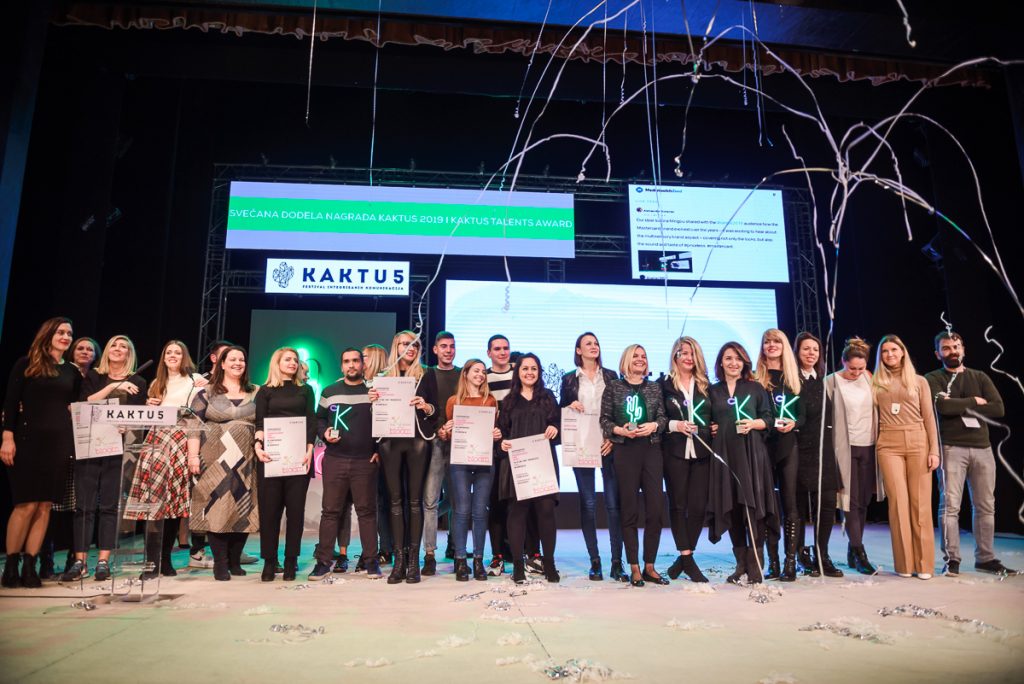 Agencija SIVO osvojila je dve nagrade u kategorijama Social media za kampanju Snickers Blam Challenge (klijent: MARS) i u kategoriji Outdoor za kampanju "Ko je rek'o da je IKEA daleko" (klijent: IKEA Srbija).
Fullhouse Ogilvy krunisan je sa dva priznanja i to u kategorijama Media i EXECUTION – Dizajn za projekat Intarifa, koji je realizovan za klijenta Vip Mobile.
Beogradska filharmonija nagrađena je u kategoriji Odnosi s javnošću za kampanju Filharmonijski koncerti za bebe, dok je Hemofarm Fondacija osvojila priznanje u kategoriji Društveno odgovorna integrisana kampanja za "I ja sam donor. Jer navijam za Srbiju."
M2Communications nagrađen je u kategoriji Event za Coca-Cola HBC Kick-Off & Annual Party 2019. Saatchi & Saatchi Belgrade dobio je nagradu za Direktni marketing za kampanju #čekiraj (klijent: AVON), dok je produkcijska kuća Tuna Fish Studio ponela KAKTUS nagradu za kampanju mts BOX (klijent: Telekom Srbija), a u kategoriji EXECUTION Produkcija.
Nagrada za najbolju Profitnu integrisanu kampanju pripala je agenciji Communis DDB za projekat Air Srbija – Svaki put po tvojoj mjeri. Projekat "Potraga za Munchonautom", koju je osmislila agencija Popular Communications za klijenta Jaffa Crvenka, osvojio je priznanje u kategoriji Inovativna integrisana kampanja, dok je dobitnik u kategoriji Integrisana kampanja kreirana za drugo tržište "Nikšićko IPA kampanja" koju je realizovala agencija LUNA\TBWA Beograd za klijenta Apatinsku pivaru. Najbolja Adaptirana međunarodna kampanja je Tuborg Open koju je realizovala agencija Executive Group za klijenta Carlsberg Srbija.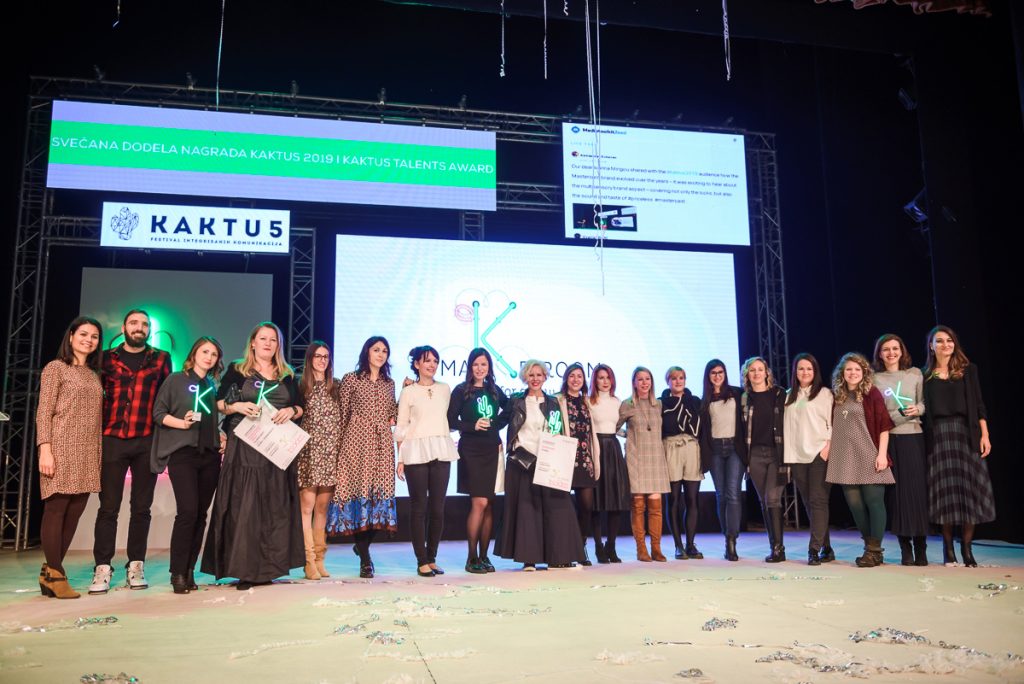 "Veliko interesovanje agencija i kompanija da se uključe i prijave svoje najbolje projekte iz prethodnog perioda, samo je još jedan dokaz kredibiliteta i ugleda festivala KAKTUS. Znatno veći broj prijava u odnosu na sve prethodne godine, dokaz je i da kao tržište i struka rastemo i razvijamo se. Veoma mi je drago što su agencije i kompanije prepoznale kvalitet festivala i ukazale nam povjerenje. Još jednom čestitamo svim dobitnicima, kao i finalistima", rekla je Ivana Parčetić Mitić, osnivač i CEO, Marketing mreže.
O tome ko će dobiti ovogodišnje KAKTUS nagrade odlučio je stručni žiri koji čine priznati i ugledni profesionalci iz kreativnih, PR, digitalnih agencija i produkcijskih kuća iz Srbije i regiona. Žiri iz Srbije ove godine radio je u sastavu: Aleksandra Radujko, Managing Director, New Media Team; Dejan Krivokapić, Art Director, Kreativa New Formula an element of Alkemy; Iva Đurković, Managing Director, LUNA\TBWA i OMD Media; Ivan Pavlović, Co-Founder & CEO, Spring Onion Studio; Ivana Zeković, Creative Director, Saatchi & Saatchi Belgrade; Katarina Pribićević, Strategic Planning Director, McCann Beograd; Maja Jovanović, Account Manager, Degordian; Miloš Skokić, Managing Partner, Žiška; Nevena Milanović, Digital Account Director, Fullhouse Ogilvy; Slobodan Jovanović, Founder & Creative Director, Coba & Associates; Veljko Golubović, Executive Creative Director, New Moment New Ideas Company; Vladimir Mitrović, Creative Director, Ovation BBDO i Voljena Daničić, Head of Creative, Direct Media United Solutions.
Regionalni žiri ove godine činio je: Dajan Javorac, Founder & Creative Director, MANIA Advertising Agency (BiH); Darko Buldioski, Founder, New Media (MK); Igor Mladinović, Chief Creative Director, Imago Ogilvy (HR); Gregor Firbas, Head of Digital, Futura DDB (SLO); Katja Mlakar, Creative Director, AVI – Agencija vrhunskih idej (SLO); Kristijan Andoljšek, Senior Art Director, Innovatif (SLO); Luka Bajs, Creative Director, Grey Ljubljana (SLO); Luka Pervan, Creative Director, Señor (HR); Manuela Šola, General Manager, Komunikacijski laboratorij (HR); Sašo Dimitrievski, Partner, Member of Executive Board, Pristop Group (SLO); Sašo Petek, Creative Director, Agencija 101 (SLO); Sean Poropat, Partner & Creative Director, Studio Sonda (HR) i Tomislav Bader, Partner, Švicarska (HR).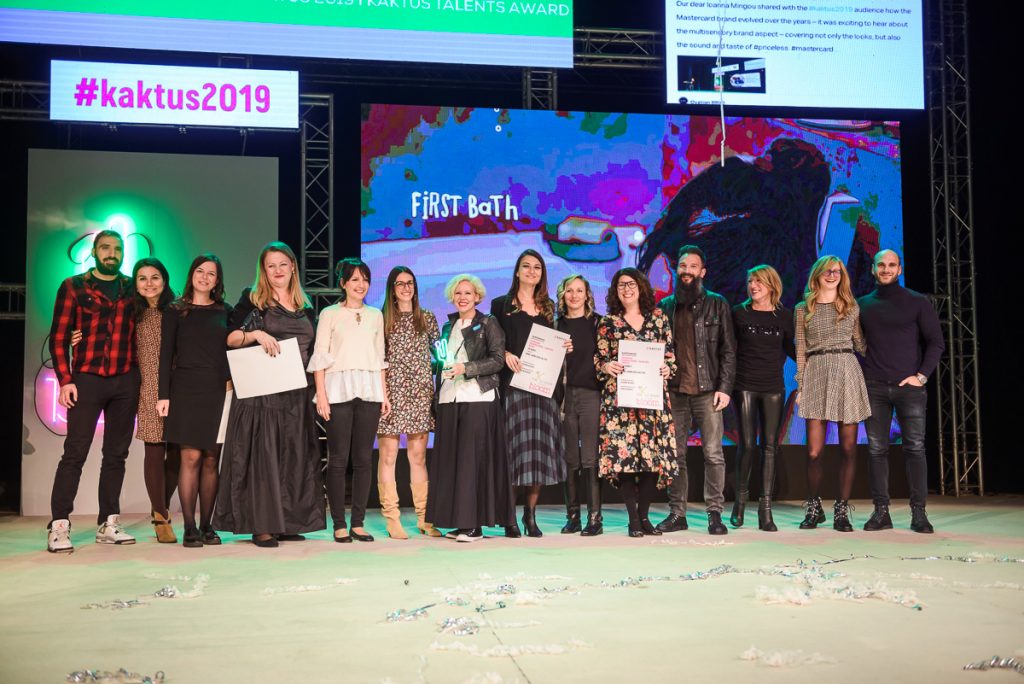 KVALITETAN PROGRAM FESTIVALA KAKTUS 2019
Kao i prošle godine, KAKTUS 2019 ponudio je učesnicima kvalitetan i raznovrstan program iz različitih oblasti integrisanih komunikacija, a festival je otvorio jedan od najnagrađivanijih američkih kreativaca Jean Zamprogno a.k.a Zampa, kreativni direktor agencije DAVID The Agency, Miami (USA).
Među glavnim predavačima ove godine našli su se i Skaiste Sruogaite, Corporate Affairs Director for Baltics, Balkan, Adriatic, MARS; Ioanna Mingou, Director in Consumer Marketing, Mastercard Europe i jedan od najcjenjenijih globalnih kreativaca Eduardo Marques, Chief Creative Officer, Publicis Spain, koji je zatvorio ovogodišnji festival.
Tokom dva dana, učesnicima festivala predstavio se i Emanuele Nenna, suosnivač i CEO agencije The Big Now (Italija); Mihai Gongu, izvršni kreativni direktor SEE, Cheil Worldwide; Regan Warner, kreativni direktor agencije McCann London; Giorgio Chiaramonte, Senior Director kompanije Alkemy digital_enabler (Italija); Karolina Galácz, kreativni direktor agencije DDB Budapest, (Mađarska) i mnogi drugi.