Agencija POSH33 je, u saradnji sa kompanijom ME-net, organizovala prvu NetWork konferenciju, 8-10. decembra u Podgorici. Kako je bilo riječi o digitalnom marketingu, trendovima digitalnih tehnologija u svijetu, jačanju brenda kroz digitalne kanale, to je podrazumijevalo i prisustvo Digitalizuj.me tima, pa smo bili ponosi medijski partner ovog sjajnog trodnevnog događaja. 🙂 Ovim blog postom ćemo pokušati da vam približimo šta se to zapravo dešavalo u hotelu Verde, i ko je sve "izdominirao" na NetWork sceni. Težak zadatak, jer jedan blog post o ovoj konferenciji je malo da dočara čitavu atmosferu! 🙂
Prvi dan konferencije (08.12) bio je interaktivnog karaktera, upotpunjen naprednim radionicama digitalog marketinga koje su održali članovi ME-net tima. Seriju radionica otvorile su Nataša i Sanja preispitujući publiku šta njihova marketing kampanja govori o njima. Potom je uslijedila radionica Danice i Maše koje su ukazale šta je to na šta se najviše klikne, a o tome kako da vas lakše nađu na internetu i pripremite sajt za 2017. godinu govorio je Đorđe. Iako je najava Peđinog predavanja zvučala kao vic, pokazalo se koliko je bitno razlikovanje "Muja od Hasa" i koliko je značajna Google analitika i mjerenje. Peđina radionica je bila sjajan uvod u ono što je uslijedilo u Ivaninoj i Andrijinoj priči kada je Google analitika u pitanju, a sve o čemu su govorili možete pronaći ovdje. Kao zaključak, poslužila je Milutinova radionica "A šta kad kliknu?", na kojoj je  govorio o A/B testiranju i metodama heurističke evaluacije.
Narednih dana (09-10.12), učesnici su imali priliku da slušaju predavanja nekih od najznačajnijih predstavnika digitalne marketing industrije iz Crne Gore i regiona. Sjajni predavači držali su pažnju tokom oba dana, a predavanja su bila upotpunjena primjerima iz prakse i iskustva predavača. A kako je sve izgledalo i koje ključne poruke vam prenosimo pročitajte u nastavku. 🙂
Prvi na NetWork scenu je stupio naš Vladimir Vulić, sa sjajnim predavanjem i nezaobilaznim bombonama iz Moskve (koje je dijelio najaktivnijim učesnicima). Vanja je govorio o novim pravilima menadžmenta u digitalnom svijetu, a istakao je da nova tehnologija sama po sebi ne znači mnogo, već da presudan uticaj u ostvarivanju veće efektivnosti i efikasnosti ima usvajanje inovativnih menadžment praksi.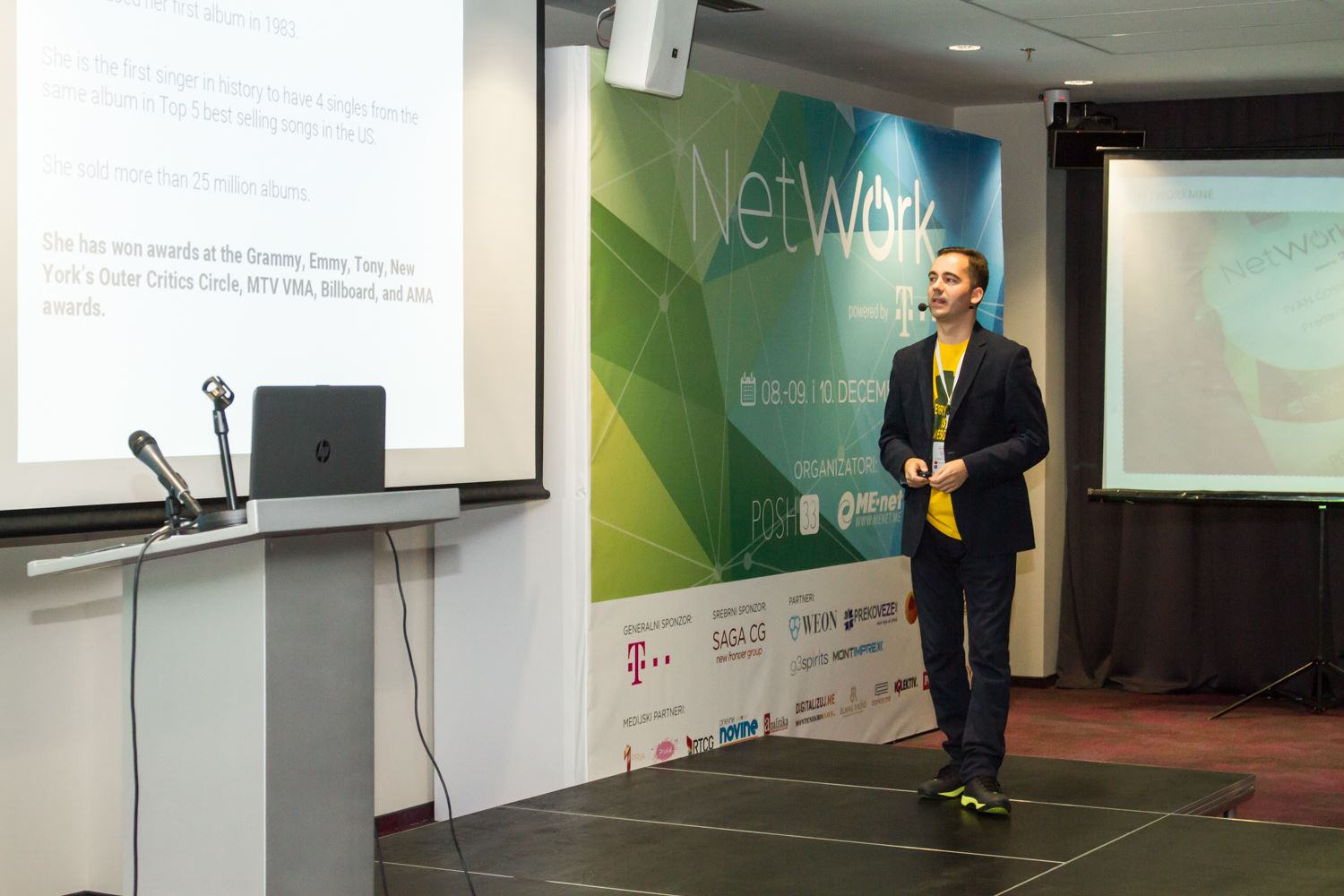 Koliko tehnologije i internet dehumanizuju upravljanje ljudskim resursima otkrio nam je Nikola Jovanović.  Istakao je da kada govorimo o implementaciji tehnologije u HR, zapravo govorimo o stvaranju mogućnosti da se orijentišemo na vrijednost ljudi. Kao jedna od najvažnijih stavki kada je funkcionisanje HR u pitanju, jeste da se HR mora rasteretiti da bi mogao da se bavi ljudima.
Jelena Kaluđerović, iako prvi put kao predavač na nekoj konferenciji, je ostavila veoma dobar utisak svojim predavanjem. Nesebično je podijelila svoje iskustvo o tome kako je i zašto počela pisanje bloga. Naglasila je da pisanje bloga ne treba počinjati isključivo radi zarade, jer je ovakva motivacija, najčešće, kratkog duha.
Kojih to "pet ekonomija " postoji danas i koliko je daleko marketing dogurao ako postoje i "reklame na niskim oblacima?!" govorio nam je Miloje Sekulić. Ako želimo da znamo koliko su naše reklame efektivne, uvijek je neophodno da nas zanimaju brojke i mjerenja. Rečenica "Koristiti umesto posjedovati, pozajmiti umjesto kupiti, poklanjati umjesto bacati." pružila je mnogo materijala za razmišljanje, a Miloje je poručio da je znanje ekonomija broj 1, posebno kada je biznis u pitanju. 
Nemanja Đurić je govorio o "Sistemskim inovacijama", a otkrio nam je i zlatno pravilo Coca-Cole kada je marketinški budžet u pitanju: 70% sredstava ide u ono što znamo da prolazi dobro, 20% u ono što je možda dobro, a 10% nam služi da isprobavamo nove stvari.
Dragan Močević je napravio interesantno poređenje: krizni PR je kao osiguranje – neophodan je, ali se svi nadamo da nam nikada neće biti potreban. 🙂 Dragan je ukazao da društveni mediji mogu biti moćan alat za krizni PR. Poručio je da na internetu i društvenim mrežama morate biti spremni na transparentnost u komunikaciji, jer u online okruženju svi nedostaci brže i lakše izbijaju na površinu.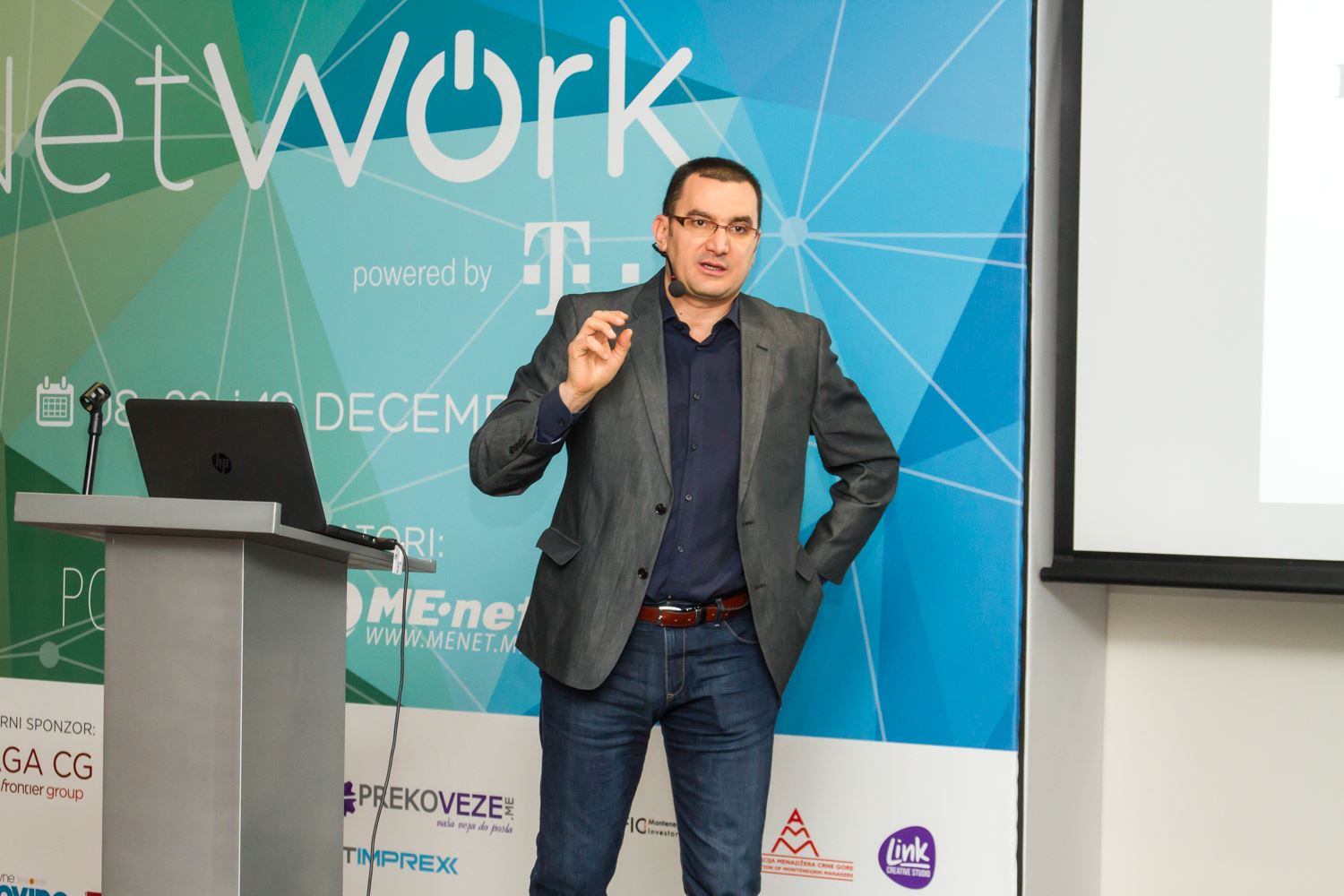 Kao najveći problem u digitalnom marketingu Željko Crnjaković je istakao kratku pažnju publike. Ukazao je na značaj kreiranja sadržaja za lični brending, a kao primjer naveo je projekat Webinarium, po kojem ga ljudi najčešće prepoznaju.
Na možda najčešće postavljeno pitanje "Kako da nas Google voli?" odgovorio nam je Radomir Basta. Istakao je da ne postoji brzo rešenje za dobro rangiranje na Googleu, ali je naveo neke od SEO tehnika koje nam mogu pomoći.
Kao završnica drugog dana NetWork konferencije uslijedio je Ivan Ćosić, a govorio je o tome kako će sajtovi izgledati u 2017. godini. Naglasio je da je neophodno razmišljati iz ugla korisnika, prepoznati njegove potrebe, i omogućiti mu da lako i sa uživanjem uradi ono što želi. Ivan poručuje da sajt možemo smatrati uspješnim, samo onda kada korisnik odradi ono zbog čega je tamo i došao.
Treći dan konferencije otvorio je Ivan Bildi sa predavanjem na temu "Facebook na najbolji način". Ivan je, iako u 9h ujutru i bez upotrebe PowerPoint slajdova, održao publiku budnom! 🙂 Istakao je da Facebook ne odlučuje samostalno šta mi vidimo na našem timelineu, već da na osnovu postova na koje smo reagovali donosi zaključke o tome koje postove bi trebalo da nam prikaže.
Na red je došao i jedan od domaćina NetWork konferencije, Branimir Cigale, koji je podijelio svoje zavidno znanje i iskustvo kada su u pitanju Google AdWords. Branimir je pružio savjete kako da ponudimo kupcu ono što mu je potrebno u idealnom momentu, kao i kako da se brendiramo kroz Googleovu mrežu sajtova.
O tome kako uz pomoć bloga brendirati sebe i napraviti uspješan biznis savjetovala nas je Jovana Miljanović. Ohrabrila je sve učesnike da ako žele promjene na bolje ne bi trebalo da se plaše loših stvari na koje će nailaziti na putu. "Svaki put kada hoćete promjenu, morate da prodrmate kavez" – naglasila je Jovana.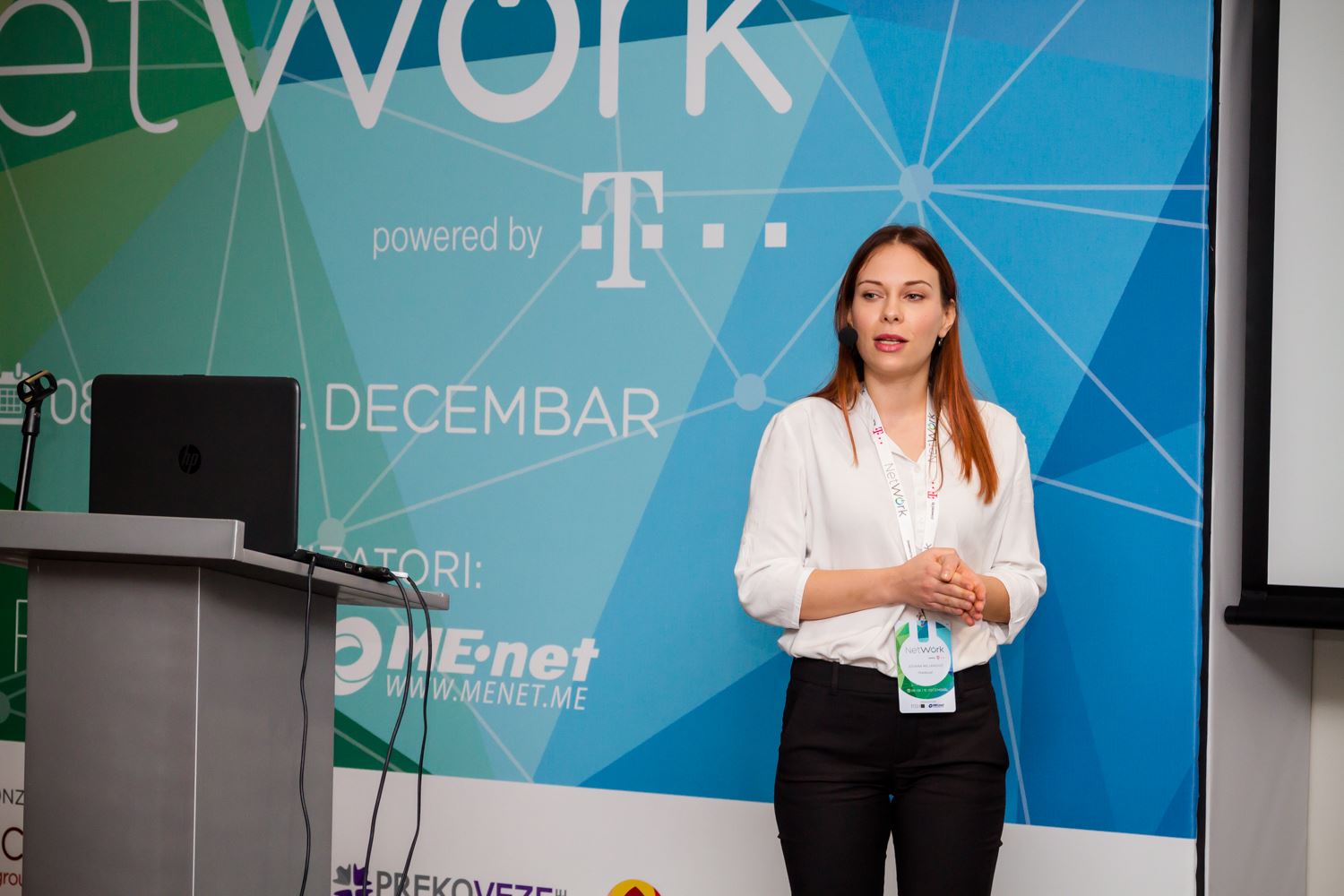 Milan Stojković je istakao da je personalizacija najvažnija stvar kod internet marketinga u turizmu. Iskoristite u sopstvenu korist činjenicu da 42% sadržaja podijeljenog na internetu čini materijal sa putovanja: Učinite goste srećnim – pružite im najbolju moguću uslugu – omogućite im vrhunska iskustva u vašem objektu i destinaciji koja će željeti da zabilježe i podijele – dajte im besplatan Wi-Fi. 🙂
Onda su uslijedile priče, o onim "čudnim, inspirativnim ljudima" – a ko bi drugi mogao o tome da govori nego Ivan Minić. 🙂 Ukoliko ste veoma stručni i izuzetno posvećeni, vaš neobični hobi može postati pravi posao i dobar izvor zarade. Ivan je naveo jednostavno pravilo: ukoliko imate novca za neku uslugu – platite; ukoliko nemate – naučite sami kako se to radi.
Predsjednica Digitalizuj.me, Nataša Đukanović je istakla da većina ljudi zamišlja da je oglašavanje (advertajzing) ono što marketari rade. Međutim, u pitanju je samo površina ledenog brijega, dok ispod površine leži kompleksan proces marketinga. Oglas je samo putokaz ka sajtu, dok marketing služi da zadrži posjetioca i da ga ubijedi da ostane i kupi proizvod.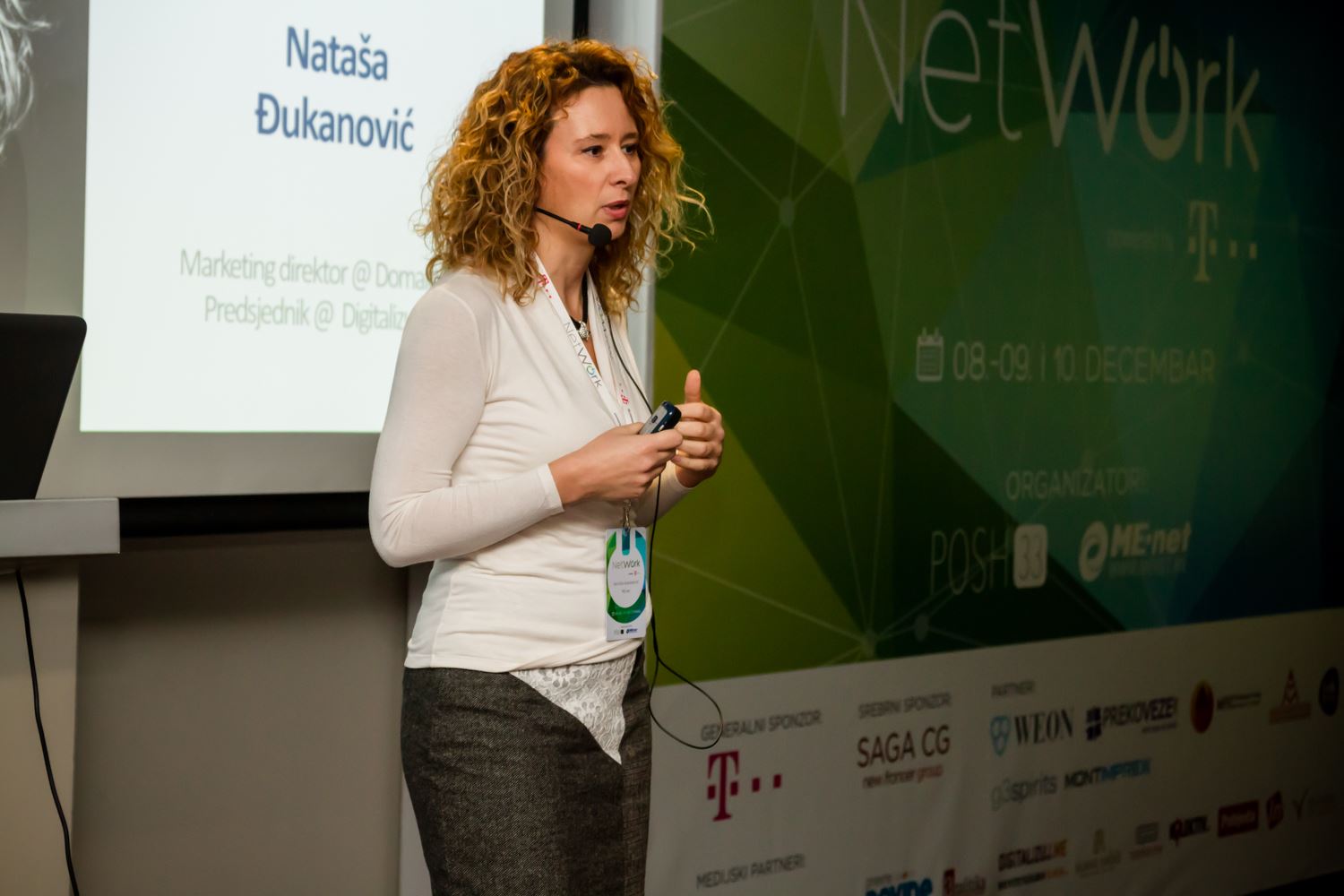 Naš Milutin Pavićević je ukazao na prednosti i zamke igrifikacije (gamification). Igrifikacija je moderan i moćan način da se utiče na ponašanje korisnika, ali njeno površno shvatanje i pogrešna implementacija mogu značajno nauditi reputaciji vašeg brenda.
Sanja Gardašević je pokušala da razbije najčešće zablude o digitalnom marketingu i pružila je odgovor na jedno od najvećih pitanja konferencije: "Kako da ubijedim svog šefa/kolege/sebe da naša kompanija zaplovi vodama digitalnog marketinga?"
Na samom kraju konferencije, Ognjen Gvozdenović je, na praktičnim primjerima, prikazao nastup globalnog brenda na društvenim mrežama u Crnoj Gori. Ukazao je na specifičnosti crnogorskog digitalnog tržišta i naglasio je da je neophodno biti veoma pažljiv kada kreirate sadržaj, i birati za koga ga kreirate.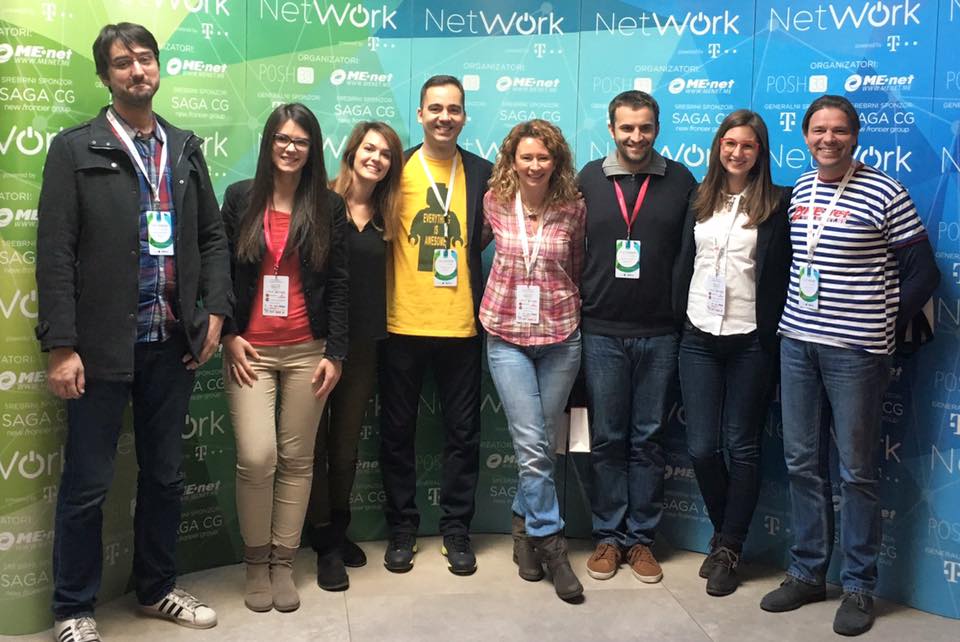 Organizatori su obećali da će konferencija NetWork postati redovan godišnji događaj. Mi se nadamo da smo uspjeli da vam prenesemo makar dio atmosfere i da smo vas zainteresovali da ovakav događaj ne propustite sledeće godine. NetWork je crnogorska veza sa regionalnom internet zajednicom, i stvoren je za sve one koji žele da se bave internetom, a ne internet njima. Vidimo se na NetWork 2017! 🙂