"Junaci lokalne zajednice" – Special Edition – ICT spring
Change and Engage i Digitalizuj.me, sa partnerima Montenegro Stars Hotel Group, Prva banka Crne Gore, Domen.me, Turistička agencija East West Voyage i Arhimed, već nekoliko mjeseci organizuju takmičenje za najbolji studentski blog post pod nazivom "Junaci lokalne zajednice".

Ovog puta, imamo neobično zadovoljstvo da najavimo specijalno izdanje blogerskog takmičenja koje vas može odvesti na jednu od najznačajnijih ICT konferencija u Evropi – ICT Spring koja će se održati 19/20. juna 2013. u Luksemburgu.
U saradnji sa agencijom Prpepper i Draganom Đermanović koji se već treću godinu uzastopno pojavljuju kao partneri za ICT Spring, imamo mogućnost da nagradimo 5 najboljih blog postova na temu: "ICT, društveni mediji, inovacije – naš život nije više isti".
Dakle, 5 najboljih blogera dobiće 5 paketa ulaznica u vrijednosti od po 690 eura s kojima imaju pristup svim dešavanjima (konferencijima, radionicima, panelima, diskusijama i sl.) na ICT Springu. Na tom događaju okupiće se oko 80 predavača i preko 3.500 učesnika iz cijelog svijeta. Konferencija je podijeljena u 4 segmenta: Digital 2020, Speed up ICT, Social Challenges i Finance & Security.

Kriterijumi za rangiranje blog postova biće identični onima koje smo primjenjivali kod junaka lokalne zajednice: (i) broj ljudi koji su pročitali/vidjeli blog post, (ii) broj komentara koji su ostavljeni na blog postu i (iii) broj dijeljenja blog posta posredstvom Facebooka, Twittera i Google+. Takodje, oni koji napišu blog post svoju aktivnost moraju da unesu i
na ovom Facebook linku. Blog postove s adekvatnim fotografijama možete poslati na email [email protected] do 12. juna. Želimo da vas ohrabrimo da to učinite što prije jer se 12. juna proglašavaju najbolji, pa je svakako korisnije da se blog post objavi što prije kako bi imali više vremena za njegovu promociju, odnosno kako bi ste ostvarili što bolji rezultat.
Pravo da učestvuje ima svako ko je zainterosovan da upozna direktno i čuje predavače kao što su: Peter Sondergaard iz Gartnera (vodeća svjetska ICT istraživačka kompanija), Koichiro Tsujino iz Sonija, bivši predsjednik kompanije Google, Dan Siroker, digitalni analitičar američkog predsednika Baraka Obame, Stavros Isaiadis iz Bank of America, Pepe ModerPirelli, – globalni direktor za digital kompanije , ali i svakako najatraktivniji predavač, Biz Stone – suosnivač Twittera.
Za ovakav potez odlučili smo se iz dva razloga: (i) da studenti osjete konkurenciju i šta znači biti na tržištu i (ii) riječ je o ad hoc blogerskom takmičenju (Special Summer Edition). Nakon ove malo drugačije verzije junskog takmičenja, proglasićemo dvomjesečnu pauzu (jul i avgust) kako bi se malo odmorili i spremno dočekali septembar s novim junacima lokalne zajednice i blogovima.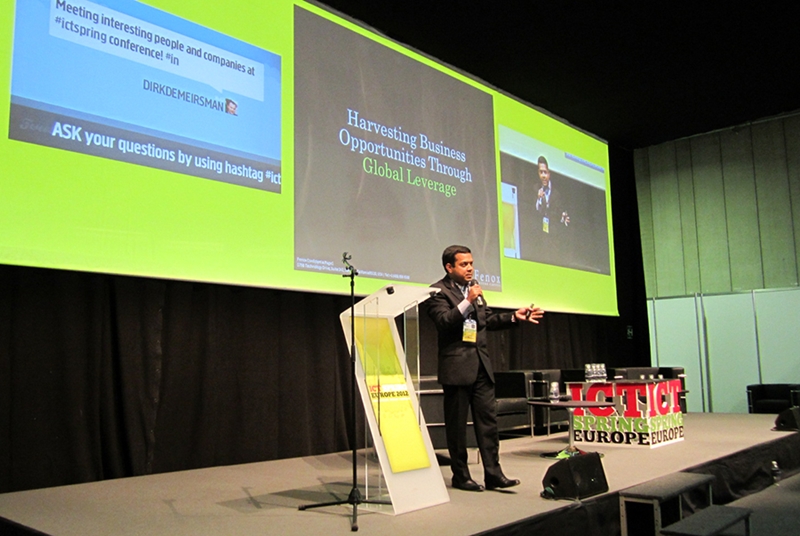 Imajući u vidu veliko interesovanje za ICT spring kao i rokove koji ne ostavljuju previše vremenskog komfora, pokušali smo da budemo što je moguće više od koristi. Naime, naš partner turistička agencija East West Voyage provjerila je najpovoljnije mogućnosti odlaska za Luxemburg 18. juna (dan prije konferencije), a povratak 22. juna (dan poslije konferencije) preko Ciriha pa bi vam u tom kontekstu toplo preporučili da ostvarite kontakt s njima i da se raspitate za detalje. Kontakt: 020 675 448 i 067 743 805 ili posredstvom Facebooka ili Twittera.
Change and Engage i Digitalizuj.me, sa partnerima Montenegro Stars
Hotel Group, Prva banka Crne Gore, Domen.me, Turistička agencija East West Voyage i Arhimed, želi vam srećno blogovanje. 🙂