Sedmi po redu, regionalni forum komunikacionih lidera – IZAZOV 2021 biće održan 6. i 7. aprila u Beogradu, pod sloganom "MAKE IT BIGGER". Riječ je o interaktivnom poslovnom događaju, prvom ovog tipa u regionu, namijenjenom isključivo profesionalcima iz oblasti marketinga, odnosa s javnošću i digitalnih komunikacija iz kompanija i agencija.
Pod pokroviteljstvom agencije Kliping Beograd, ovogodišnji događaj otvoriće Patrik Schober, Managing Partner agencije PRAM Consulting iz Češke, koji je ujedno i glavni govornik foruma IZAZOV 2021. On će govoriti na temu "Public relations 4.0: challenges and opportunities for a new PR stage", a koja se odnosi na izazove sa kojima se susreće komunikacijska industrija i kako ih prevazići da bi PR industrija opstala, ali i zašto AVE metodologiju treba izbjegavati odnosno primjenjivati Barselona principe.

Patrick Schober iskusan je lider u oblasti komunikacija. Diplomirao je u oblasti međunarodnih odnosa i socijalne komunikacije, stažirao je na Holmes College u Sidneju i na University of California Irvine. Karijeru je započeo u izdavačkoj kući Computer Press. Patrik, takođe, predsjedava grupom nezavisnih PR agencija Worldcom, gdje svoja zapažanja dijeli sa drugim svjetskim PR liderima. U isto vrijeme, predsjednik je Upravnog odbora češke PR asocijacije (APRA). Od 2002. godine na poziciji je Managing Partner agencije PRAM Consulting.
Pored keynote predavanja, ove godine teme foruma biće, između ostalog:
ko kreira reputaciju struke danas;

koliko vrijedi agencijski rad;

kako obezbijediti nezavisnost od velikih klijenata i preživjeti njihov odlazak;

šta je sustainable marketing i na koji način on mijenja industriju iz korijena;

ko preuzima odgovornost za oglašavanje neetičnih brendova;

zašto je tržište u Srbiji u stalnom akcijskom modu i šta je tome doprinjelo;

predstavnici najvećih kompanija i agencija u regionu govoriće i o tome zašto se o platama u struci i dalje samo šapuće;
mrze li samo agencije pitcheve ili razloga za mržnju imaju i oglašivači;
zašto su pitch pravila – mrtvo slovo na papiru.
Poseban segment foruma biće posvećen podsticanju dijaloga između agencija i kompanija, kroz različite tipove interaktivnih radionica, koje će ove godine voditi kompanije Lidl Srbija, Bekament, adidas, Forma Ideale, Dijamant i Knjaz Miloš. Kao i prethodnih godina, na forumu IZAZOV 2021 biće predstavljeno i najnovije istraživanje stanja struke u regionu, koje Marketing mreža sprovodi punih sedam godina.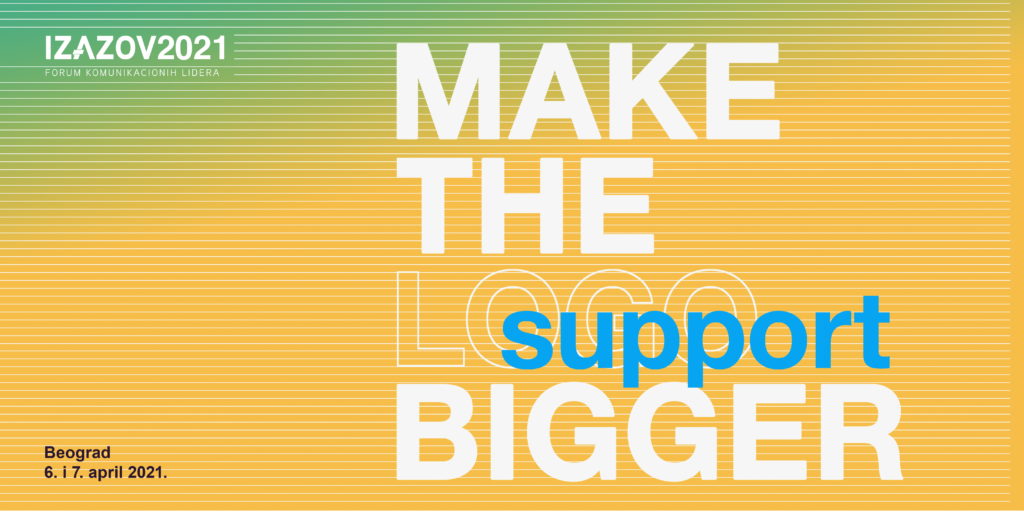 Prijavljivanje za učešće na forum komunikacionih lidera – IZAZOV 2021 traje do 22. marta, a broj mjesta je ograničen. Više informacija pronađite na ovom sajtu.
Forum IZAZOV 2021 podržale su agencije Kliping Beograd, Represent System, SmartPoint Adria, Real Grupa RGS, Domino Communications, Novaston Marketing Consultancy, kao i Dreamdust produkcija i Propix. Partneri foruma su Ovation BBDO, Headline, Drive Agency, DPC Networks, AlmaQuattro i Info Media Group. Sponzori ovogodišnjeg foruma su kompanije Bambi, Bekament, Forma Ideale, Marbo Product i Knjaz Miloš.
Za dodatne informacije o regionalnom forumu komunikacionih lidera – IZAZOV 2021, kontaktirajte Ivanu Parčetić Mitić na mejl [email protected].