Pridružite nam se na specijalnom događaju koji prethodi PODIM konferenciji, koji organizuju PODIM tim i Digitalizuj.me i koji će se održati u srijedu, 28. februara 2018. godine, od 17h do 20h, u prostorijama kompanije doMEn (Podgorica, City kvart, Vojvode Maša Đurovića 3/1). 🙂 Ovaj događaj je namijenjen svim startapovima iz Crne Gore koji su u potrazi za investicijama, umrežavanjem i mogućnostima za rast. Govorićemo o "pametnim gradovima" i "pametnoj poljoprivredi", dijeliti savjete i trikove o prikupljanju sredstava, kao i o tome kako prepoznati da li je vaš biznis spreman za blockchain, kriptovalute ili ICO (Initial Coin Offering).

PODIM konferencija je događaj koji svake godine na jednom mjestu okuplja najvažnije startap aktere sa Balkana i povezuje ih sa globalnim ekosistemom. Dva startapa iz Crne Gore će imati specijalnu priliku da dobiju dvije besplatne karte i smještaj u Mariboru tokom konferencije, kao i sve ostale benefite za startapove u okviru PODIM konferencije. Saznajte sve o posebnim prilikama za startapove iz Crne Gore i upoznajte iskusne investitore i preduzetnike iz regiona na ovom događaju u Podgorici, koji će prethoditi konferenciji!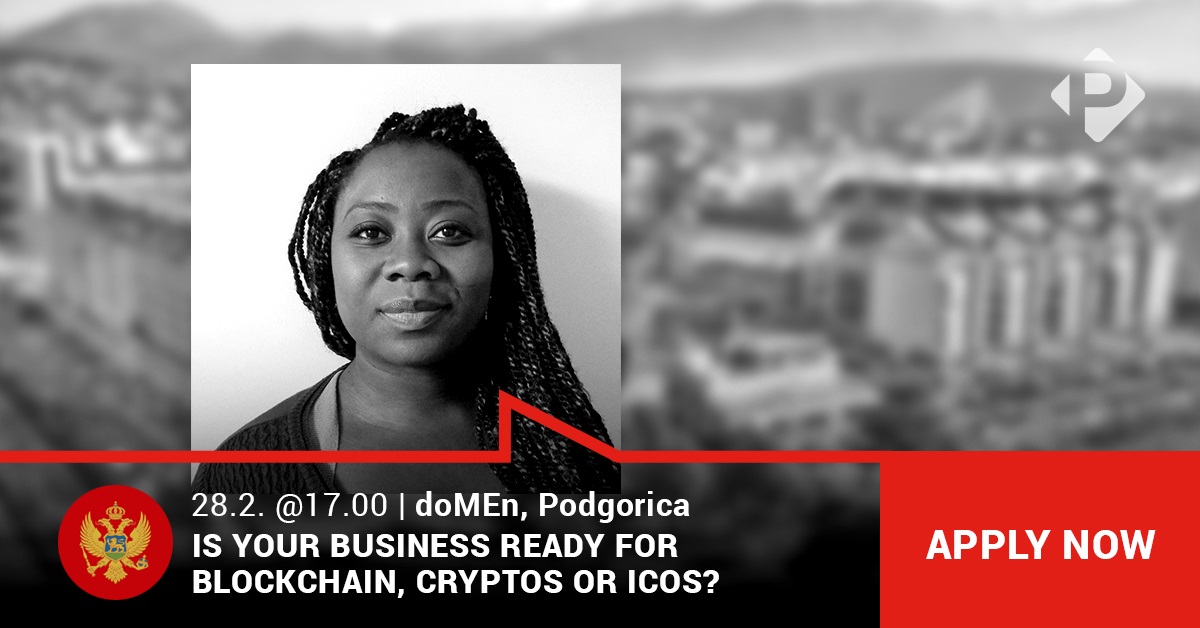 Program
17.00-17.30 | Uvod
17.30-18.30 | Predavanja

Florian Kandler, stručnjak za fundraising i startap mentor, GetFunding.how, Beč: "Tips and tricks for successful fundraising",
Matt Kuppers, osnivač i izvršni direktor, Startup Manufactory, London: "How to identify competitive advantage in AgroBusiness",
Letitia Seglah, Fintech i RegTech konsultant, Startup Manufactory, London: "Is your business ready for Blockchain, cryptos or ICOs?".

18.30-19.30 | Investitorski panel: Investivioni pejzaž i biznis prilike u 2018. u centralnoj i istočnoj Evropi
19.30-20.00 | Predstavljanje startapova


Startapovi će imati jedinstvenu priliku da predstave svoj startap pred investitorima i dobiju neprocjenljivu povratnu informaciju, kao i da upoznaju tim PODIM konferencije,
Ne zaboravite da posjetite http://podim.org/montenegro i iskoristite jedinstvenu priliku za crnogorske startapove.

20.00-           | Povezivanje

Vrijeme za goste da se povežu u neformalnoj atmosferi.
Registrujte se ovdje za događaj. Za detaljnije informacije kontaktirajte organizacioni tim putem maila [email protected] ili posjetite sajt na adresi www.podim.org.