Doživljavam Al Jazeera Balkans​ kao ozbiljan i kvalitetan medij i često ga koristim kao izvor vijesti. Međutim, objavljivanje teksta pod naslovom "Snimanje selfija – duševni poremećaj" je potvrdilo da i veliki mogu da pogriješe. I to žestoko. Tekst će poslužiti kao odlična studija slučaja o tome kako se šire lažne objave zahvaljujući nedovoljnom provjeravanju činjenica. Da, znam da na kraju teksta piše da "stavovi izraženi u ovom tekstu su autorovi i ne odražavaju nužno uredničku politiku Al Jazeere", ali ovdje se ne radi o stavovima, već o činjenicama, a minimalan nivo provjere činjenica prije objavljivanja postoji i u Al Jazeeri i u svakom drugom ozbiljnom mediju.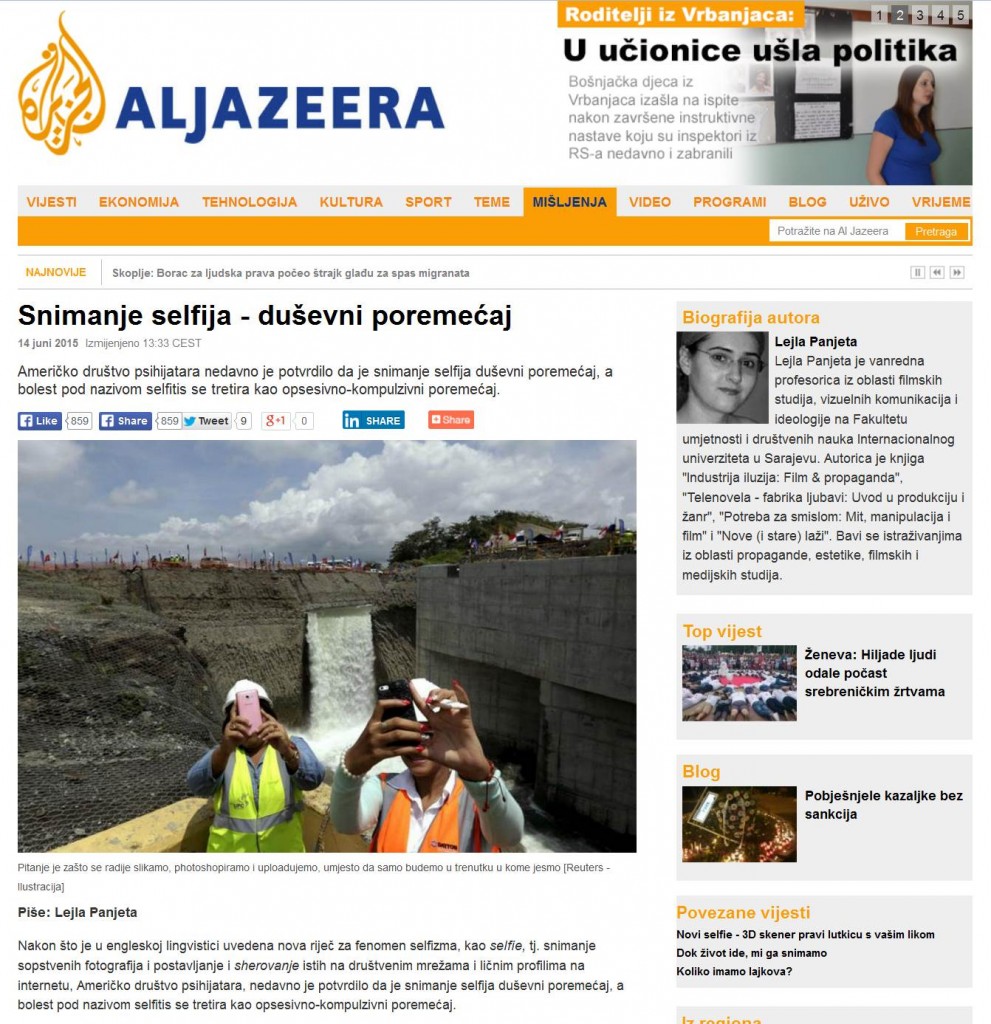 U tekstu se govori o fenomenu selfija, a u PRVOJ rečenici se navodi da "Američko društvo psihijatara, nedavno je potvrdilo da je snimanje selfija duševni poremećaj, a bolest pod nazivom selfitis se tretira kao opsesivno-kompulzivni poremećaj." I odatle se kasnije izvlače zaključci o odnosu kulture, tehnologije, pojedinca i društva.
Sve ovo bi možda imalo nekog smisla da je Američko društvo psihijatara (American Psychiatric Association (APA)) stvarno potvrdilo da je snimanje selfija duševni poremecaj i da postoji bolest pod nazivom "selfitis". U pitanju je samo jedna u nizu lažnih objava, koja je počela nezaustavljivo da se širi zahvaljujući internetu.
Izvor za ovu "vijest" je filipinski sajt, The Adobo Chronicles, koji je 31. marta 2014. godine objavio tekst u kojem se navodi – "The American Psychiatric Association (APA) has officially confirmed what many people thought all along: taking 'selfies' is a mental disorder. The APA made this classification during its annual board of directors meeting in Chicago. The disorder is called selfitis, and is defined as the obsessive compulsive desire to take photos of one's self and post them on social media as a way to make up for the lack of self-esteem and to fill a gap in intimacy."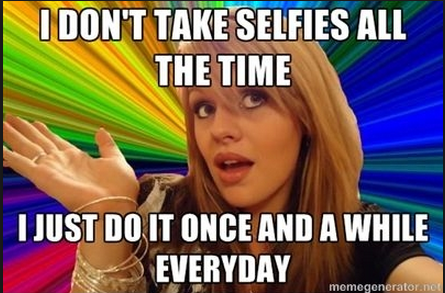 "Jedina" caka je što je The Adobo Chronicles satirični sajt, nesto poput The Onion ili Njuz.net. Sam reklamni slogan The Adobo Chronicles dovoljno govori – "Your source of up-to-date unbelievable news". Na About stranici sajta jasno stoji napomena da je priroda sadržaja na sajtu "kreativno pisanje", a ne vijesti – "Everything you read on this site is based on fact, except for the lies."
Istina je da se bord direktora Američkog društva psihijatara sastaje svakih pet godina, a ne jednom godišnje kako se u, očigledno satiričnom, tekstu navodi. Američko društvo psihijatara ažurira zvaničnu listu mentalnih poremećaja (Diagnostic and Statistical Manual of Mental Disorders) jednom u deceniji ili u 20 godina. U pitanju je vrlo složen proces, kojem moraju da prethode opsežna i relevantna istraživanja, a ne nešto o čemu se odlučuje na sastanku bordu direktora.
Postavlja se pitanje da li stvarno postoji relevantno istraživanje na ovu temu. Pretraga PsycINFO (baza podataka American Psychological Association koja indeksira preko 3 miliona izvora) u potrazi za riječju "selfie" daje kao rezultat nula pronađenih izvora. Pretraga ScienceDirect (baza podataka koja indeksira 2.500 naučnih casopisa i 26.000 knjiga) daje desetak rezultata, koji su vezani za svemirske kamere. Pretraga PubMed (baza podataka koja indeksa preko 23 miliona izvora) daje jedan izvor, koji nema nikakve veze sa selfijima.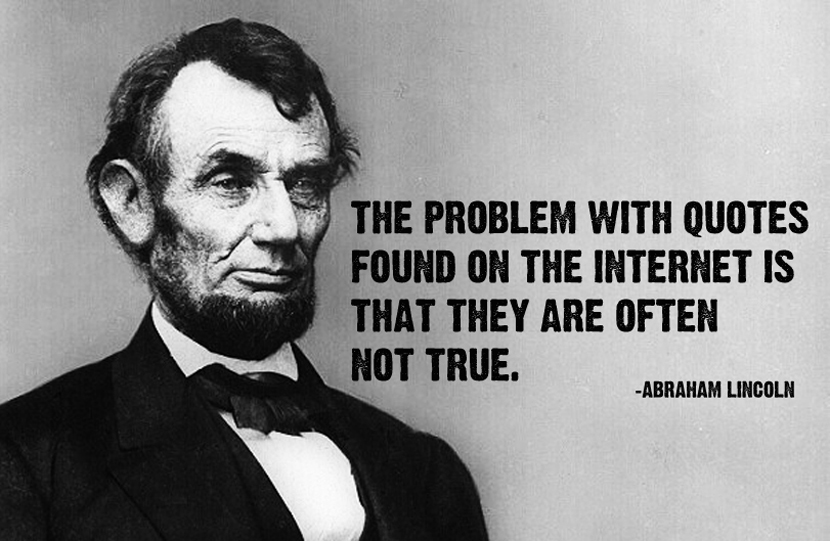 Kao što se u tekstu navodi – ""sve je na Googlu", ma koliko mu tačnost i istinitost bila upitna." Sve ovo o čemu sam ja ovdje pisao "je na Googleu", samo je trebalo uložiti malo truda da se provjere činjenice prije nego što se nešto objavi. Od ozbiljnog medijuma kao što je Al Jazeera Balkans se očekuje najmanje to. Ovako, tekst "Snimanje selfija – duševni poremećaj" je poslužio kao odlična studija slučaja o širenju lažnih objava u doba internet komunikacije. U trenutku pisanja ovog blog posta, pomenuti tekst je već imao 859 objava na Facebooku.