U februaru sam vam otkrila priče iza kulisa, kako nastaju teorije zavere pred najbolju regionalnu konferenciju o internetu. Najavili smo nekoliko sjajnih govornika. I danas bih vam pričala o novim potvrđenim predavačima.
Ali prvo moram da vam ispričam kako teku "grubi" radovi.
Kada sam vam prošli put pisala da radimo punom parom kao mašine, mislila sam bukvalno kao mašine.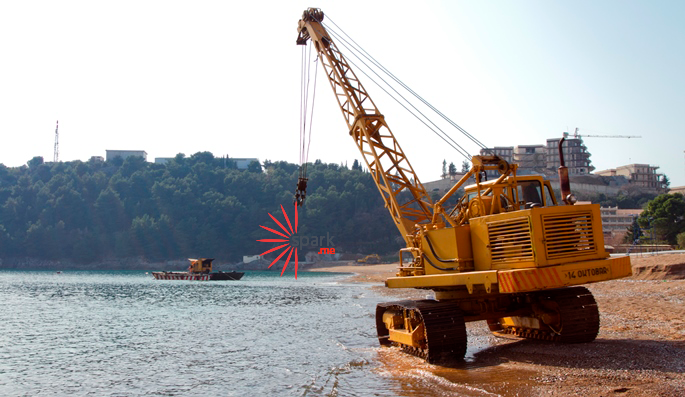 Ovo je prizor koji smo zatekli tokom naše vikend posete Bečićima. Pitali smo radnike šta se dešava. Evo šta su nam rekli: "Dobili smo nalog sa više instance da sve mora da se sjaji za neku ekstra mega giga konferenciju 19. i 20. juna u hotelu Mediteran. Biće nekih hakera i tih što se bave kompUjterima." I mi smo im poverovali.
Tih dana smo posetili i hotel Mediteran kako bismo se još jednom divili ambijentu. 🙂 Posebno konferencijskoj sali u kojoj ćemo svi zajedno provoditi najviše vremena usvajajući nova znanja, deleći postojeća, sklapajući dilove i poznanstva. A znam i da su se dvoje tako smuvali. 😉

Dakle, u ovoj sali ćete slušati već najavljene Alfa Rehna, Dina Dogana, Dejvida Armana, Ivana Hernandeza. A ako niste već ispratili na našem sajtu, evo još nekoliko velikana iz ovog našeg digitalnog sveta, koji će sa nama deliti iskre inspiracije:
Radu Georgescu – sa preko 20 godina iskustva u različitim softverskim internet kompanijama, potrebno je posebno izdvojiti uspešnu akviziciju RAV antivirus programa od strane Majkrosofta. Ne znam kako vi, ali ja jedva čekam da čujem detalje o toj čuvenoj akviziciji.
Heather Russsell – serijski preduzetnik iz Bruklina, CEO multimilionske Rinkya.com eCommerce i logističke kompanije. Nakon 11 godina života u Japanu, gde se nalazi i sedište njene kompanije, preselila se u London, gde radi kao mentor startapovima u okviru Techstars and 500Startups. Priča se da ćemo Heder zbog njenog poznavanja materije moći da pitamo i o Bitcoin investicijama.
Scott Berkun – autor jedne od najprodavanijih biznis knjiga na Amazonu u 2013. godini – The Year Without Pants: WordPress.com & The Future of Work. Njegovi radovi su objavljivani u The New York Times, The Washington Post, Forbes, The Wall Street Journal, The Economist, The Guardian, Wired magazine, Forbes, USA Today, Wired, Fast Company, National Public Radio, The Huffington Post i drugim medijima. Ne terajte me da nabrajam sve, umorih se.
Eto, ovoga puta su me iz kompanije doMEn, organizatora konferencije, pustili toliko da vam otkrijem. Ustvari, za Skota nisam ni pitala, bilo je jače od mene, samo pssst! 😉
I još samo ovo da vam kažem. Early Bird kotizacije po ceni od 100€ su aktuelne još samo danas. Za studente, naravno, posebna cena od 30€. Požurite i registrujte se, ako već niste među ovih 150 ljudi koji su do sada kupili kartu i obezbedili sebi mesto na konferenciji.

May the SPARK be with YOU!
Photo credits: Igor Milic Photography