Otvorimo mogućnosti
U petak, na Balkan Venture Forumu, sam imao priliku da slušam dva interesantna lika. Dr Eli Opper iz Haifa Life Science Park i Steve Keil, CEO MammothDB. Njihova predavanja su bila ugodno iznenađenje najviše zbog toga što su njihovi pogledi na uspješan projekat potpuno različiti. Dr. Eli zastupa projektovanje biznisa za velika tržišta od početka, dok Steve smatra da je jednako dobro imati regionalni pristup. Ali je nešto drugo bilo zajedničko u prezentacijama, i jedan i drugi su apostrofirali timski rad, saradnju i otvorene ideje. Da podvučem ovdje OTVORENE IDEJE. Znači razgovarati i družiti se!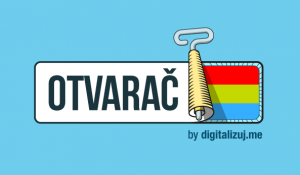 Dakle, da ne bi ja mnogo filozofirao, evo šta o idejama za startup-ove pametni ljudi misle: "Startup ideja se ne dobija tako što razmišljaš o startup ideji. Startup ideja dolazi iz razmišljanja o problemima, posebno ako razmišljaš o svojim problemima. Najbolje startup ideje imaju tri zajedničke stvari: one su nešto što osnivači žele, što mogu sami da naprave, i što rijetko ko drugi misli da je vrijedno uloženog rada. Microsoft, Apple, Yahoo, Google, i Facebook su svi počeli na ovakav način." Paul Graham, blogpost, "How to get startup ideas".
Moje mišljenje je da se ideje lakše rađaju u jednom kreativnom okruženju, a to znači da sutra veče treba da se okupimo, da se opremimo humorom ali i malo ozbiljnijim idejama. Da u jednoj krajnje neformalnoj atmosferi izbacimo sve probleme koji nas tište i rješenja koja nam padnu na pamet za te iste probleme. O samoj realizaciji i o tome kome ta rješenja trebaju možemo pričati nekom drugom prilikom.
Prvi korak je urađen, sazvan je događaj, obezbjeđeno je inspirativno mjesto, problema imamo koliko hoćete, još samo fale rješenja. Ne sumnjam u kreativnost, šta više, "bojim" se da će je biti više nego šta treba. Tema, ona koja je najavljena, je – "Šta može da se uradi sa 100 miliona". Meni svašta pada na pamet, a vama?
Još nešto na kraju, svako je odgovoran za sebe, za svoje ideje, ali i za svoje piće… 🙂
Soul II Soul, utorak, 27. novembar, 19 h. Budite tamo, da vam drugi ne bi pričali kako je bilo.