LeWeb '11 – Kevin Rose, Kevin Systrom i Dennis Crowley
Prvi dan LeWeba je bio posvećen novim kompanijama. U suštini su to mladi ljudi-pojedinci, a ne kompanije. Mladi ljudi koji posjeduju harizmu i sposobnost brzom prilagođavanju zahtjevima korisnika. Ovo su upravo ključne karakteristike jednih od najvećih ljudi u svijetu biznisa u poslednjih 30 godina – Stiva Džobsa i Bila Gejtsa. Stoga, umjesto da vam pišem o kompanijama, pisaću o pojedincima koji se nalaze na njihovom čelu.

Kevin Rose, momak koji osnovao Digg, ima danas svoju kompaniju koja se bavi razvojem aplikacija – Milk. Najinteresantnija stvar u vezi sa Kevinom je što je on jedan od onih koji imaju snage i hrabrosti da pokušaju da realizuju svoje ideje. Momak koji kaže – "Odrastao sam gledajući Bila Gejtsa i Stiva Džobsa. Pomislio sam, zašto i ja ne bih realizovao neku svoju ideju." Kevin je ostvario makar jedan svoj san – Digg. Sada sanja nove snove i investira u nove proizvode. Imao sam sreću da razgovaram sa njim u neformalnoj atmosferi i na pitanje čime se sada bavi, odgovorio mi je – "Pa znaš kako, umjesto da stvaramo velike aplikacije i velike projekte odlučili smo da izbacimo nekoliko manjih aplikacija (ideja) da testiramo kako reaguje tržište. Ako se za neku od njih pokaže da je tržište prihvata, nastavićemo sa razvojem i ulaganjem." Danas se svijet očigledno toliko brzo mijenja da nemamo vremena ni da pošteno razmislimo šta dalje i dokle nešto razvijati, a već se pojavljuje nešto novo. Možda je ovo samo još jedan razlog za sve nas ostale koji sanjamo, da prestanemo sanjati i probamo nešto i realizovati. Krajnje je vrijeme.
Kevin Systrom je autor Instagrama, aplikacije koja još uvijek radi samo na iPhone telefonima, a koja ima 15 miliona korisnika. Čak ni veliki Apple nije mogao ugroziti Instagram svojom verzijom sličnog servisa. Citiraću  Alexiu Tsotsis iz TechCruncha – "Samo mi nije jasno zašto Apple jednostavno ne kupi Instagram". Instagram je definitivno aplikacija koja zaslužuje da bude dio iOS operativnog sistema, kao što je to postao Twitter. Instagram je toliko jednostavno koristiti i toliko dobro radi da to prosto zasluzuje. Osim toga, na LeWebu je zvanično najavljeno da Instagram uskoro dolazi i na Android platformu.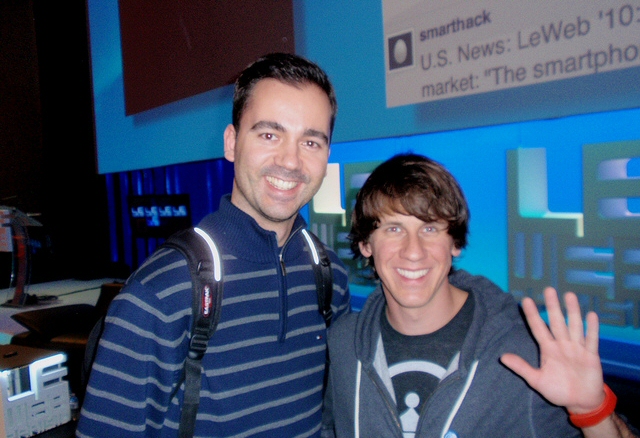 Dennis Crowley je osnivac foursquarea i momak koji je pregazio Gowallu, Google Latitude i Facebook Places. Ovaj momak toliko zrači mirnoćom i sposobnošću da se fokusira, da je to prosto nevjerovatno. Ne znam da li ste primjetili, ali foursquare je aplikacija koja jednostavno drobi konkurenciju, i po pitanju osnovnog servisa koji se praktično bazira na lokacijama, i po pitanju širokog spektra svakakvih izmišljotina koji se pojavljuju oko foursquarea svo ovo vrijeme. Foursquare jednostavno uvodi jednu po jednu novinu. Sve ono šta drugi smisle, foursquare to ima u sljedećoj iteraciji novih servisa. Denis je definitivno čovjek koji stoji iza svih tih promjena. Prošle godine na LeWebu, Vanja je imao priliku da kratko popriča sa Dennisom. Jedna rečenica koju je Dennis izgovorio, a koju Vanja i danas često ponavlja je – "Nemoj da dozvoliš drugim ljudima da ti govore kako su tvoje ideje glupe. Ako stvarno vjeruješ u svoje ideje, nađi način da ih realizuješ."
Autor: Predrag