Stigli smo i do petog, jubilarnog Hakatona! 🙂  Da li ste mislili da smo zaboravili, pošto ga prošle godine nije bilo? E pa, imali smo novih momenata u organizaciji i sve zajedno je rezultiralo potpuno novim konceptom. Za početak, pročitajte kako su izgledala prethodna četiri izdanja Hakatona.
Maj mjesec je idelan za otvaranje sezone kupanja. Ako se poklopi i to da plažni bar iskaže interesovanje, u blizini se nalazi stub na kom ima gomila antena za mobilne telefone i internet i uz to jedna banka bude zainteresovana da se uključi u otvaranje sezone, onda je pravo vrijeme da se i mi okupamo. 🙂
I tako, eto petog Hakatona – uz more. 🙂 Organizatori su softverska kompanija, Logate, i digitalna zajednica Crne Gore, Digitalizuj.Me. Hakaton će se održati 26-28. maja 2017. godine na lokaciji Almara Beach Club u Tivtu, koji je i partner hakatona. Događaj je namijenjen programerima, projekt menadžerima, grafičkim i interfejs dizajnerima, tj. svima koji temu kreiranja aplikacija doživljavaju bliskom, a puni su kreativnih ideja. Što bi Crnogorci rekli: "Đe ćeš bolje!". Elem, Hakatonu uz more pripada i morska tema, odnosno turizam. Da bi bilo interesantnije, produžili smo vrijeme trajanja hakatona na tri dana jer nam je želja da dobijemo što kvalitetnija rješenja – rješenja dostojna Spark.me startap takmičenja. Zato, sada odmah vašu prijavu shvatite ozbiljno, jako ozbiljno. Jer ulog je veliki, potencijalno učešće na konferenciji TechCrunch Disrupt u San Francisku (18-20. septembra 2017), ako pobijedite na Hakatonu i Spark.me startap takmičenju.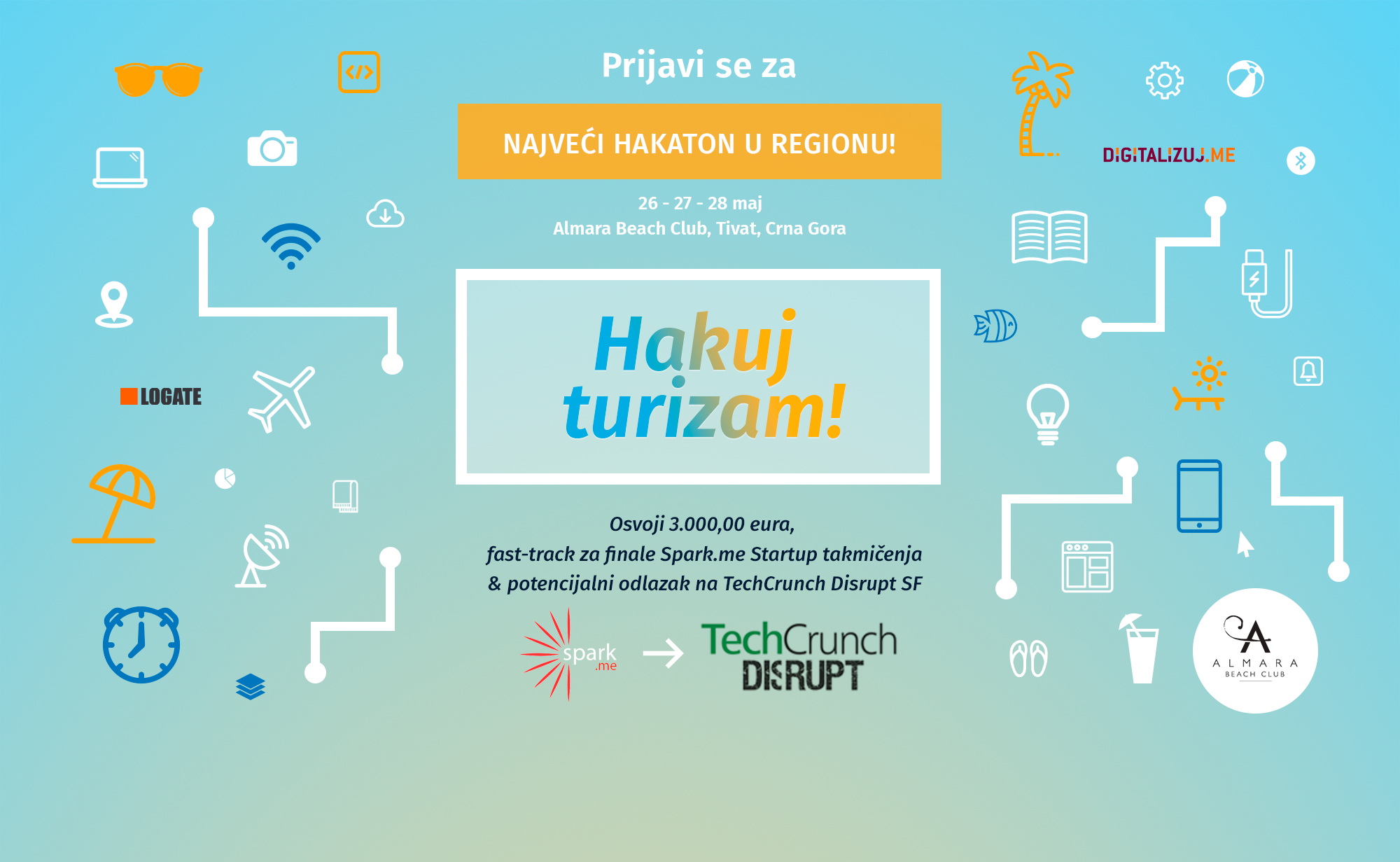 Kao što smo rekli, tema je turizam, a partner nam je Ministarstvo održivog razvoja i turizma. Kako bi svi bili ravnopravni, konkretne detalje dobijate prvog dana Hakatona. Vaš tim mora da bude raznovrstan; očekujemo programere, projekt menadžere, grafičke i interfejs dizajnere u skoro svim timovima, jer će vam to dati neophodno znanje i širinu kako bi vaše rješenje bilo najbolje. Iskoristite sve što vam tehnologija danas dozvoljava, napravite nešto što može pomoći turizmu jedne zemlje, konkretno Crne Gore. Budite kreativni!
Rok za prijavu je 15. maj 2017, a najbolje očekuje nagrada od 3,000 EUR koju je obezbijedila Societe General Montenegro banka, kao i mogućnost da se rješenje pojavi na startap takmičenju na Spark.me zahvaljujući kompaniji doMEn. Sve šta treba da uradite jeste da spakujete laptop i kupaće, ponesete pasoš ili ličnu kartu i polako se dokotrljate do Tivta. Odatle vas mi preuzimamo. 🙂 Struja, internet, hrana i smještaj su obezbjeđeni od strane plažnog bara Almara. Veeeeeliko im hvala! Ostalo je na vama – mi ćemo da se "banjamo" dok vi programirate. 🙂