SHARE Conference – Dan prvi
Dakle, SHARE Conference, prvi dan – tu sam da za čitaoce bloga Digitalizuj.Me prenesem utiske. Prije svega, čestitke organizatorima na uspješnoj organizaciji – na ulazu nije bilo gužve, vrlo jednostavno sam uz pomoć ljudi iz organizacije dobio akreditaciju, a zatim se uputio u amfiteatar gdje se održava otvaranje konferencije i većina predavanja.

Konferenciju su otvorili Vladan Joler i Andrija Kovač, a njihova osnovna poruka je bila da SHARE nije proizvod nego ideja, i da su ponosni na to što je ova konferencija inspirisala slične događaje koji se održavaju širom regiona.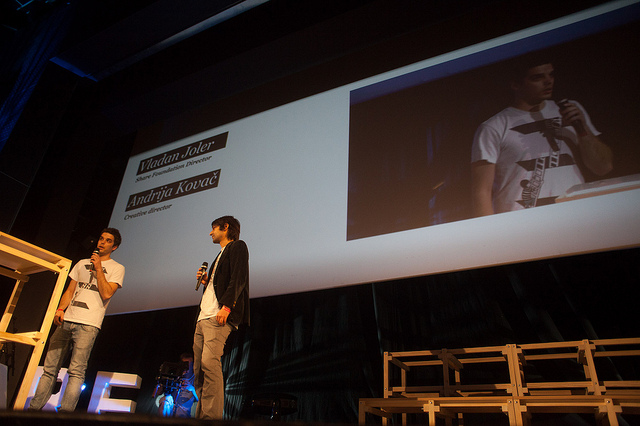 Nakon otvaranja, uz zvuke iz čuvene TV serije Dinastija, na scenu je izašao Peter Sunde, jedan od osnivača The Pirate Baya. Peter je pričao o njegovoj borbi protiv ograničavanja djeljenja fajlova na Internetu, ciljevima i idejama koji stoje iza Pirate Baya, i zalaganju za slobodan Internet. Takođe je istakao da oni nisu izmislili novu tehnologiju već da koriste postojeću tehnologiju, u cilju slobodnog protoka informacija na Internetu. Pokrenuo je pitanja copyrighta, i istakao da njega ne zanima da li je zaštita autorskih prava legalna ili ne, već da li obični ljudi imaju pravo da dijele fajlove između sebe. Istakao je da za njega informacije predstavljaju naftu XXI vijeka. Na kraju, rekao je da nije bitno samo dijeliti informacije i fajlove, već da je potrebno pronalaziti i nove načine za dijeljenje informacija.
Sledeći govornik kojeg sam ispratio je bio Jeremie Zimmermann koji je govorio o ratu za slobodni protok informacija na Internetu u svijetlu ACTA sporazuma. On smatara da je ovo najvažnija bitka poslednjih nekoliko generacija, i da je ta bitka jako teška, ali da se ovaj rat može dobiti koristeći riječi, kod i piksele. Izrazio je nadu da se ACTA može pobijediti i da će to biti veliko dostignuće za budući razvoj interneta. Mećutim, upozorio je da će, i kada se ACTA pobijedi, biti pokušaja da se uvede kontrola nad Intenrnetom od strane vlada mnogih država, a posebno od strane vlade SAD. Zbog toga nas je pozvao u zajedničku borbu za očuvanje Interneta ovakvog kakav jeste, kao zajedničkog dobra svih ljudi širom svijeta.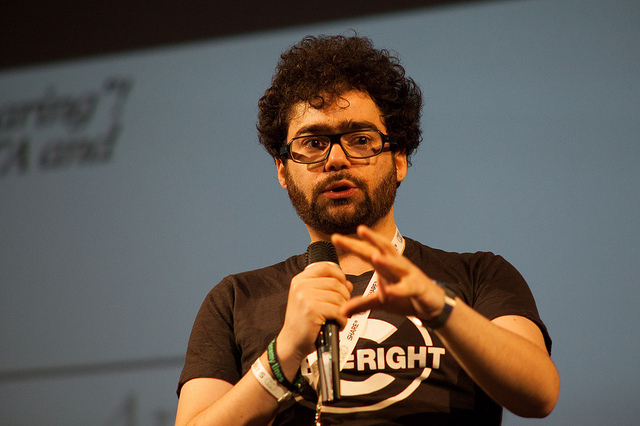 Quinn Norton, je imala predavanje na temu "Anonymous and Other Stochastic Revolutionary Network Collectives." Ona smatra da bez obzira na status ili moć pojedinca u društvu, njegova akcija, kao dio neke mreže može nešto da znači. Takođe, ukazala je da grupe poput Anonimusa nemaju lidere, već je njihova moć upravo u pojedincima koji slijede istu ideju.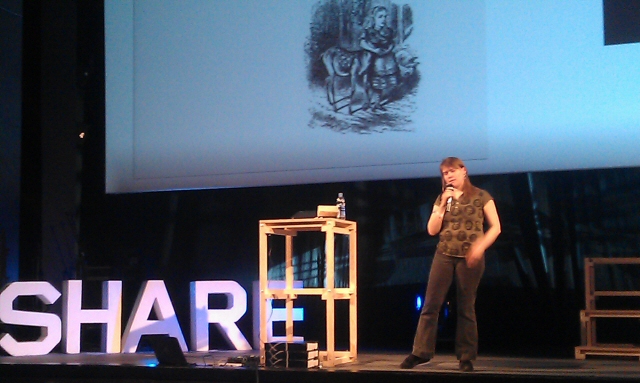 Nažalost, iako je bilo mnogo zanimljivih govornika, zbog gustog rasporeda predavanja i mojih osnovnih potreba za hranom i odmorom, nisam uspio da ispratim sve ono što sam želio. Nedostatak pauza između predavanja je ujedno i najveća zamjerka organizatorima ovogodišnjeg SHAREA.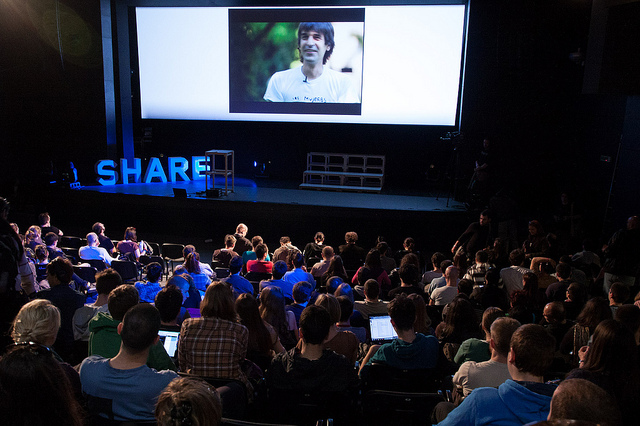 Sve u svemu, prvog dana SHAREA veliki broj mladih je imao priliku da čuje mnogo toga zanimljivog od strane ljudi koji su na prvoj liniji odbrane interneta od pokušaja da se on centralizuje, i vjerujem da je Pokret za slobodan protok informacija na internetu među njima našao nove saborce.
Srdačan pozdrav iz Beograda! 🙂
Photo Credits: SHAREconference's Flickr photostream