Brace yourselves! How to Web is coming and it's going to be… LEGENDARY! Meet some of the best & brightest minds in the CEE & beyond, listen to hands-on talks & practical case studies, get to feel the vibe of the CEE startup ecosystem! All these & more on November 26 & 27 at the 6th edition of How to Web, the most important conference on tech innovation & entrepreneurship in South Eastern Europe. Are you the founder of an early-stage tech startup with disruptive potential at global scale? Then apply now for Startup Spotlight, competition & mentoring program with total cash prizes of USD 20.000!
Why attend?
How to Web Conference 2015 brings you at the same table with 1000+ startup founders, product managers, developers, online marketers & community leaders from all around the CEE. Beyond high-quality content, including case studies and hands-on talks on different topics, you have great networking opportunities by connecting with the who's who in the regional tech industry.
Learn best practices from remarkable entrepreneurs & top-notch professionals
Successful entrepreneurs and experienced professionals from all around the world will take the main stage of How to Web Conference to share best practices & practical case studies, and deliver insightful talks on product launches, product metrics, product marketing, content marketing, conversion rate optimization through growth hacking, or team building and management, among many others.


Among the speakers that you'll get to meet and learn from this year, there are:
Jan Reichelt, Co-Founder and President, Mendeley, a company that disrupted information sharing in scientific research, grew to 50 employees and a few million users, and was acquired by Reed Elsevier in April 2013;
Larry Gadea, Founder & CEO, Envoy, startup that allows businesses to check-in people and keep track of their visitors and that recently raised a USD 15 million series A round led by Andreessen Horowitz;
Martin Eriksson, Co-Founder, Mind the Product and Product Tank, entrepreneurial, driven and innovative product management professional with 18+ years experience in building leading online products;
Kalman Kemenczy, Director of Product, Prezi.com, a cloud-based (SaaS) presentation software and storytelling tool for presenting and sharing ideas on a virtual canvas;
Edial Dekker, Co-Founder, Gidsy & Hack de Overheid and ex-Senior Product Manager, Eventbrite;
Bram Kanstein, Founder, Startup Stash, a curated directory of 400 resources and tools for startups, that went viral and got 230.000 pageviews in 48 hours, and ex-European Community Manager, Product Hunt;
Sujan Patel, Renowned growth hacker, marketer, and serial entrepreneur, Co-Founder of ContentMarketer.io and author of  "100 Days of Growth", ebook sold in over 10,000 copies.
And many many more! Check out the list of speakers confirmed on the conference website..
The secondary stage of the conference is dedicated to the startup community! It's here where you'll find out more about raising angel / VC money, startup valuation, managing the relationship with investors, or the accelerator experience. These add up to a series of community panels with regional experts moderated by the leaders of the local communities.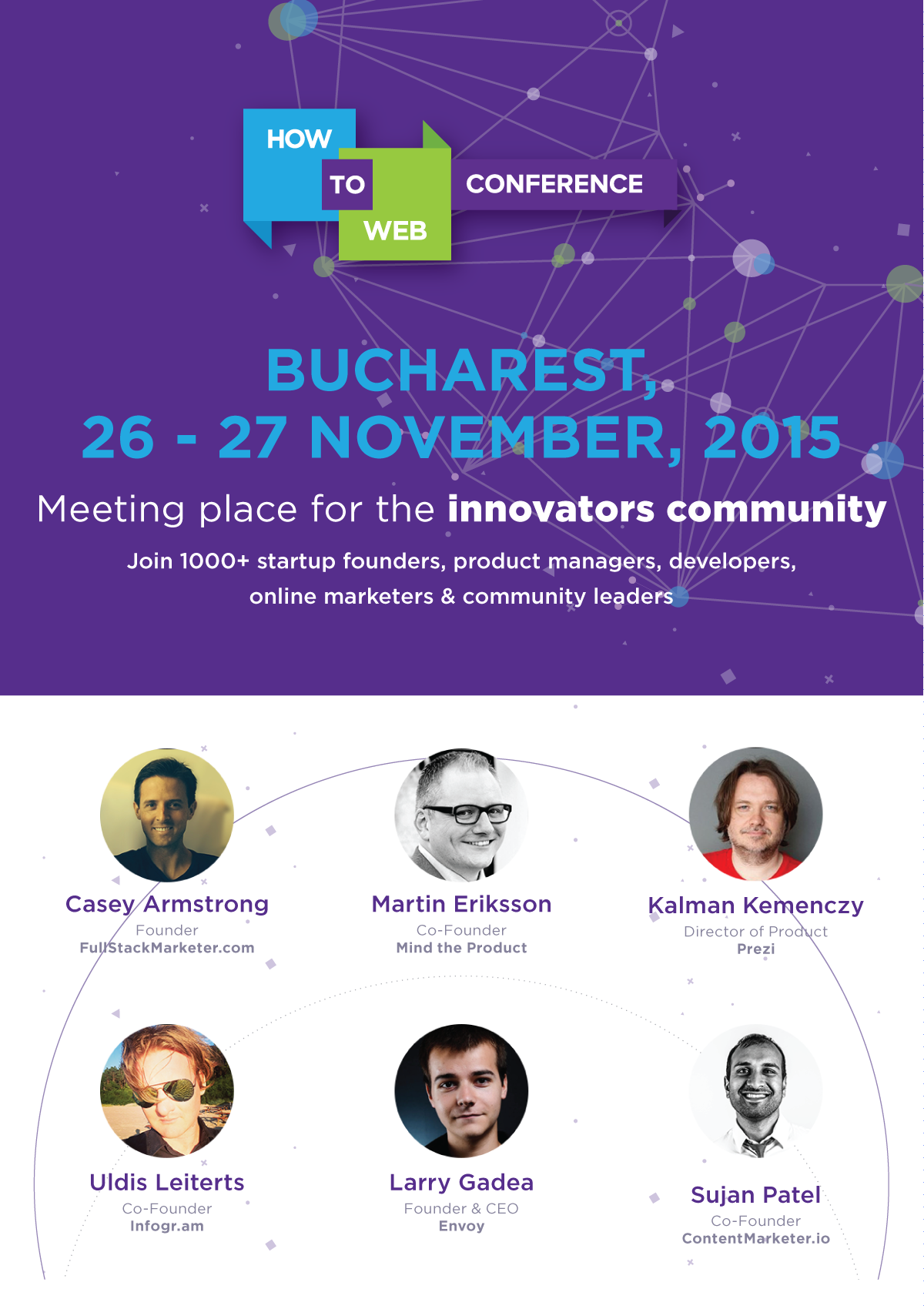 High level networking, dedicated activities, amazing parties
Get in touch with others, set meetings in advance and receive interests-based recommendations using How to Web Meet, the mobile app developed by mReady for the conference. Besides, you can always choose to join roundtables, "Ask the Expert" sessions or open discussions that will be organized in the two networking lounges throughout the event. And networking doesn't end when the conference does: discover Bucharest's vibrant nightlife, get social and connect with the innovators community by joining one of the networking cocktails, special meetups and exclusive parties set up for you!
Discover the latest trends & how tech is reshaping the world
Passionate of hardware & gadgets? Visit the gadget expo area to check out what's new in the IoT world and test devices that use Artificial Intelligence to make your life better. Don't miss the "Gadget Showcase" on stage to see live product demos & interactive presentations. From drones to exoscheletons, smartwatches & VR, we've got everything set straight for you to have an amazing experience!
Discover the startup opportunities offered by the Startup Spotlight program
Early stage startup looking for opportunities? You're in the right place! Apply now for Startup Spotlight and get ready to close deals and compete for the USD 20.000 cash prizes! Join the program to get access to mentoring sessions customized to fit your needs, a curated deal-making pipeline, valuable connections, visibility & more. And all for free! All you have to do is submit your application by Friday, Oct. 30!
Very Early Bird tickets now available
See you on November 26 & 27 at How to Web Conference 2015, the meeting place for the innovators community! The conference will take place at Grand Cinema & More, Baneasa Shopping City, and Very Early Bird tickets are now available!
How to Web Conference 2015 is an event organized in collaboration with Telekom Romania, Bitdefender, and IXIA, with the support of Microsoft, Avangate, hub:raum, the Canadian Embassy in Romania, Mozilla and Okapi Studio.
See you at How to Web!